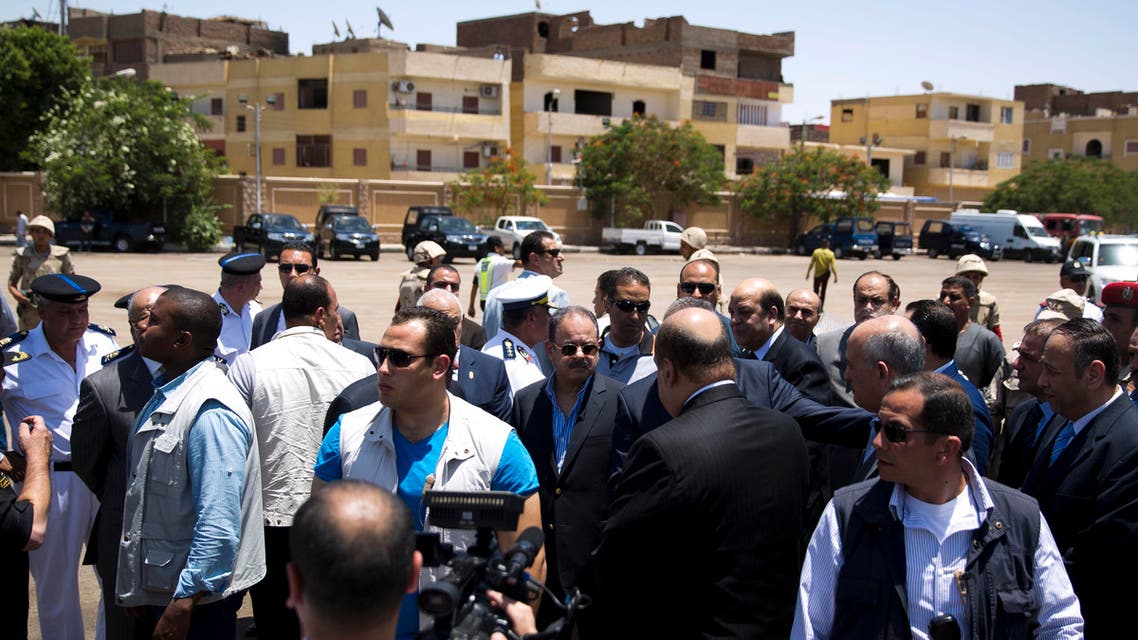 Egypt tourist sites on alert after attacks
Government raises security after two attacks in eight days on top destinations
After a violent campaign directed at security forces, Egyptian militants appear to be zooming in on President Abdel Fattah al-Sisi's most vulnerable point: the economy.

Attacks on two prime tourist sites in the space of eight days are deeply worrying for a government which has staked much of its credibility on reviving the economy after years of political turmoil.

A suicide bomber blew himself up on Wednesday near the ancient Karnak temple in Luxor, wounding four Egyptians. A week earlier, two police officers were killed in an attack near the Giza Pyramids, hundreds of miles to the north.

Security forces on Thursday dismantled a bomb found at the entrance of the supplies ministry in Cairo, state news agency MENA said.

While the attacks did not kill or harm any tourists, they raise concerns that Islamist insurgents have opened a new, economic front.

Egyptian officials from Sisi to the Luxor governor were at pains to say that all was well, that this week's foiled attack showed security forces were on alert and would protect tourists.

But providing reassurances that some of the world's most spectacular tourist attractions are safe may prove difficult.

"The perpetrators don't have to attack in a large way to spook people who are trying to visit the country. All they need to do is have a few incidents here and there to shape perceptions," said Kamran Bokhari, an expert on the geopolitics of the Middle East and South Asia.
'One-off' incident?
Egypt's economy has been battered since 2011, when a popular uprising forced autocrat Hosni Mubarak from power. Sisi has announced several mega-projects, garnered billions of dollars in aid from Gulf allies and enforced painful subsidy cuts to try to jumpstart the economy and boost foreign investment.

But a direct attack on tourism, a top foreign currency earner, would inflict major damage and could undermine any confidence in Egypt that Sisi has generated.

On Thursday, Interior Minister Magdi Abdel Ghaffar visited the Karnak temple, praised security forces and said the "malicious attempts won't undermine Egyptian security." He was quick to mention that tourists knew what happened was a "one-off incident."

A security source in the interior ministry told Reuters that Abdel Ghaffar had asked for a new plan to confront militants at ancient sites, where the level of readiness has been raised.

"This is secretive and we cannot divulge details," the source said. "All I can say is that there are explosive-detecting machines that are being used... and an increase in the number of police... There are also new cameras
that have been set up."

A campaign by militants against tourism in the 1990s under Mubarak dealt a major blow to tourism. Fifty-eight tourists and four Egyptians were killed in an attack in Luxor in 1997.

Security sources said this week's attack was most likely carried out by three Egyptians, identified by identification cards left at the scene. One blew himself up, and two others fought a gun battle with police.

"(The) attack got intercepted while it was still in motion and didn't lead to any tourist deaths, but the question is: how many such attacks are in the pipeline and will the police be able to interdict?" Bokhari said.

No one has claimed responsibility, but suspicions are likely to fall on groups like the Islamic State-affiliated Sinai Province, which wants to topple the Cairo government and has been bedeviling security forces in the Sinai Peninsula. Hundreds of soldiers and police have been killed there since
Sisi, as army chief, overthrew Islamist President Mohammed Mursi after mass protests against his rule in 2013.

But the insurgency remains stubborn despite Apache helicopter strikes and raids on militant hideouts in the Sinai.

The state has responded by enforcing an unprecedented crackdown on members and supporters of Mursi's Muslim Brotherhood, which it now brands a terrorist group, and on liberal activists.

After Wednesday's attack, that crackdown shows no sign of stopping. The risk is that this further fuels the insurgency and creates a vicious cycle that Egypt's economy can ill afford.

"We hope that the importance of changing the policy will be realized after two years of security confrontation that has produced only partial and limited results," Wahid Abdel Meguid, political analyst at the al-Ahram Centre for Political and Strategic Studies, said after this week's botched attack.

"The issue is bigger than this incident. This incident is one episode in a chain of terrorist attacks."