Hamas has found itself in an awkward situation, trying to embrace a young Palestinian singer who became this year's winner of the TV talent show "Arab Idol," but not too warmly as this appears to contradict the movement's strict Islamist principles.
Mohammad Assaf has taken the Palestinian population by storm, with many in the Gaza Strip, which is ruled by Hamas, finding inspiration in his success amid political, economic and humanitarian crises.
In Ramallah, Palestinian Authority President Mahmoud Abbas made Assaf an honorary ambassador, and the U.N. Relief and Works Agency named him a goodwill ambassador.
However, not everyone was impressed with Assaf's victory on "Arab Idol."
Some conservative Palestinians, including members of the Hamas government, criticized the show, saying it showcased indecently dressed women and the mixing of genders, which they say goes against Islam.
Assaf's media campaign manager Wael Yazagi told Al Arabiya English that Hamas refused to allow a celebration for Assaf.
He said Platinum Records, which has a recording contract with Assaf, does not allow him to sing in Gaza, but his campaign people insisted on organizing some form of reception in which Assaf was going to sing.
"We were fully ready, equipped the stadium and everything was on standby with all necessary logistical services, but unfortunately they [Hamas] did not allow us to hold it. There was no authorization," Yazagi said.
"We submitted a request for the authorization to the ministry of culture and we spoke with high-level government officials, but there was no official response," he added.
"They told us ok, ok we will see when Mohammad arrives, but to no result. Even big figures intervened to get us the authorization but without success," Yazagi said.
He said Hamas's ministry of culture only helped organize a press conference for Assaf in the Rafah border crossing. The minister did not attend the event, and only sent a spokesman and other low-level officials, Yazagi said.
"They [Hamas] were not interested in the subject in any way," he added.
Culture Minister Madhoon voiced his support for Assaf but rejected the Arab Idol television show in which Assaf surged to fame.
He urged the young singer "to sing and chant what strengthens the Palestinian people's resistance."
Assaf "proved the uniqueness of Palestinian youth in Gaza, despite the oppression imposed by occupation," Madhoon wrote on Facebook.
"We honor every talented person, especially youth," he added.
But Madhoon rejected "indecent clothing" and "the mixing between genders" that occurred on the show, saying it does not adhere to Islamic or national principles.
Hamas reaction

Likewise, Hamas MP Yahya Mousa referred to Assaf on Facebook as an "ambassador" and defender of the Palestinian cause, but criticized "Arab Idol" for hosting "nude women."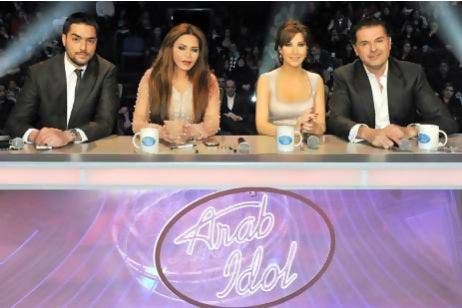 "Gazans just want to be jubilant about something. They don't have that on a day-to-day basis… Look at the figures of unemployment, corruption and violence. There's no real reason to be jubilant about anything right now," Yossi Mekelberg, a Middle East analyst with the London-based think-tank Chatham House, told Al Arabiya English.
"If Hamas condemns Assaf's win, this could cause a severe backlash on Gaza's streets," he added.
"What 'Arab Idol' represents is against [Hamas's] values. It's about popularity, singing and mixing between genders," Mekelberg said.
Fekri Joudeh, director at Gaza's Ministry of Culture, said views on the show should be separate from Assaf himself.
"Our concerns about the show should be taken separately," he told Al Arabiya English.
"We perceive Assaf as a young man who has now become a goodwill ambassador and is held in high regard by the Palestinian people, as he chose to take the burden of the Palestinian cause on his shoulders," he added.
Joudeh, who also headed the delegation that welcomed Assaf at the Egyptian border crossing last week, denied that Hamas prevented the singer from holding concerts in Gaza.
However, concerts can only be organized following a certain application process, Joudeh said without elaborating.
Assaf is waiting for Israeli permission to travel to the West Bank in order to perform there, according to Al Arabiya sources.
He will be making a permanent move to Dubai, which will allow him to work on a new album that will be produced by Platinum Records, a partner of the Middle East Broadcasting Center (MBC).