Should Obama's Nobel Prize be revoked?
Analysis: 'Drone wars', Guantanamo and Syria renew questions over validity of U.S. President's 2009 award
U.S. President Barack Obama wades through murky waters as 2013 comes to an end, with eyebrows raised over his "drone wars" in Afghanistan, Pakistan and Yemen, as well as his treatment of conflicts in the region.
Yemen's parliament this week called for a stop to drone attacks in a symbolic vote that reflected growing public anxiety about Washington's use of the unmanned aircraft to combat al-Qaeda in the country.
The news came on the same day as an influential Saudi royal, Prince Turki al-Faisal, former intelligence chief of Saudi Arabia, criticized the Obama administration for indecision and a loss of credibility with allies in the Middle East.
As a U.S. military strike on Syria loomed earlier this year in response to a chemical attack on Syrian civilians, a Swedish reporter asked President Barack Obama a question that was on the minds of many: "Could you describe the dilemma of being a Nobel Peace Prize winner and getting ready to attack Syria?"
Buckling under the pressure, Obama sought congressional authorization for a strike which proved difficult to obtain - while a compromise was eventually reached in which Syria agreed to destroy its arsenal of chemical weapons.
Prince Turki said that the United States, along with Britain, had done too little to help the more moderate, more secular Syrian rebels, leaving them to fend for themselves against Syrian President Bashar al-Assad's "killing machine".
And despite the possibility of a strike on Syria having subsided, this episode continues to hang heavy over the Nobel Laureate as other U.S. acts of aggression persist.
'The need for war'
A "deeply humbled" Obama was awarded the Nobel Peace Prize in 2009 for his "extraordinary efforts to strengthen international diplomacy and cooperation between peoples."
The five-member Nobel Peace Prize committee - political appointees from Norway's top parties - spent seven months debating over who to honor with the award before settling on Obama, who had become president nine months earlier.
In 2009, Obama "had come out as a leading spokesman for international cooperation, to strengthen multilateral institutions, for dialogue and negotiation," Geir Lundestad, the permanent secretary of the Norwegian Nobel Committee, told Al Arabiya News.
"Obama had presented his vision of a nuclear-free world, he had come out as a spokesman for democracy and human rights, and he favored a new environmental policy. With point after point, he was the dominant spokesman of the very ideals that the Norwegian Nobel Committee had been supporting for many years, even for many decades," said Lundestad, who is director of the Norwegian Nobel Institute.
At the time of writing, Obama is seventh on the list of "Most Popular Peace Laureates" on the Nobel Peace Prize website's homepage.
He precedes former U.S. President Theodore Roosevelt, and comes just after Elie Wiesel, the Romanian-born former chairman of The President's Commission on the Holocaust.
The Prize is right?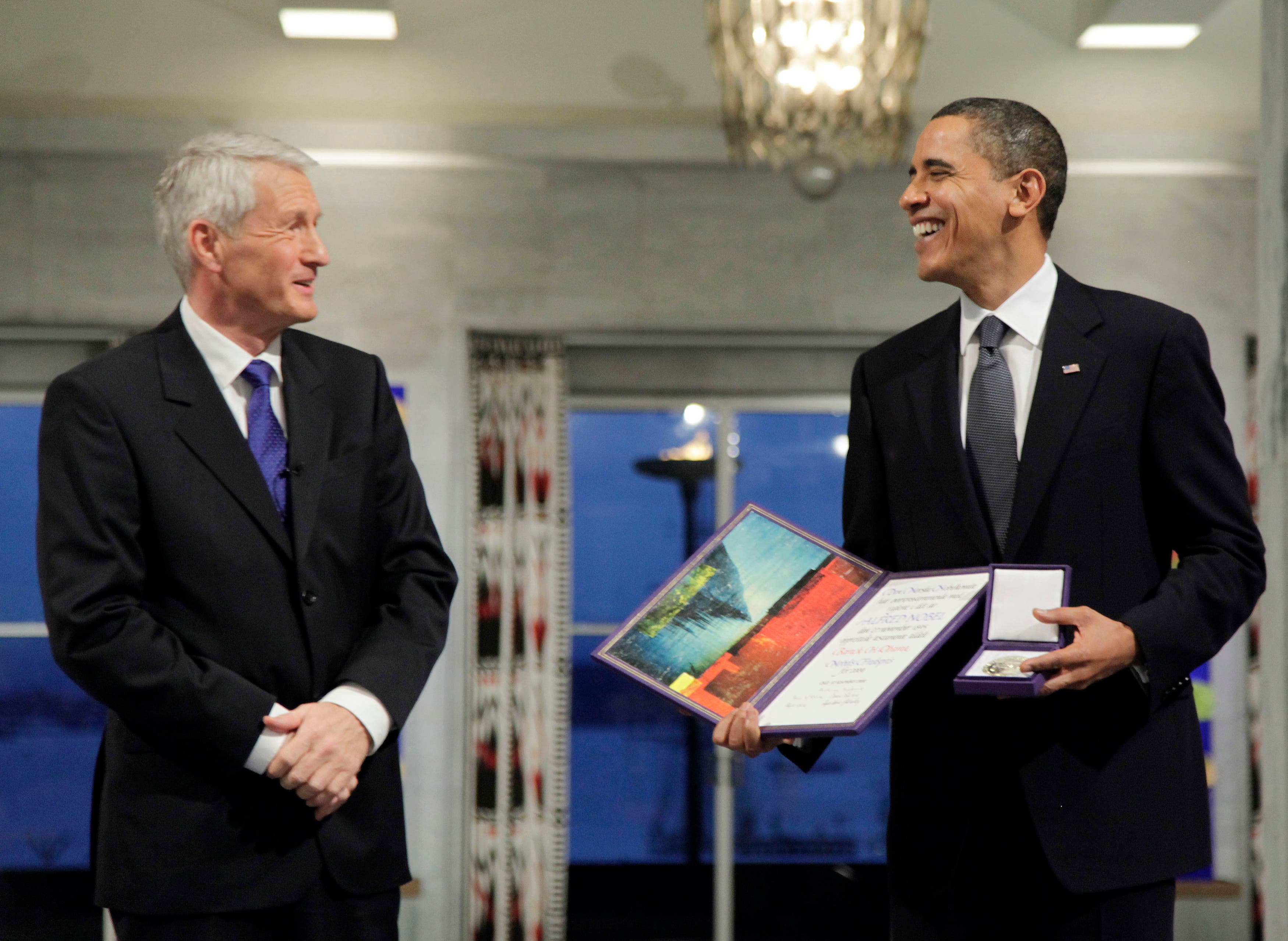 However, the method used to select Obama as a Nobel Peace Laureate has been a matter of concern since 2009.
"The process of awarding the peace prize is laughably foolish," former Republican Congressman Michael P. Flanagan told Al Arabiya News.
"The Nobel Prize in Physics is juried by experts and former prize winners and the world's top physicists. An achievement is agreed on, and you trust that it's an excellent achievement. You have no such process for awarding the peace prize. It's whatever the liberal politicians in Norway think," said Flanagan.
David Maraniss, Pulitzer Prize-winning author of "Barack Obama: The Story," told Al Arabiya News that the president "didn't deserve the Nobel Peace Prize. It was more the idea of Obama and his global identity and history that seemed to win him the prize, rather than any of his actions as president."
Lundestad refers to Alfred Nobel's will, in which the iconic Swedish chemist, engineer, innovator and arms manufacturers wrote that candidates should be judged by what they had done in the preceding year.
"Normally we judge on the basis of what has happened over several years, even over a lifetime, but occasionally we return to Nobel's question. The answer then was clearly Obama," Lundestad said.
In his speech following the award, the president said he was unworthy of the prize, and commented on the need for war due to the prevalence of "evil" in the world.
"To say that force is sometimes necessary isn't a call to cynicism, it's a recognition of history, the imperfections of man, and the limits of reason."
With that, Obama warned that in his eyes, war could always be chosen as a prelude to peace.
Obama's drone wars
Nothing has undermined the notion of Obama as a leader for peace more than his drone wars and the secrecy surrounding them, experts say.
"His drone policy raises grave questions about presidential powers to determine life or death. Obama would argue that his policy is protecting or saving more lives than it takes, but drones are no symbol of peace," Maraniss said.
In October, Amnesty International condemned the secrecy over U.S. drone strikes, and said officials responsible for the secret CIA drone campaign against suspected terrorists in Pakistan and Yemen may have committed war crimes and should stand trial.
"Secrecy surrounding the drones program gives the U.S. administration a license to kill beyond the reach of the courts or basic standards of international law," Mustafa Qadri, Amnesty's Pakistan researcher, said in a statement.
Under the Obama administration, drone strikes soared in number in Pakistan, and resumed in Yemen after a seven-year hiatus.
Rise of the drones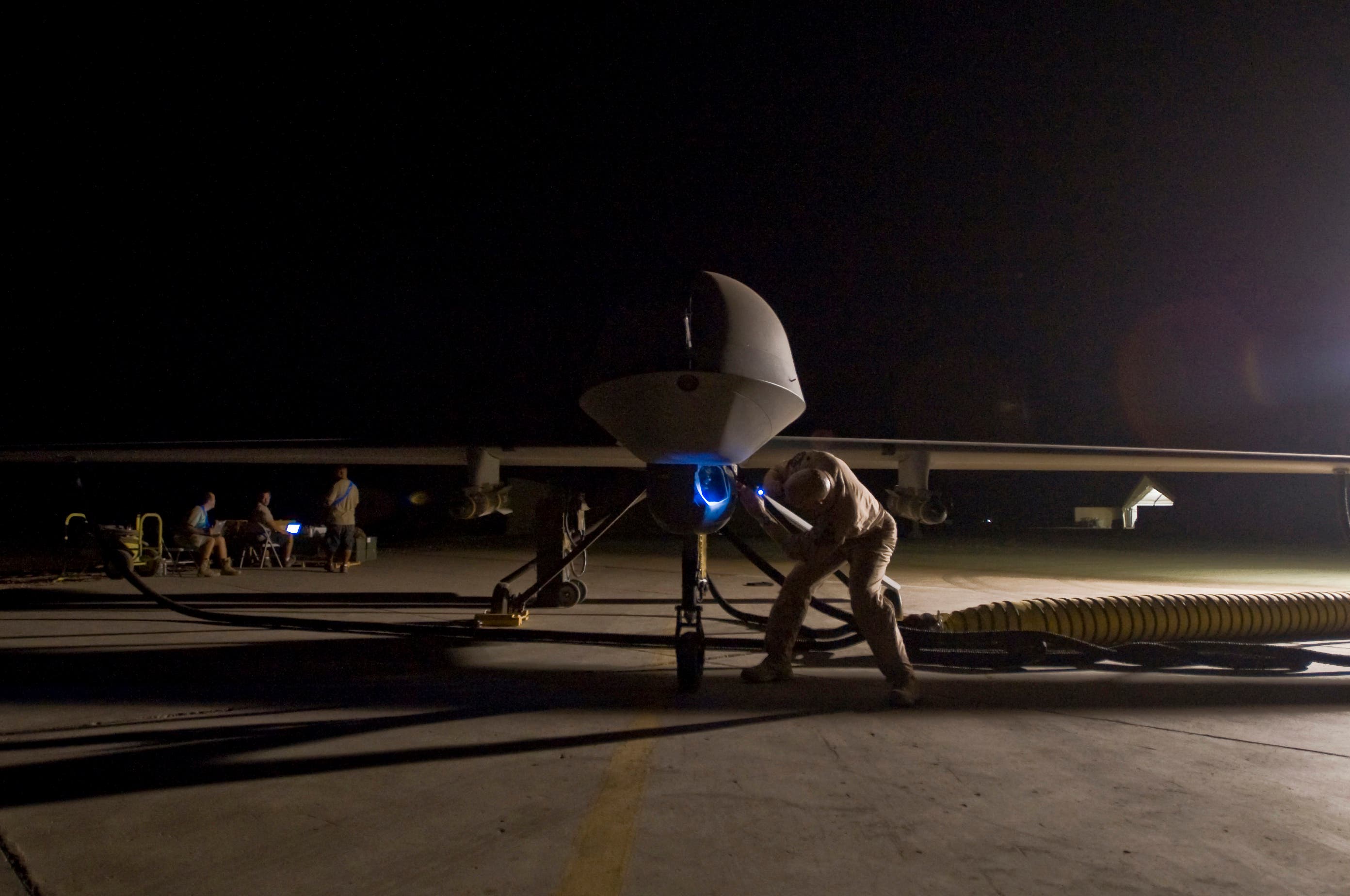 During the administration of his predecessor George W. Bush from 2004 - 2009, there were 51 drone strikes on Pakistan, with up to 595 reported killed.
Combined, the Bush and Obama administrations carried out around 376 strikes in Pakistan from 2004 until 2013, killing up to 3,613 people, among them up to 926 civilians, according to the London-based Bureau of Investigative Journalism.
Among the 376 strikes, 325 of them were under Obama's authorization.
"I think Obama harbors grave private concerns about the secret wars, but is afraid of the repercussions if another 9/11 happens on his watch," said Maraniss. "This fear has stopped him from following his better instincts. He's also always mindful of being considered naïve."
Amnesty has called on Islamabad to investigate the air and drone strikes, and to probe whether Pakistani officials were involved in providing information.
The Washington-based New America Foundation - a non-profit, nonpartisan public policy institute and think tank - details the full extent of both air and drone strikes in Yemen up until the end of Sept. 2013.
Again, the numbers from the Bush years contrast sharply with those from Obama's administration.
From 2002 - 2013, there have been around 90 U.S. drone and air strikes in Yemen, of which the Bush administration was only responsible for one attack, in 2002. As many as 885 people have been killed, of which up to 66 are civilians and 51 are unknown.
"Just about everything the Bush administration did was in the public eye. You didn't like it, but you could see it. This administration does everything in secret," said Flanagan.
"Obama's re-writing of collateral damage with regards to drone strikes should make the world pause... I believe this administration rewrote the term to mean that any male who's in proximity to the target will be deemed a jihadist or quasi-terrorist. It's an abhorrent way to do business," added Flanagan.
One detailed account in the Amnesty report, supporting media accounts from Oct. 2012, described how 68-year-old Mamana Bibi was killed by a drone missile while she was picking vegetables outside her home in North Waziristan, Pakistan, with her grandchildren nearby. A second strike minutes later injured family members tending to her.
Infographic: U.S. drone wars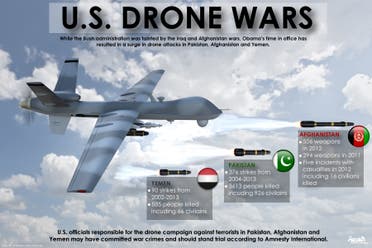 In July 2012, 18 laborers, including a 14-year-old boy, were killed in multiple strikes on an impoverished village close to the border with Afghanistan as they were about to enjoy an evening meal at the end of a long day of work, the report found.
With the covert operations resulting in large losses of civilian life, what can Obama do to detach himself from a legacy of 'secret wars'? For a start, he can provide the world with the "official story," said Madiha Afzal, a global development analyst at the Brookings Institute who has written on drone strikes and "anti-Americanism in Pakistan."
She told Al Arabiya News: "We now have a lot of narratives around - numbers from the New America Foundation, reports from human rights and international groups, all a bit different from each other, but all claiming more civilian deaths than the administration. But we're still missing the official story.
"If the official line turns out to be false - that is, if civilian deaths are indeed higher than what's claimed by the administration - this is going to be one of the major negative legacies of the administration."
Some believe that the international pressure piling up on Obama's drone operations will have an effect on him.
"It's likely we'll see some type of policy shift soon, whereby the drone program will be limited in scope and under some form of oversight within a year or so," Justin Dargin, a geopolitical expert at Oxford University, told Al Arabiya News.
"The creation of some administrative oversight of the drone program, as well as a reduction in its use, would go far in detaching Obama from a legacy of secret wars," Dargin added.
'Inherited' wars
Frequently used in Obama's defense have been the two wars he inherited from the Bush administration.
Iraq and Afghanistan, which was described by Pulitzer Prize-winning columnist Charles Krauthammer as a "unilateral Bush adventure foisted on the American people," put Obama's abilities as a wartime leader immediately to the test.
Obama is an extraordinarily effective wartime commander who inherited two wars - ending one [Iraq], and responsibly downsizing another [Afghanistan]
Senior U.S. military official
During his first term, he continued many of the policies of Bush's second term while fighting the Taliban and organizations affiliated with al-Qaeda, said Dargin.
"When Obama first came to office, he didn't make any significant policy shifts. Bush was already winding down Iraq and increasing the military footprint in Afghanistan during that time," said Dargin.
For those championing his efforts to see through an end to the wars, Obama had the support he needed.
"The president is both a global leader in the quest for peace and greater prosperity for all, and he's an extraordinarily effective wartime commander who inherited two wars - ending one [Iraq], and responsibly downsizing another [Afghanistan]," a senior U.S. military official told Al Arabiya News on condition of anonymity.
Still, as Obama touts the end of the Afghan war, planned for 2014, recurring U.S. drone strikes cast a questionable shadow.
As for the Iraq war, which ended in 2011, the deaths of around 4,500 troops and 112,000 civilians, and a cost of nearly $1 trillion, are of no comfort to either the American or Iraqi peoples. Iraq has been left in sectarian shreds.

"It's clear that the American public, as well as its allies, aren't ready to continue sacrifices in Afghanistan, nor for any other major wars in the Middle East," said Dargin.
"Obama's actions toward Iran, Syria and even Libya - whereby he didn't press for a strong American role in the ouster of Muammar Qaddafi - indicate that he's not interested in sending the American military abroad against countries that don't directly threaten America's strategic interests. Diplomacy is now the golden standard for which Obama operates," Dargin added.
Lundestad agrees, labeling Obama a "very reluctant warrior," with reference to his "more or less ending two wars - Afghanistan and Iraq."
Others doubt the true role Obama played in ending the Iraq war, referring to an agreement already signed between Bush and Baghdad.
"Obama has made a lot of progress, but remember there are no American troops in Iraq today because the Iraqi government refused to sign a status-of-forces agreement excluding U.S. troops from criminal prosecution by Iraqi courts. So Obama had no choice there," David Ottaway - a senior scholar at the Woodrow Wilson International Center, and formerly a Middle East correspondent for the Washington Post - told Al Arabiya News.
"The United States was forced to pull out all American troops. This same issue is now being discussed in Afghanistan, and I don't know how it's going to turn out," he added.
The administration should not leave any fighting troops behind in Afghanistan, said Ottoway. "They'll serve as a lightning rod for the Taliban, and encourage anti-American sentiment."
Obama's promises
During his second term, Obama significantly reduced the use of secret prisons around the world, and the controversial rendition program for suspected terrorists, said Dargin.
However, one prison in particular has been a thorn in the side of the Nobel Laureate. Guantanamo Bay continues to place the White House in an "ugly American" dilemma, impacting its reputation and international standing.
Human rights groups and medical professionals have consistently highlighted abuses against the remaining 164 detainees being held without charge, most of them hunger-striking in recent months.
In July, the Obama administration appealed a federal court order that the Pentagon stop guards searching the genitals of Guantanamo detainees before and after they meet with their attorneys, Cori Crider, a Guantanamo attorney for Reprieve, a London-based legal-action charity, told Al Arabiya News at the time.
The administration appears to have "two faces" on Guantanamo, said Crider: "the one we see when President Obama makes a speech, and the one that the generals who really run the prison show to my clients."
The administration remains adamant that it wants to close the Cuba-based prison, with some commentators saying Obama can "earn" his Nobel Prize by doing so.
"We're very much aware of the complaints leveled by human rights groups that insist the detention facility at Guantanamo should be closed. We agree that it should be closed," Pentagon spokesman Lt. Col. J. Todd Breasseale told Al Arabiya News.
"As the president has repeatedly stated, it's inefficient, wildly expensive, and exists outside America's best interests. But until the U.S. Congress changes the law, the Department of Defense will continue to humanely safeguard the detainees in our charge, and continue to responsibly transfer those who are eligible," Breasseale added.
Despite questions over 'Drone wars', Guantanamo and Syria, Obama's reputation appears to have been boosted by November's deal with Iran over the controversial nuclear program. Ultimately, Washington aimed to evade a military confrontation with Iran.
However, the U.S.-Iran deal struck sour notes in countries that support the Syrian uprising against Assad, such as Saudi Arabia and Israel.
The Saudis believe such a deal normalizes Iran's involvement in the Syrian war, with Iranian fighters supporting Assad's regime.
A peace deal between the Israelis and Palestinians will also be key to Obama's legacy. In his first ever formal interview as president, which was with Al Arabiya News Channel, Obama expressed his hope for Middle East peace, and for Israelis and Palestinians to resume peace negotiations to that end.
"Whether Obama deserves the Nobel Peace Prize should depend more on whether he succeeds in resolving the Israeli-Palestinian conflict," said Ottaway.
In the Al Arabiya News interview, Obama repeated a phrase he had used in his inauguration speech: "You'll be judged by what you built, not what you destroy."
As such, the controversy surrounding America's 44th president has sustained the question over whether he should be stripped of the prize.
"If they look at the Obama administration now, I think you can say without much fear of argument that they'd have never awarded the prize to him," said Flanagan.
Can the Nobel Committee ever invalidate the prize?
"No, this can't be done. If you give somebody the prize, it can't be revoked," said Lundestad.
Obama received the prize "based on the situation as we then saw it. There are no guarantees that Nobel Peace Prize laureates will behave perfectly in the years to come, and everybody of course understands that American presidents will be involved in many things, some of them even of a nasty character."