Amid tensions, what lies ahead for Egypt-Qatar diplomacy?
Seething tensions have been etching away at Egypt and Qatar's bilateral relations since Islamist President Mursi's ouster
Since the July 2013 ouster of Egypt's former President Mohammad Mursi, seething tensions have been etching away at Egypt and Qatar's bilateral relations, after the Gulf state had shown staunch support for the toppled leader.
Now, ties between both countries have reached boiling point amid the Gulf state's recent anger at Egypt's treatment of Islamist supporters and the Muslim Brotherhood.
The clash between both countries intensified when Egypt's foreign ministry summoned Qatar's ambassador to Cairo on Saturday following a statement from the Qatari side which lashed out at the Egyptian interim government.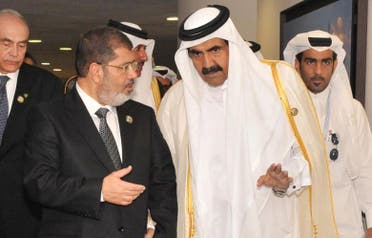 In strongly-worded remarks, Qatar had said the recent decision to designate the Muslim Brotherhood a terrorist group was "a prelude to a shoot-to-kill policy" against demonstrators.
"The decision to designate popular political movements as terrorist organizations, and labeling peaceful demonstrations as terrorism, did not succeed in stopping the peaceful protests," the Qatari foreign ministry statement said.
"It was only a prelude to a shoot-to-kill policy on demonstrators," the statement published by state news agency QNA said. It said that "inclusive dialogue" between all sides was the only solution to Egypt's crisis.
By summoning the Qatari ambassador, Cairo's response was an ultimate rejection of the statement.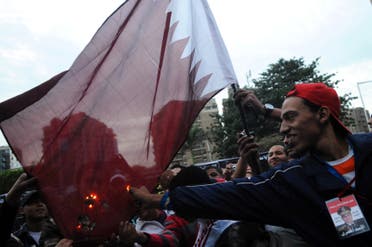 "This is a clear warning to the Qatari rulers that mirrors Egyptian publish opinion, which is against Qatar's aims," Abdel Latif el-Menawy, Egyptian political analyst and former head of Egypt's News Center, told Al Arabiya News.
"In the Gulf Cooperation summit last month, Qatar had promised to review and remedy its ties with Egypt. Qatar's Sheikh Tamim had said he would work on this, but he has not kept his promise."
Egypt has always been keen in maintaining ties with Qatar but the later has chosen to side with the Brotherhood at the expense of ties with Egypt, Mohamed al-Saeed Edrees, head of Arab and Regional Studies Department at Al Ahram Center for Political and Strategic Studies, was quoted as saying by local press.
"Egypt always hoped that Qatar would respect their bilateral ties as a fellow Arab state and not interfere in its internal affairs," he added.
"The Doha statement shows that Qatar goes on its pro- Brotherhood policy regardless of its ties with the Egyptian leadership," the expert said.
Since security forces forcibly dispersed the two Cairo camps of protesters loyal to the ousted Islamist president in August last year, top Brotherhood officials have been rounded up by authorities.
From grassroots members to general guide Mohammad Badie, who was arrested on August 20, no stone has been left unturned and security sources have said thousands of Muslim Brotherhood members have been arrested.
Anger at Al Jazeera
Now, Egypt's interim government views Qatar, along with the Doha-based Al Jazeera news network, as backers of the Muslim Brotherhood, which it officially declared a terrorist organization on Dec. 25.
Last week, Egypt's general prosecutor detained several journalists for 15 days for broadcasting graphics on Al Jazeera, alleging that they damaged Egypt's reputation.
On Sunday, foreign ministry spokesman Badr Abdelatty cited violations by Al Jazeera and its Egyptian affiliates, accused of pro-Brotherhood bias.
"Egypt reiterates that it will not allow any country or external party to interfere in its internal affairs under any name or justification," Abdelatty said.
"Any country that tries to do so would carry the responsibility for the consequences," he added. Egyptian authorities had charged that the journalists "made live broadcasts of news that harms homeland security, spreading rumors and false news to Qatar's Al Jazeera channel without permits."
Al Jazeera, meanwhile, has said it has demanded the immediate release of the journalists and has launched an online campaign to drum up support for the reporters.
"Correspondent Peter Greste, producers Mohamed Fahmy and Baher Mohamed as well as cameraman Mohamed Fawzy are being held in custody after arrested by security forces on Sunday evening," the network said in a statement.
Al Anstey, managing director of Al Jazeera English, said: "It is outrageous to be treating bone fide journalists in this way. The allegations that are being made are totally false and unfounded.
"We operate in Egypt legally. The team were working on a number of stories to show our viewers around the world all aspects of the ongoing situation in the country, and every member of our team has huge experience carrying out the highest quality journalism with integrity."
'Don't want your money'
In September last year, Egypt returned $2 billion that Qatar had deposited with its central bank, after talks to convert the funds into three-year bonds broke down, central bank Governor Hisham Ramez had announced.
During Mursi's one year in power, Qatar had "lent or gave Egypt $7.5 billion," according to Reuters news agency. In May, Qatar had sent Egypt $3 billion, of which it converted $1 billion into three-year bonds.
Ramez told Reuters that the Qatari authorities had agreed to convert the entire remaining $2 billion but then changed their minds.
"They wanted to postpone it, then they said they would do it like they announced last time, and then they came back with some amendments, doing part and postponing the other part for a time, which we found not suitable for us," he said.
"So we just repaid the deposit."
But since Mursi's ouster, Egypt has been cushioned by Saudi Arabia, Kuwait and the United Arab Emirates, who have pledged Egypt $12 billion in grants and interest-free loans.
"I would assume they are fairly relaxed about their short-term finances and they can rely on aid from other Arab countries," Simon Kitchen, a Cairo-based strategist with EFG Hermes, told the news agency at the time.
But such a string of events has cast doubts on whether Egypt's ties with Qatar may now mirror Cairo's current relations with Turkey, which have also soured since Mursi's ouster.
In November, Egypt expelled the Turkish ambassador after it accused Ankara of backing organizations seeking to undermine the country's stability, in reference to the Brotherhood. Turkey reciprocated shortly after by declaring the Egyptian envoy persona non grata.
"I expect that if Qatar does not quickly remedy the situation, ties between both countries could easily transform into a situation similar to Turkey," Menawy said.
"Qatar needs to understand the will of the Egyptian people and encourage stability," he added.