Syria's revolution through the banners of Kafranbel
Activist Raed Fares stood up to al-Qaeda's intimidation and rejected U.S. invitation for political engagement
With a flip phone, cardboards and a pack of markers, Raed Fares took to the streets of Kafranbel, a town in the Syrian Province of Idlib, in 2011 to make a statement against the four-decade old regime in Damascus. His first poster called for "freedom." It was heard and the slogans of Kafranbel echoed worldwide in the years that followed, documenting the hopes and the tragedy of a nation.
Fares, 41, is not a politician nor your average pundit or analyst. A former realtor, and a father of three, he was inspired by the Arab Spring movement that started in Tunisia in December 2010 and decided to bring it to his small town of Kafranbel. A town of roughly 30,000, which translates from Syriac into "garden of nobles," was one of the first to revolt against the Assad regime in 2011. "We were three," he recalls, making posters and later an "Obey" style of art and taking it to the center of the town every Friday, in what has become a weekly ritual for the group.
Posters without borders
In a lengthy conversation with Al Arabiya News, Fares expressed surprise of how his small posters signed with a date next to Kafranbel have gone viral on social media and are used as cover pages by Syrians and non-Syrians alike to support the uprising. "We still have very slow internet in the village and I did not know how to post them on Facebook early on." Instead and with his flip phone, he was sending the photos to a friend abroad who circulated them on the net.
The cardboards transformed into banners, and Fares who is drawn to global news blended photos of Russian President Vladimir Putin, U.S. President Barack Obama, Iranian supreme leader Ali Khamenei and Arab leaders to condemn the complacency on Syria and the killings that have taken more than 150,000 lives so far. There is an exceptional tone in Fares' slogans, one that connects with the outside world, and talks to the people of Boston and parents of Trayvon Martin better than any Syrian opposition figure has.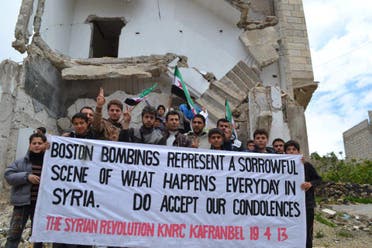 Pen Mightier than the sword
As the events got bloodier in Syria, Fares' job got more daunting. "We escaped to the fields from the Assad forces, and my family had to leave" he explains. The threats have not stopped, and his group of three attracted more activists who defied bombings and clashes, and continued to get the word out. "Now, I don't care about the Assad air assaults, they destroyed the village, left many streets empty but I cannot let them stop me" Fares adds. The regime forces pulled out of Kafranbel in the summer of 2012 and the Free Syrian Army took control.
With the rise of radical groups in Syria, Fares and other secular activists came under a new threat. His poster last July accusing al-Qaeda affiliated group known as the Islamic State of Iraq and the Levant (ISIL) of backstabbing the revolution, irked its leaders.
"They sent me indirect messages that they did not approve of my work." Neither did he approve of theirs. Fares banners continued condemned ISIL jailing of activists in the North, lashing people in the square of Raqqa and assassinating rebel fighters. On Dec. 21, while Fares was in the United States for a tour with the Syrian Community, ISIL attacked his Kafranbel offices, tore up banners and destroyed the property.
"It made me angry and more determined to speak against them," he said. "They do not represent the Syrian people, nor Islam and they will be defeated," Fares said confidently as battles rage between moderate rebels and ISIL in Northern Syria.
His tour to the United States has taken him to Washington, Michigan, New York and Illinois. While it certainly feels different to be walking in the street without watching your back, Fares prefers to be "in the village" and to fight along his people. Even an invitation from U.S. Ambassador to Syria Robert Ford for him to go to protest at Geneva conference did not sound too appealing. He disdains "political theatrics" and wants to be in Kafranabel with his canvas, paint and colleagues, to continue to chronicle the struggle of his people.