Sisi's electoral interviews: Was he a man or a marshal?
The focus has not been on the Egyptian presidential candidate's manifesto as much as his attitude
On May 5 and 6, former army chief and Defense Minister Abdel Fattah al-Sisi made his first TV appearance after officially announcing his intention to run for president. The lengthy interview, in which the man who toppled former President Muhammad Mursi spoke of his electoral platform, has been the subject of much analysis in the Egyptian media.
The focus has not been on the retired Field Marshal's manifesto as much as his attitude. Commentators laid more emphasis on analyzing his character through his answers and reactions, as well as predicting the interview's impact on the results of the elections, to be held on May 26 and 27.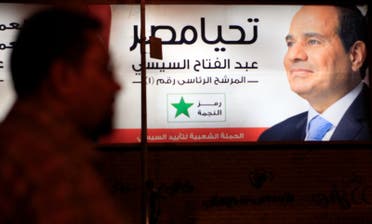 They paid attention to how far his conduct during the interview would be indicative of his presidency if he is elected, in particular to what extent he would be democratic and tolerant of dissent.
While a sizable portion of analysts seem to see Sisi as another dictator who would crush opposition and curb freedoms, others consider his firmness as a much-needed advantage. In both cases, little is said about what he actually has to offer if he becomes president.
Journalist Wael Eskander was one of the first to comment on the interview in his article "Sisi in the hot seat: reading between the lines," published on May 7 by the Atlantic Council.
While saying Sisi "came out a hero" when he talked about the ouster of Mursi and complying with the will of the Egyptian people, Eskander added that he was not able to handle many of the discussion topics, either by not giving direct answers, or avoiding some issues altogether.
"Even though he was only pressed lightly, there was an air of impatience in his tone and mannerisms," wrote Eskander. "At one point he rebuked the presenters saying, 'Do you want to listen or do you want to talk?'" According to the journalist, Sisi offered nothing new because he was addressing his "fan base," rather than attempting to gain more supporters.
"As he tries to build on past popularity, he must realize he will have to offer something new if his popularity is to be sustained," wrote Eskander. "His answers indicated that the height of his ambitions is to restore order through existing institutions, keep the Muslim Brotherhood at bay and keep the country afloat."
Eskander's views are shared by many commentators whose apprehensions about Sisi's possible ascension to power have intensified following the interview. For writer Fahmi Howeidi, there were two major concerns. First, Sisi maintained a military tone that contradicted the fact that is he a civilian presidential candidate.
"The general in him was much more present than the presidential candidate," Howeidi wrote in his article "Idealizing the president of Egypt." Sisi "might have taken off his military uniform and put on a civilian suit, but this was only a matter of appearance… 45 years of military service cannot be wiped out in a few months."
Secondly, while sounding strict domestically, Sisi seemed very conciliatory towards countries currently seen as adversaries, such as Qatar and Turkey, and others that are viewed as enemies, such as Israel.
"This lenient tone... became very firm and unyielding when he talked about democracy, protests, and political Islam and when he rejected any form of dialogue with factions he stated clearly would have no place during his rule," wrote Howeidi.
Military tone
Tamer Abu Arab seconded Howeidi's opinion regarding Sisi's military tone. "I won't allow you to say the word 'junta' again," said Sisi during the interview, adding that the Egyptian army should be referred to as "the military institution." Abu Arab says this gives an insight into the type of president Sisi will be if he wins the elections.
"Now he is - supposedly - a civilian candidate who has not become president yet and has not yet possessed any tools of power, yet he says to a prominent anchor, who is also one of his supporters, 'I will not allow you'," wrote Abu Arab. "Just imagine what he would do to a humble member of the opposition when he becomes president and all state institutions come under his control."
He attributes Sisi's attitude to his army background, and says military leaders in general do not believe in the power of the people. "We don't have one example of a military leader who respected the people or shared power with them," wrote Abu Arab. "He might sympathize with the people or work on making their living standards better... but he would do that in a patriarchal, condescending manner."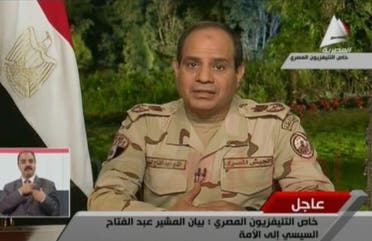 Khaled al-Balshi, in his article "I am the awaited dictator: a reading of Sisi's interview," warns of the establishment of an autocratic regime if he becomes president. According to Balshi, Sisi made it clear throughout the interview that he does not like to be opposed, with statements including "I won't allow the Muslim Brotherhood to exist during my rule," and "I won't allow protests to jeopardize national security."
Balshi added that Sisi "said he consulted his family, but said that when it comes to the country he does not pay attention to family concerns. He wanted to make it clear that he has the final say even if he consults his family. He is the man of the house."
Sisi displayed the same attitude, Balshi wrote, when asked whether he took the army's permission. "He said it clearly and more than once: 'The army chief notifies and does not obtain permission'."
For Balshi, like Eskander, Sisi was only speaking to his supporters. "He was not concerned at all with addressing his critics. To me he looked like he only cared about keeping his already existing supporters while totally ignoring all the others." Balshi added that those "others" constitute a sizable portion of Egyptians who demand real democracy and more freedoms.
Blaming the interviewers
Other critics of the interview shifted the blame to the TV presenters. Journalist Ahmed al-Saeidi lists 50 questions about security, society, politics, diplomacy, economics and the environment that should have been asked but were not.
"Sisi said it hurts him to see Egyptian women insulted. What about virginity tests conducted while he was head of military intelligence?" asked Saeidi. "What would he do as president that he was unable to do as minister of defense and vice president for security? Why were most Jihadists released... while he was head of military intelligence?"
Egyptian director Mohamed Khan accused the interviewers of siding with Sisi or being "too soft on him." However, writer Mohamed Habib saw the interview as an important step towards establishing a closer relationship between Sisi and the Egyptian people. He said the interview revealed Sisi's human side, as well as a strong personality, determination and firmness.
"His tone became angry when he talked about threats to national security, terrorism, and the return of the Muslim Brotherhood. The spirit of the army with all its history, victories, and dignity was very present at that moment," Habib wrote.
He praised Sisi's approach to the Palestinian cause: "He said he is committed to the peace treaty [with Israel] but will not be able to receive the Israeli prime minister or visit Israel until a Palestinian state is established with Jerusalem as its capital."
Habib did not see a problem in Sisi scolding the interviewers for not listening. "I agreed with Sisi when he told presenters that he is the one who is supposed to talk. Most presenters ruin interviews through interrupting their guests unnecessarily which makes the audience unable to follow."
Abdullah al-Mughazi, spokesman for Sisi's presidential campaign, refuted claims that the interview did not contain anything new. According to Mughazi, Sisi talked about several main points in his electoral program, including projects concerning the Suez Canal, the development of the Sinai Peninsula, and the re-mapping of Egypt's administrative divisions. "These are all projects that were very well-studied," the spokesman said.
This interview, and others to follow, will be the means by which Sisi's program is made public, Mughazi added. "Sisi's electoral program won't be printed, but will reach the people through a series of interviews since interaction is always more effective," he said. Mursi "had a printed program that contained big dreams, none of which came true. Sisi, on the other hand, is a man of action."