Sales of black market oil surge in Middle East
For ISIS, the clandestine trade in crude involves loading oil from its seized oil fields onto trucks and selling it to shadowy parties
Crude oil sales through non-governmental channels are a rising trend in the Middle East, with Islamic State of Iraq and Syria (ISIS) radical fighters and Iraqi Kurdistan getting in on the action, experts say.
In conflict-ridden, oil-drenched Iraq, both ISIS and the Iraqi Kurdistan administration are shifting barrels through non-governmental, albeit vastly different, supply chains, while the weakened central authorities in Baghdad remain unable to take action.
For ISIS, the clandestine trade in crude involves loading oil from its seized oil fields onto trucks and selling it to shadowy parties – often Kurdish businessmen – at a knockdown discount.
The lucrative practice currently nets the Jihadist group around $1 million a day, according to industry journal Iraq Oil Report.
"The rewards are high," said Shwan Zulal, managing director of London-based business intelligence firm Carduchi Consulting.
"[ISIS] are looking at selling oil at about $30 a barrel which is about 70 percent discount. The guy who buys it, if he can somehow mix it with other legitimate crude, he can get $90 to $100 so the uptick is huge," Zulal said.
The business – which spans across ISIS's entire "caliphate" through to Syria – thrives due to Baghdad halting subsidized fuel to the Jihadist-controlled region, leaving end consumers with choice, Reuters reported.
More worrying for international authorities could be reports that ISIS controls up to 60 percent of Syria's oil, with a production rate totaling 180,000 barrels per day (bpd), a Syrian opposition official told London-based daily Asharq al-Awsat earlier this month.
On Monday, the U.N. Security Council warned that anyone caught trading in oil from "terrorist groups" could face sanctions, in a reference to ISIS.
A drop in a barrel
However, the oil business of landlocked ISIS – whose business is largely limited to internal markets – is extremely small compared to Iraqi Kurdistan's crude trade.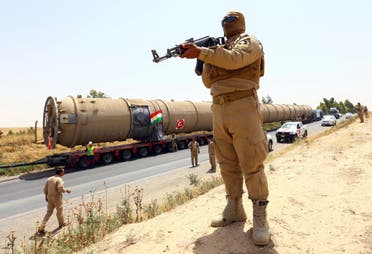 The Kurdish government, which has announced plans to pump up to one to two million bpds in the next 15 years and are currently operating de facto outside of Baghdad's control, have the future opportunity to become a "serious player," outside the control of the Organization of the Petroleum Exporting Countries (OPEC) cartel, Zulal said.
Currently, Kurdistan is attempting to set a precedent by selling oil and bypassing Baghdad as a display of power and capability, Zulal added.
But are such sales – which are currently routed through a pipeline to Turkey, out of reach of the central government – legal?
"Kurdish crude is a grey area – not demonstrably illegal but subject to U.S. pressure on buyers and possible legal action from Baghdad," said Robin Mills, the consulting head of Manaar Energy Group, an energy advisory based in the United Arab Emirates.
However, U.S. pressure does not appear to have been applied so far.
Despite threats from Baghdad to sue anyone who buys Kurdish oil, a tanker carrying Kurdistan-derived crude on Monday was cleared to offload in a Texas port by U.S. authorities, reported online Kurdish newspaper Rudaw.

"It is open to debate whether those oil sales are illegal … the Iraqi constitution is deliberately ambiguous on the issue of 'new' oil," said Marina Ottaway, an analyst at the Washington-based Wilson Center think-tank.
Regardless of their disputed legality, Kurdish crude exports are likely to continue increasing significantly, whether independently or in a deal with Baghdad, Mills says.
Additionally, Iraqi Kurdistan is already close to becoming a new oil-producing country, said Ottaway.
If Kurdish exports became sustainable, they could influence the market, "particularly in the Atlantic basin," said Richard Mallinson, an analyst at London-based research consultancy Energy Aspects.
But their effect will be partly offset by the ongoing disruptions to production in northern Iraq and Libya, he added.
Earlier this year, Libyan rebels, demanding regional autonomy and a share of the country's wealth had managed to load an oil tanker, escaping Libya's navy and triggering a crisis that led parliament to sack the prime minister, Ali Zeidan.
However, despite initial success, on an order by U.S. President Barack Obama upon the request of the Libyan and Cypriot governments, American Navy Seals seized the ship, denying the rebels a key revenue source.
Appreciable effect
Is the trend of illicit oil – at least in the case of ISIS – set to continue?
"In so far as the Middle East is in a period of rising instability then we could well see more black market sales," Mallinson said.
However, these effects "will largely remain indirect, providing revenue for militants and disrupting production," instead of becoming a substantial source of cut-price crude, he added.
James Hamilton, an oil expert and economics professor at the University of California, does not expect oil sales by rebels to have "an appreciable effect" on world oil prices.
"A more plausible scenario is that the conflicts could spread and take additional oil supplies off market," he said.