2014, a year in the balance for Egypt's judiciary
In November, an Egyptian court dropped murder charges against former president Hosni Mubarak
The Egyptian judiciary has successfully managed to maintain almost a steady presence in international media headlines this year. From hundreds of death penalties handed down to Muslim Brotherhood supporters, to dropped murder charges against former president Hosni Mubarak and prison terms given to local journalists working for Arab TV channels, the Egyptian judiciary's verdicts this year have generated an ongoing controversy on whether politics may have influenced judicial decision making.
In an example of such controversial decision-making, an Egyptian court sentenced on Thursday 40 Muslim Brotherhood supporters of the ousted president, Mohammed Mursi, to up to 15 years in jail for taking part in violent acts in Assiut last year, during which five churches, several police stations and a number of shop were torched, according to Agence France Presse.
Egypt's judiciary have played a key role in determining the country's future in the period following Mubarak's fall from power. They responded angrily in Novmber 2012 when former president Mursi issued a decree giving him extensive new powers. Egyptian judges reacted angrily to President Mursi's constitutional declaration, which rendered his decisions immune from judicial review and protected the constitutional assembly from dissolution.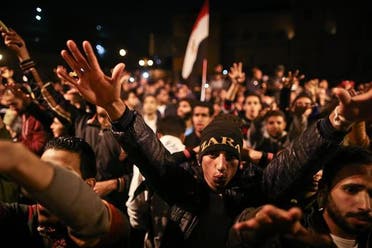 As a result, judges of the Court of Cassation and Court of Appeal said they had suspended all work until the decree was rescinded. Members of the Egyptian Supreme Constitutional Court followed suit when Mursi's supporters prevented them from meeting to announce their ruling on the legitimacy of the constituent assembly. The confrontation between Mursi and the judiciary worsened when leaders of the largest association of judges, the Judges' Club, threatened to block a referendum on the Constitutional Declaration by saying its members would refuse to perform their customary roles as election supervisors.
Following widespread protests and strikes by parts of the judiciary, Mursi rescinded most of his decree on Dec. 10, 2012. However, he refused to postpone a referendum on his Constitutional Declaration. The confrontation with the judiciary is considered one of the main reasons behind the ousting of Mursi on July 3, 2013, by the military – a move considered by many MB supporters as a military coup. Others hailed the army take over as a second revolution: the "June revolution."
Frustration over the country's political direction eventually led to deadly clashes between protestors and police forces and had reportedly left at least 1,400 people dead and more than 15,000 imprisoned since August last year.
These are Egypt's most controversial judiciary moments of 2014:
Mubarak Ruling
Late last month, an Egyptian court decided to drop all the charges against Former president Mubarak clearing him, along with his former interior minister, Habib al-Adly, and six other aides, of the deaths of hundreds of peaceful pro-democracy protestors in 2011.
Human rights organizations estimated a death toll of around 900 protestors in the 18-day uprising that forced Mubarak from power after three decades of rule. But the court was only concerned with the killing of 239 protestors – and Mubarak has been cleared on all charges related to them.
The court also cleared the former president alongside a former oil minister from corruption charges in relation with gas exports to Israel. Other corruption charges against him and his sons, Alaa and Jamal were also dropped.
"To rule for or against [Mubarak] after he has become old will be left to history and the Judge of Judges, the Righteous and the Justice (God) who will question him about his rule," Judge Mahmoud al-Rashidi told the court during the trial.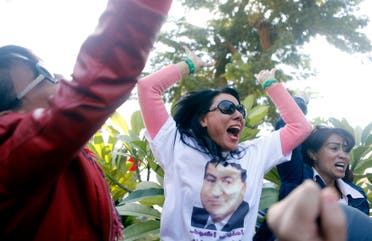 The court's decision to drop Mubarak's murder charges signifies a reversal of the June 2012 verdict against him, in which he was sentenced to life in prison for acting as an accomplice in the killing of unarmed demonstrators.
The verdict against the ex-leader generated a mixed reaction among Egyptians, with some taking to Tahrir Square, the birthplace of the 2011 uprising, to protest.
"We are talking about two experiences inside the same court, which is the criminal court," Abdullah al-Moghazi, a professor of constitutional law, told Al Arabiya News.
"The court sentenced him, and his former interior minister, to life in prison," said al-Moghazi referring to the 2012 trial. "The same court, but in a different district, later dropped the charges against him after reviewing the appeal."
"So we are talking about two polar opposite verdicts," said al-Moghazi adding that the striking difference between the two verdicts made Mubarak's trial the most controversial of all.
Muslim Brotherhood
Earlier this month, an Egyptian criminal court gave 188 defendants provisional death sentences over a 2013 attack on a police station in the governorate of Giza. Eleven police officers and two civilians were reportedly killed in the attack, which took place on the same day police forces broke up MB protest camps, leaving hundreds dead.
The verdict was the third such mass sentencing this year. Prior to this case, an Egyptian court caused a flurry of international media headlines after sentencing 539 MB supporters to death in charges related to violent 2013 clashes in the governorate of Minya, in which one policeman was killed.
International rights groups as well as Egyptian rights activists condemned the mass verdicts and called them a first in modern history.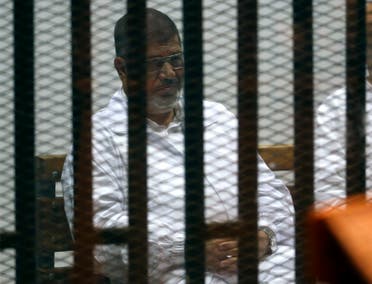 "Mass death sentences are fast losing Egypt's judiciary whatever reputation for independence it once had," said Sarah Leah Whitson, Middle East and North Africa director at Human Rights Watch, in a statement.
"Instead of weighing the evidence against each person, judges are convicting defendants en masse without regard for fair trial standards," she added.
The MB's relationship with the military has always been shaky, but onlookers argue the mass death penalties reflect the toughest crackdown on the movement in decades. In addition, the dissolution of the MB-affiliated Freedom and Justice Party – Mursi's party – this year further deepened the already-turbulent Egyptian political climate.
These verdicts indeed "reflect the situation Egypt is living," lawyer Asaad Haikal said.
"Egypt is undergoing a second transitional period after a second a revolution.
"And this second transitional period has been even more difficult because it witnessed an animosity projected by the Muslim Brotherhood toward the Egyptian people," he said adding that this "animosity" also targeted state institutions and Egyptian military.
"All of this pushed the Egyptian judiciary to hand out such harsh verdicts," he said.
Imprisoning journalists
In June 2014, a court in Egypt sentenced two Al Jazeera journalists, Peter Greste and Mohamed Fahmy, to seven years in prison, and one, Baher Mohamed, to 10 years on charges including aiding the outlawed Muslim Brotherhood, forging news and spreading rumors, in effect, threatening national security.
Mohamed was sentenced to an additional three years for possession of ammunition when arrested in 2013. Al Jazeera network claims the journalist was in possession of a spent bullet casing he found on the ground while covering a protest.
Their arrest was part of a wider crackdown on the Muslim Brotherhood, which the government had branded a "terrorist" organization shortly after the removal of Mursi.
A large group of NGOs and major news organizations such as the Associated Press, CNN, and the BBC, alongside Al Jazeera, have continuously urged the Egyptian government to free the journalists.
Speaking about whether politics might have played a role in judicial decision making, al-Moghazi said: "We cannot say that the judiciary is politicized, there is no evidence," he said. "But I just wonder how come the public prosecution was unable to present strong evidence against Mubarak, but was able to implicate MB members."
"We cannot describe the judiciary as politicized, but we can say the verdicts were," Haikal said. "The verdicts were influenced by the political situation the country is living."
Both al-Moghazi and Haikal, however, emphasized that the Mubarak and Muslim Brotherhood rulings are not final and are subject to appeal. In fact, the Egyptian attorney general has already filed an appeal against the Mubarak ruling.
So on balance, it is hard to judge how the judiciary performed this year in Egypt, especially within the political and security challenges they operate under. It may take some time before justice in Egypt take an unobstructed course.