French foreign policy unlikely to change after attack, analysts say
Experts on the whole do not agree that the attack will lead to a significant change in the country's foreign policy
While the nation reels from Wednesday's deadly attack on the office of French satirical newspaper Charlie Hebdo by gunmen, the country's foreign policy is unlikely to shift in response, experts told Al Arabiya News.
While the attacks – the bloodiest seen in France for half a century – have not yet been pinpointed as being orchestrated by foreign Islamist militants or inspired by groups such as al-Qaeda or the Islamic State of Iraq and Syria (ISIS), Cherif Kouachi, one of the main suspects in the massacre, was jailed in 2008 and has long been known to police for his militant leanings.
However, experts on the whole do not agree that the attack will lead to a significant change in the country's foreign policy.
"I do not think the fundamentals of French policy vis-à-vis the near and Middle-East will change due to the attack]" said Michel Bounajem, director of the Paris bureau of pan-Arab daily Asharq al-Awsat.
In recent years, France has witnessed attacks by Islamist radicals. In 2012, Mohamed Merah, an al-Qaeda-inspired gunman, killed seven people in three separate shootings in the French city of Toulouse. Last month, a man shouting "Allahu Akbar" (God is greatest) injured 13 by ramming a car into a crowd in the eastern city of Dijon.
"[The previous attacks] have not led France to change its policy, which has remained firm except perhaps for recovery of the hostages where she is suspected of having paid ransoms," Bounajem added, referring to an incident in April last year when four French journalists were freed after lengthy spells in captivity after being abducted in Syria.
Fresh determination
According to French foreign policy scholar Bruno Tertrais, the attacks "will reinforce France's determination to fight by all available means against the pernicious influence of extreme jihadism and that includes of course fighting [ISIS] in Iraq," he told German news outlet Deutsche Welle.
Yusuf Fernandez, an analyst and editor of the Spanish website of Beirut-based TV network al-Manar, said that the attacks put the French government at a crossroads.
"Currently, France has two choices as the United States did after the September 11 attacks," Fernandez wrote in an article published on the website of Iranian state-owned broadcaster Press TV.
"The country can engage in a serious process to strengthen its political and security position, which requires a radical change in its strategy, or it can escape forward and maintain its erroneous policies that have led to the growth of terrorist groups and their ideology not only in Syria and Iraq, but also in Europe and other parts of the world," he added.
Political suicide
Ed Blanche, a Beirut-based terrorism expert, said that French President Francois Hollande - whose woes already include the dubious distinction of being the nation's least popular leader since polls began - is likely to tread carefully after the attack.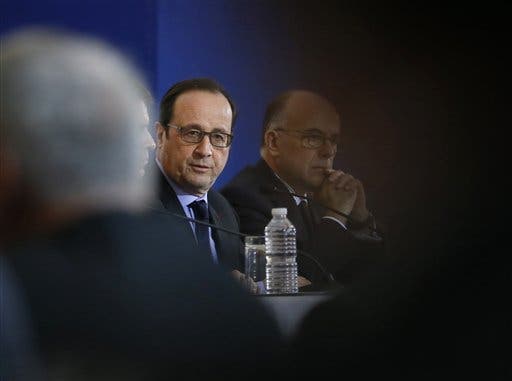 "It'd be political suicide right now for Hollande to do that [to steer France's foreign policy in a different direction] and it would have all kinds of international repercussions," Blanche said, adding that France's active role in the U.S.-led coalition against the Islamic State of Iraq and Syria (ISIS) would maintain the country as a key ally.
The attack is unlikely to change the president and his government's rhetoric in the near future towards its religious and ethnic minorities, Blanche added.
"Even from the point of view of domestic politics, Hollande will have to stand firm, otherwise, he will simply be giving the right-wing National Front ammunition," he said, referring to a rising French far-right party known for its strong stance against immigration. Party leader Marine Le Pen said after the attacks that if elected she would propose a referendum to bring back capital punishment.
However, with the attack becoming an issue of national concern among many French citizens, the possibility of the government starting to intensify the struggle against radical Islamist groups cannot be ruled out, said Bounajem.
"I do not exclude that the developments of yesterday will push [authorities] to intensify the fight against these organizations," he said. "[France] has to conduct an internal policy more 'muscular' in its own territory in controlling mosques, websites, the migratory flow, organizations and associations suspected of being close to the jihadists."
Root cause
France's problem with Islamist militancy is largely an internal issue – with poor, non-inclusive treatment of its disgruntled minorities being the root cause, said Raphael Liogier, a sociologist and director of the Aix-en-Provence-based Observatoire du Religieux research center.
The French government's previous "demagogic," perceivably rabble-rousing attempts to garner votes at the expense of religious and ethnic minorities has led to such attacks, rather than the direct influence of external Islamist groups battling for supremacy in Iraq and Syria, Liogier added.
"Now they [the French government] understand that it is this kind of [inflammatory] language [towards its minorities] that imbues this kind of action from the people that are supposed to be the enemy," said Liogier.
"If [France's foreign policy] were to change, it would be a big mistake by the French government. I think now the French government has realized that it's an internal French problem, it's not an international problem."