Four years on from Egypt's uprising, are Copts better off?
As Egypt marks its fourth anniversary of the January 25 revolution, many within Egypt's Christian minority are assessing the change
It has been four years since hundreds of thousands of Egyptian protesters gathered in the capital's Tahrir Square in a popular uprising that ousted then-president Hosni Mubarak.
Like the majority of Egyptians living under Mubarak's 30-decade rule, Egypt's Coptic Christians, who account for estimated 10 percent of the country's 85 million population, demanded change.
But as Egypt marks its fourth anniversary of the Jan.25 revolution, many within Egypt's Christian minority say the country is now better off. In fact the situation for Egypt's Christians is "better than what it was under the Muslim Brotherhood rule, Hosni Mubarak, and even their predecessors," according to Charl Fouad El-Masri, editor-in-chief of Egyptian daily al-Masry al-Youm.
While the Mubarak state promoted itself as one of coexistence, the regime cracked down on building new churches and Christian worship sites. Christians were seldom assigned to leading positions in the government and especially in the military, in what many critics described as an official discrimination by the state. And like Muslim Egyptians, a significant number of Christians lived under poverty line and worried about unemployment and lack of freedoms.
But with the rise of religious extremism in the Arab world in the 1970s and with the emergence of terrorist organizations such as al-Qaeda calling Arab Christians "legitimate targets," the Christian minority found itself a target of violent sectarian attacks and a victim of an indifferent state. The 2011 revolution coincided with the deadliest year of sectarian violence in decades, including the bombing of an Alexandria church and the killing of two dozen Coptic protesters by Egyptian security forces.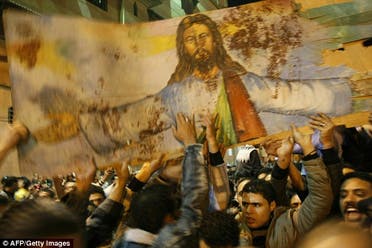 Following the fall of the Mubarak regime and the beginnings of Islamist President Mohammad Mursi's rule, however, security became a pressing priority in Christians' demands. Attacks on Copts, who make 95 percent of Egypt's Christian population, and their institutions have been widely reported on by the national and international media.
The emergence of ultra-conservative groups in post-revolution Egypt brought about a new wave of sectarian clashes that the government, according to critics, did not pay attention to. In 2013, a video emerged online showing Egyptian police standing idly by as a mob attacked a cathedral during a mass funeral.
"Egypt's Copts suffered during the Muslim Brotherhood rule greatly," El-Masri added.
The Muslim Brotherhood's Freedom and Justice Party won the majority of seats in the 2011 parliamentary election; and its member Mursi became Egypt's fifth president in June 2012.
Mursi's decree, which granted him unlimited powers, reports about violent crackdowns on journalists, liberals and demonstrators were among many issues that brought thousands of Egyptians back out on the streets calling for the president's resignation. On June 30, 2013, and in response to the new wave of clashes that paralyzed Egypt, the Egyptian army, led by General Abdelfattah al-Sisi, ousted Mursi.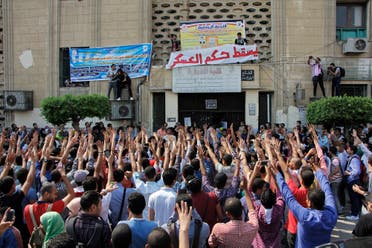 Since then, the Muslim Brotherhood was pronounced a "terrorist organization," and its members became targets of a violent state crackdown, resulting in hundreds of deaths among Mursi supporters. Sisi became Egypt's president on June 8, 2014.
"The outcome of the January 25 uprising was a disaster for Egyptian Christians who participated in the uprising as citizens of Egypt demanding democracy and liberty," said Dr. Ashraf Ramelah, the founder and president of Voice of the Copts.
"When the Muslim Brotherhood terrorist group achieved power, it became a nightmare not only for Christians but for anyone opposed to them," Ramelah added.
Read Also: Egypt's Pope says Islamist rulers neglect Copts.
Under Mursi, Egypt's Christians were "unwanted, targeted, and about to face the same terror Iraqi and Syrian Christians face under Islamist terrorism there."
"I feel Egypt would have gone in that exact direction if the Egyptian army had overlooked the people's demands to overthrow Mursi," Ramelah added.
Recently, Sisi has promised to rebuild damaged churches in the country.
Christian support for Sisi's leading of Mursi's ouster was best expressed by Pope Tawadros II, the head of the Coptic Orthodox Church, who openly called Sisi a "hero" and his nomination for presidency "a patriotic act."
Copts trace their roots in Egypt to centuries before the birth of Prophet Mohammed, and consider St. Mark their pope, making Pope Tawadros II their 118th pope.
Displaying his wholehearted support on social media when the Egyptian opposition movement Tamarod (Arabic for "Rebellion") called for June 30 to be a day of anger against Mursi, the pope tweeted: "Egypt needs every Egyptian today! We must think, discuss, and express our desire for our nation together without violence, enmity or bloodshed."
A month later, and in support of Sisi's call for a national fight against "terrorism", the pope tweeted: "The national responsibility of the Coptic Church of Egypt demands us all to support the measures that protect our country and achieve our freedom without violence or recklessness. Long live Egypt, safe and secure."
But the relationship between the pope and Sisi was displayed openly during the president's visit to Saint Mark's Coptic Orthodox Cathedral in Cairo on Jan. 6 this year – the Coptic Christmas. The move was dubbed by local media as a first in Egypt's modern history.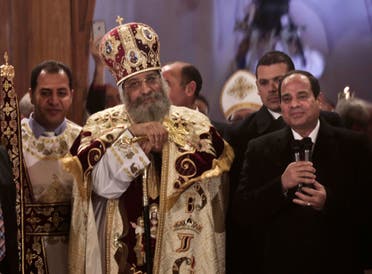 "Let no one say, 'What kind of Egyptian are you?'," said Sisi during a brief speech before a crowd of jubilant of worshippers. "It is not right to call each other anything but 'the Egyptians.' We must only be Egyptians!"
Sisi's "nationalist" speech did not fall on deaf ears. "When the president pays an unannounced visit to the pope in the church, he is laying the foundations of Egyptian nationalism that was lost under the Muslim Brotherhood and even under Mubarak," Masri said.
Attacks against the Copts however persisted even after Sisi ascended to power, but such attacks were "individual incidents," Masri explained. "Calling them individual attacks would be an accurate description simply because the state under the Muslim Brotherhood was turning a blind eye to them and not arresting the assailants."
Read Also: Mursi' overthrow puts Egypt's fearful Christians in a corner.
"But now assailants are being arrested and prosecuted. Some are even being prosecuted in military courts because some of the churches are considered military zones," he continued.
"The next phase will witness a better political participation by the Copts," Masri said.