Are Israel and Hezbollah on verge of new war?
A Hezbollah attack on an Israeli military vehicle has killed two soldiers and wounded seven
While Israel on Thursday said it received a message from the Lebanese militant group Hezbollah that it was backing away from further violence, fear of open conflict with Israel - last seen in 2006 - has returned to Lebanon following a Hezbollah attack on an Israeli convoy in the occupied Shebba farms on Wednesday morning, in which two Israeli troops were killed and a further seven injured.
Tension has been building between Hezbollah and Israel since an Israeli airstrike on Syria's occupied Golan Heights killed a number of senior Hezbollah operatives and Mohammad Allahbadi, a commander in Iran's Revolutionary Guards on January 18.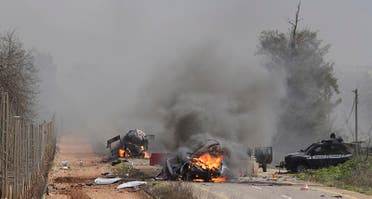 At that time media focus centered on the death of Jihad Moghniyeh, the son of Hezbollah's former military commander Imad Moghniyeh. But the death of Allahbadi arguably did more to anger Iran, Hezbollah's main sponsors. Shortly afterwards Iran informed the United States that Israel had crossed "red lines" by killing one of its generals and would have to "await the consequences."
Whilst conflict in Syria in support of the Assad regime has stretched financial and military resources of Iran and Hezbollah, it has provided opportunities to infiltrate potential new fronts on the Israeli border.
Incursions into Golan over the course of 2014 have increasingly riled Israel. In the last 10 days, since the deaths of Moghniyeh and Allahbadi, Israeli attacks on Syrian artillery positions have been countered by sporadic rocket fire apparently from Assad regime controlled territory.
Phillip Smyth, a researcher at the University of Maryland and expert on Shia militias, notes that as early as June 2013 Syrian President Bashar al-Assad threatened to open up a "new front" in Golan, stating that "among the Arab world there is a clear readiness to join the fight against Israel."
Infographic: Hezbollah attacks Israeli soldiers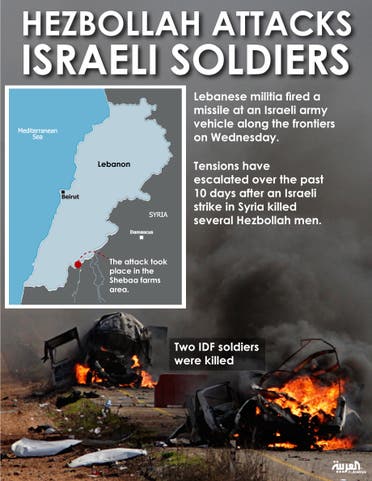 Such rhetoric has come also from members of other armed groups, such as those close to the likes of Hezbollah, Iran and the Assad regime - including the PFLP - GC (Popular Front for the Liberation of Palestine — General Command), who began to appear in Golan, along with a more noticeable Hezbollah presence.
Build-up
"There was a build-up in stages and they were not trying to hide it," says Smyth. "Given the nature of the conflict in Syria and the presence too of extremist Sunni groups close to the Israeli border, it in some ways provides strong cover and an opportunity for Hezbollah and its Iranian backers to build up infrastructure in the area. It is significant that Moghniyeh and Allahbadi were killed in Golan. I'm sure Israeli policy makers saw the potential for this to become a new front and felt the need to act."
As news spread of Wednesday's attack in Shebba, Israeli shelling in southern Lebanon resulted in the death of a Spanish UNIFIL officer. While Avigdor Lieberman, Israel's Foreign Minister, is said to have called his Spanish counterpart to convey his condolences, he added that Israel should respond further in a "forceful and disproportionate manner."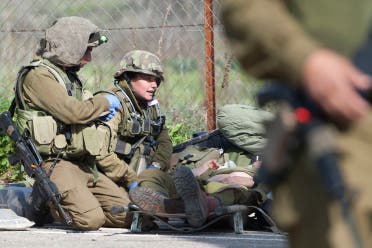 Lebanon's Prime Minister Tammam Salam has attempted to assuage tensions, stressing the Lebanese state's commitment to U.N. Security Council Resolution 1701. But other political figures in Lebanon have directly criticized Hezbollah.
Samir Geagea, head of the Lebanese Forces, a Christian party that forms part of the March 14 coalition notably slammed the group string that it had "no right to involve the Lebanese army and government in a battle with Israel."
Imad Salamey, a professor of politics at the Lebanese American University, notes that given Hezbollah's resources are stretched across not only Lebanon, but additionally Syria and Iraq, the group appears more vulnerable to an Israeli attack than it did during 2006's July war. This has contributed to the perception that the Shebba attack constituted an attempt by the Shia party-militia to seek retribution for events in Golan without aggravating Israel into a full-blown conflict.
"It was a calculated, limited response - a controlled operation," Salamey said. "But whether Israel will take it as that, or choose to escalate it further, is a matter relative to regional, not local, calculations."
In addition to taking advantage of Hezbollah's perceived weakness, the desire of Israeli politicians to sabotage Iran's nuclear talks with America has been cited as a reason the Jewish state could seek an escalation. On the flip-side Israel may not want to become involved in a protracted conflict on so close to parliamentary elections scheduled for March.

Whilst any potential damage inflicted on Hezbollah would greatly impact Iran and its interests in Iraq and Syria, in addition to Lebanon, Salamey point out that it is also possible to argue that Iran might not perceive an escalation in wholly negative terms.
Impact on oil
"A spread of conflict would lead to rises in the price of oil which would be financially beneficial to Iran. It could also help to loosen the pressure on the Assad regime by expanding the field of conflict. The flipside could of course be the huge damage potentially dealt to Hezbollah."
By refocusing attention away from conflict within Syria, Nadim Shehadi - director of the Fares Center for Eastern Mediterranean Studies at Tufts University - notes that the "Resistance Axis" of Iran, Assad and Hezbollah, can re-emphasize a commitment to the Arab-Israeli conflict, a central tenet from which the alliance derived its ideological legitimacy before Syria's civil war.
"It could strengthen the legitimacy of the resistance, and this also deflects attention from the Assad regime dropping barrel bombs in Aleppo, for example," says Shehadi.
Internally, within Lebanon, Shehadi notes that it could additionally afford Hezbollah the pretext to refuse to enter discussions with the opposition March 14 coalition concerning its illicit arsenal. At a time of potential conflict with Israel, such an issue is off the table.
"In the case of an Israeli attack the repercussions for Hezbollah and Lebanon could be huge. But before it happens, it is all speculation," Salamey added.
"It is a regional issue principally involving Iran and Israel - both sides weigh up the pros and cons. Sometimes it can take two to tango."
______________
Martin Armstrong is a freelance journalist based in Beirut. His work has been featured in publications including VICE, Al-Monitor, The Christian Science Monitor, The Chicago Tribune, and Lebanon's Daily Star. You can follow him on Twitter @scotinbeirut