Photos suggest ISIS rebranding U.N. food aid
In posts on channels supportive of the group, the aid is described as 'zakat,' or almsgiving to the poor
Photographs posted on websites affiliated with the Islamic State of Iraq and Syria (ISIS) show the militant group handing out food from aid packages that seem to bear the United Nation's World Food Program (WFP) logo.
The boxes appear to have been labelled with the ISIS infamous insignia, news website Vocativ reported adding that parts of the WFP logo are still visible.
In posts on channels supportive of the group, the aid is described as "zakat," or almsgiving to the poor.
The images are believed to have been taken near Syria's embattled city of Aleppo. It is unclear how the militant group got a hold of the aid packages.
A caption underneath one of the images reads: "distributing zakat in refugee camp in the Qurmuz Ali village near Dar al-Fath." Men purported to be supporters of ISIS, including one clad in combat attire, stand around women and children as they sign off boxes of food aid.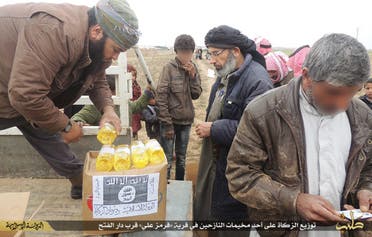 The WFP, in partnership local aid organizations, provided monthly food assistance to almost three million Syrians until December 2014, when it halted its program due to lack of funds.
The United Nations has accused ISIS of committing war crimes and human rights violations in both Syria and Iraq. A coalition of states led by the U.S. has been conducting airstrikes against the group in Iraq and Syria.