Bloody nose for Erdogan as election shakes Turkish politics
President Recep Tayyip Erdogan's Justice and Development Party (AKP) lost its parliamentary majority, winning 41 percent of the vote
The results of last weekend's parliamentary elections in Turkey have shifted the balance of power in national politics and sparked debate about coalition options.
President Recep Tayyip Erdogan's Justice and Development Party (AKP) lost its parliamentary majority, winning 41 percent of the vote, or 258 seats, below the minimum required to rule alone.
The main opposition Republican People's Party (CHP) got 25 percent of the vote, while the Nationalist Movement Party (MHP) remained under 17 percent.
Infographic: Turkey's surprise election outcome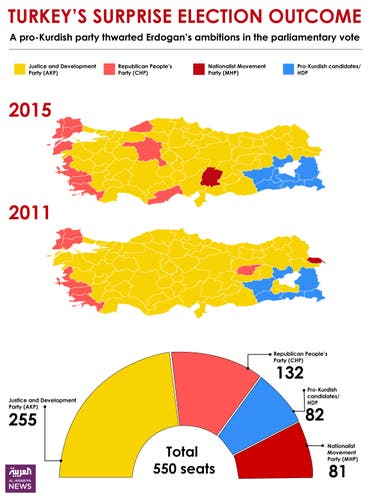 Kurdish ascendance
The pro-Kurdish Peoples' Democratic Party (HDP) has emerged as the rising star, getting 13 percent of the vote, or 80 seats, and bypassing the 10 percent threshold for the first time.
HDP did so by reaching out not only to Kurdish voters, but also to non-Kurdish women, youths, gays, the middle class and secular Turks.
HDP stressed its inclusivity, pluralism, liberalism, and commitment to democracy and freedoms. It refuses to join a coalition with AKP.
Galip Dalay, research director Al-Sharq Forum, told Al Arabiya News that the most immediate implication of having HDP in parliament is that there will be greater motivation to reduce Turkey's prohibitively high election threshold.
"This will make Turkey's politics and political representation fairer. Turkey's governance will feel the pressure to better reflect the country's societal diversity."
Dalay said the success of HDP will make it difficult for Turkey to take part in any anti-Kurdish developments in the region, especially in Syria.
Coalition options
The election result has also sparked debate about coalition options in Turkey, which experienced fragile and economically unstable periods in the 1990s under coalition governments before having one-party rule.
However, under AKP economic growth has slowed significantly to 3 percent, with controversial interventions on interest rates. Meanwhile, unemployment is up.
Özgür Ünlühisarcıklı, who heads the German Marshall Fund in Ankara, said the election result shows that President Recep Tayyip Erdoğan can no longer singlehandedly shape Turkey's future.
However, "while AKP isn't a predominant party anymore, it's still the major actor in Turkish politics. Therefore, with AKP congress due in six months, internal developments within the party will continue play a very important role in Turkish politics," said Ünlühisarcikli.
Ünlühisarcıklı added that the HDP has become a national party. "Moreover, the power balance within the Kurdish political movement has shifted from the outlawed Kurdistan Workers' party (PKK) to HDP," he told Al Arabiya News.
Dr Emre Erdoğan, founder and director of the Infakto Research Workshop in Istanbul, said the results potentially opened a new chapter of coalition rule.
"In the coalition-formation process there are several alternatives. A grand coalition between the two major parties, AKP and CHP, seems highly improbable," Dr Erdoğan told Al Arabiya News.
He said a coalition with other coalition partners is also improbable because MHP and HDP declared their opposition to partnering with AKP, while MHP is against taking part in a bigger coalition with CHP and HDP.
"There's no viable winning coalition alternative, and the minority government options would be very vulnerable, while none of these scenarios is satisfactory for President Erdoğan," Dr Erdoğan said.
"Hence, the president has significant power to block possible coalition-formation attempts, pushing for an early election. Our current constitution sets a deadline [45 days] for forming a government, and this may push leaders to compromise."
Grassroots
The election has shown a strong grassroots civil movement in Turkey, with various watchdogs such as Oy ve Ötesi monitoring the ballots to spot any fraud.
The election was also observed by members of the Organization for Security and Cooperation in Europe (OSCE).
Voter turnout reached a record 86 percent, considered by the EU as a "clear sign of the strength of Turkish democracy."
Meanwhile, 96 women entered parliament, increasing female representation from 14 to 18 percent.
The new parliament also hosts Armenian, Assyrian, Yazidi and Roma representatives for the first time in its history.
Marietje Schaake, a prominent liberal member of the Friends of Turkey group in the European Parliament, said the Turkish people have chosen change.
"I hope this momentum translates into a new, broadly-supported and ambitious agenda for democratic reforms and better relations with Europe," Schaake told Al Arabiya News.
"While forming a coalition will be a serious challenge, and much attention will go to changing domestic policies, both the EU and Turkey should seize this historic moment."