Kuwait considers laws expanding security after Shiite mosque attack
In a funeral procession following the attack, scores of Sunni and Shiite Kuwaitis mourned their losses
Following Friday's deadly attack on a Shiite mosque, the Kuwaiti cabinet is expected to adopt a package of laws that would provide security services wider abilities to conduct investigations into the incident, Al Arabiya News Channel reported on Monday.
A supporter of the Islamic State of Iraq and Syria (ISIS) detonated a bomb midway Friday prayers in Kuwait City killing 27 people. The bombing marked the third attack on a Shiite community claimed by ISIS in a GCC state in two months.
READ ALSO: ISIS loyalists claim Saudi mosque attack
"This is a novel challenge for security authorities in Kuwait," Member of Parliament Khalil Ibrahim Al Saleh, who was in the mosque when the suicide bomber struck, told Al Arabiya News from Kuwait City.
"The Shiite community has a wide base in Kuwait, in mosques, houses of worships, and they are in all parts of Kuwait, therefore, we need to reassess our [security policy.]"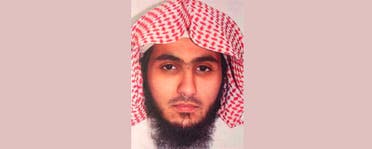 There are no specific contingency plans set in place to protect these areas, he said.
"A camera may capture a suicide bomber, but the suicide bomber does not care about being caught on video."
Bulking up security
Additionally, the attack sends an "important signal to the government that more security should be in place in all religious sites, also in shopping malls, where people gather," Muhammed Al Wuhaib, professor of political philosophy at Kuwait University, told Al Arabiya News.
"There was a lack of using technology from the part of the ministry of interior," he said, adding: "It's easy to have a metal detector when people enter such sites… and having a security officer in the mosque, they could have done that but they didn't."
In addition to immediately responding to the security threats posed by the attack by pursuing collaborators, Al Saleh said the Ministry of Interior must make use of the information it has collected and continue to monitor suspects.
"Are extremists being monitored? That is a direct question to the government," he said.
"…Punishments must be carried out. This should act as a message to members of society, carrying out these trials and punishments, and broadcasting them, should act as a message to those with Takfirist ideology," he added.
On Saturday, Kuwaiti police arrested the driver who transported the suicide bomber and the owner of the house where the attacker was staying, the official KUNA news agency said.
While "we blame the ministry of interior," for its shortcomings, the arrests are "an achievement they should take credit for," Al Wuhaib said.
Dealing with extremist ideology
Al Saleh said the new security challenges need to be dealt with using a two-pronged approach: one that directly confronts the issues at hand and one that deals with the ideology from which the drive to carry out these attacks stems.
"The source of these extremist and demonic ideology, are coming out of books that preach Takfirist ideology, there needs to be a real campaign which preaches tolerance," he said.
Tensions between the Shiite and Sunni communities have grown in past decades in Kuwait, a phenomenon Al Saleh attributes to what he said was "extremist Salafist ideologies."
"This talk of 'you're a Shiite, I'm a Sunni' did not exist in the 50s and 60s, or during the days of the invasion," he told Al Arabiya News.
"Today, they [extremist preachers] have barred [Sunnis] from entering Shiite mosques, or paying condolences at a Shiite funeral."
"…The extremist Salafist ideology is the source of the corruption of these minds," he added.
National solidarity at 'its peak'
In light of the attack, Wuhaib said national solidarity in Kuwait "is at its peak."
The same was "demonstrated during the Iraqi invasion of 1990, when Shiites and Sunnis stood side by side to fight the Iraqis" he told Al Arabiya News.
"We honor them."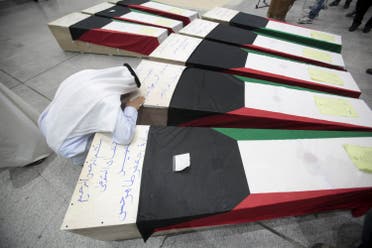 In a funeral procession following the attack, scores of Sunni and Shiite Kuwaitis mourned the losses they incurred on Friday.
READ ALSO: Thousands mourn in Kuwait after mosque attack
"I think that Kuwaitis are aware of what's happening around them in the Arab world, aware of what sectarianism may lead to," he said.
The ongoing war in Syria, unrest in Iraq and the recent suicide attacks on Shiite mosques in Saudi Arabia, act as reminders of what sectarianism would lead to, Al Wuhaib said.
"The last thing that anything Kuwaiti would think about, whether he is Shiite, Sunni, is to commit or participate in such a sectarian war," he explained.
Shortly after the blast, Kuwait's Emir Sabah al-Ahmad al-Jaber Al-Sabah visited the site, a symbolic move to many Kuwaitis.
"The head of state, regardless if any security issues - snipers, another bomb - went himself to see the situation first hand.
"It gave a good signal, not only to Shiites but to also to Sunnis: that security is a vital thing that he looks after in Kuwait."