Two years on, where is Egypt's Tamarod movement today?
Tamarod spearhead protests in June 2013 against the Muslim Brotherhood's candidate Mursi a year after he took office
Two years after the emergence of Tamarod - a protest movement that mobilized nationwide protests and led to the ouster of Egyptian President Mohammad Mursi - the group has now disappeared from the political scene, and its founders have returned to the ranks of the masses.
Tamarod spearhead protests in June 2013 against the Muslim Brotherhood's candidate Mursi a year after he took office. The movement was founded in April by members of a prominent Mubarak-era opposition group called Kefaya.
Tamarod blocked traffic to hand out petitions that complained about a number of issues, including deteriorating security and economic conditions, the Brotherhood's desire to monopolize power and marginalize opposition figures, and the justice that was not served to the victims of the 2011 uprising.
The movement claimed it had collected more than 22 million signatures on a petition demanding Mursi step down. It called for mass demonstrations across the country, and millions of people answered its call.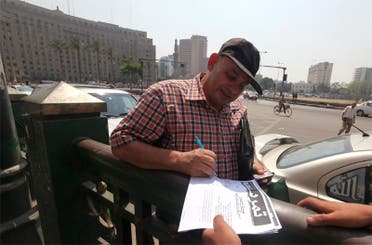 Tamarod rejected dialogue calls from the Brotherhood, aimed at salvaging the situation. "There is no alternative other than the peaceful end of power of the Muslim Brotherhood and its representative, Mohammed Mursi," it said, in statements quoted by the BBC.
After nationwide protests, the army intervened in favor of the masses. And in a few days, Mursi was toppled, and a crackdown on his Brotherhood begun.
On the second anniversary of the June 30 protests, several questions have been raised on the current position of Tamarod in the Egyptian political scene.
Tamarod launched several campaigns, some against American aid to Egypt, and another for voting in favor of the constitution.
But the group disintegrated after it was marred by divisions, mainly due to differences among its founders, over candidates in the 2014 presidential elections.
While some of its founders were supporting Leftist politician Hamdeen Sabahi, the overwhelming majority favored the back-then Field Marshal General Abdel Fattah al-Sisi.
Not only that, but conspiracies behind the creation of Tamarod, and whether or not it was created by Egyptian Intelligence to counter the Brotherhood, never really stopped.
Tamarod also failed to form a political party due to internal differences on whether the move would be a good step.
On that note, Doaa Khalifa, a founder of Tamarod, told Al Arabiya News such calls were met with conflicting views among the group.
The movement represented different political groups, and people from different factions and it was difficult to get all to support one particular group, she said.
"It was difficult to unite everyone under one political party. Tamarod belongs to all Egyptians."
Khalifa described the June 30 protests as "the world's greatest revolution. It removed a terrorist organization from power."
"No one believed in us at first," she said. "We had strong faith in God that we could do it. In just two months, we managed to make Tamarod a popular campaign across the nation."
"The crowds that took to the streets on June 30 prove that we collected more than 22 million signatures."
But did Sisi meet Tamarod's goals?
Demands by the group, whose name means "rebellion" in Arabic, still exist as Sisi recently completed a year in office, just like his predecessor Mursi.
But Khalifa says in her opinion the situation now is better. "Sisi corrected the path," through which Egypt's problems will be solved, she said. "If we continued under the Brotherhood, we would have entered a dark tunnel."
Later reports accused the movement of receiving foreign money and support from an Arab state aiming to meddle in Egypt's political affairs.
Khalifa did not deny the allegation in her interview with Al Arabiya, but refused to comment.