Have ISIS atrocities crossed the border into Turkey?
Killing at least 32 people and injuring dozens more, the target of the suicide attack was the Amara Cultural Center where about 300 young
Just after the Eid el-Fitr feast, Turkey started the new week with a huge explosion in the southeastern town of Suruc, one of the nearest points to the country's border with Syria, right across from the Syrian town of Kobane.
Killing at least 32 people and injuring dozens more, the target of the suicide attack was the Amara Cultural Center where about 300 young, left-wing activists from the Federation of Socialist Youth Associations gathered to make a press declaration about the reconstruction of Kobane.
The group intended to construct a library, a playground and plant a memorial forest in Kobane with the joint efforts of Turkish and Kurdish youth.
The attack is rumoured to be made by an 18-year old female suicide bomber from ISIS.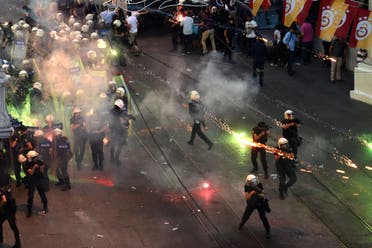 President Recep Tayyip Erdogan condemned the blast and said "terror has no religion, no country, no race."
The attack was also quickly condemned by the international community, including the United Nations and NATO, who voiced solidarity with Turkey.
Aytun Cetin (24) was one of the wounded young activists who were in the cultural center at the time of the blast. She came from Turkey's southeastern town of Batman with the paintbrushes and toys she brought for the playground to be built in Kobane.
Interviewed by Al Arabiya News, Cetin had a deep scratch on her arm and a strong hum in her ears following the high volume of the bomb explosion.
"I saw many of my friends seriously wounded and some of them were dead right in front of me. I'm still in shock. It is as if something exploded in my head. I cannot understand the reason for such a heinous attack," Cetin said.
"Each of us had an innocent dream. We were just trying to help children who are deeply traumatized by the war," she desperately lamented with a trilling voice.
Kurdish fighters of the People's Protection Units (YPG) have recently cleared Kobane –which became one of the symbols of Kurdish resistance- from ISIS jihadists.
Ankara has listed ISIS as a terrorist group, but there is a widespread belief in the region that the state is not doing enough to stop jihadists passing through its borders, and is even accused of encouraging the rise of ISIS.
Haldun Yalcinkaya, a former lieutenant colonel at the Turkish Military Academy and currently heading the international relations department of Ankara's TOBB Economics and Technology University, said that such an attack from ISIS was in prospect.
Yalcinkaya said that the hints for this attack came with the increased security reinforcements by Turkey at the border zones and big cities, as well as discussions about a buffer zone along the Syria border inside Syrian territory.
"ISIS has a strategic mind and this attack was a warning for Turkey to say that it has a huge capacity to attack Turkey whenever, wherever and to any extent it wants," Yalcinkaya told Al Arabiya News.
Yalcinkaya noted that the target of this terrorist attack is not those who are hit, but instead those who are not hit, in other words, the public opinion, about the great capacity of this terrorist group.
"And it shows the vulnerability and the high-level threat perception of Turkey. From now on, we will see how Turkey will react against this message and whether or not it will deepen the extent of its activities," he added.
According to Yalcinkaya, every effort should be made to prepare a comprehensive strategic plan that involves military, political, cultural, diplomatic and sociological dimensions of the fight against ISIS.
"The security of the whole country, which is a NATO member neighboring ISIS, depends on this plan, because Turkey currently hosts almost 2 million Syrian refugees and even a very small portion of them can launch a terrorist attack at any time anywhere," he added, pointing out to the recent red alerts about ISIS' sleeper cells in Turkey.
An intelligence report from Turkish police forces revealed that there are about 3,000 people in Turkey who are linked to ISIS.
But, the authorities do not seem to come to terms with this threat. In mid-June, three journalists were briefly detained by Turkish authorities at the border town of Akcakale when they asked the local governor about possible jihadist infiltration in Turkey.
Dr. Saban Kardas, president of Ankara-based ORSAM (Middle East Strategic Research Center), said that with Turkish politics seeking a way out to form a coalition government there is a fragile environment that can be potentially exploited by a terrorist attack to create a political impact.

"However, it would be unfair to blame Turkish security forces alone in not preventing this terrorist attack and creating a security vacuum. There are huge security risks that cannot be shouldered by the security infrastructure of the region alone," Kardas told Al Arabiya News.

According to Kardas, unlike their provocative language so far, lawmakers from Turkey's pro-Kurdish party HDP should take a more moderate tone in commenting about the political situation and the conflict in Syria that involves a predominantly Kurdish border region.

"Otherwise, Kurdish actors are creating a risk that some regional conflict dynamics, like the conflict between YPG and ISIS, are imported into Turkey, and Turkish territory is rendered vulnerable to similar attacks," he added.
However, HDP lawmaker Faysal Sariyildiz in southeastern province of Sirnak, who pays regular visits to Kobane, disagrees.
"This attack aims at discouraging non-Kurdish citizens in Turkey to support the humanitarian aid for Kobane and other Kurdish regions. However, it will trigger further awareness as a reaction to such merciless attacks," Sariyildiz told Al Arabiya News.
""We have recently called on our citizens in the region to mind their own security and not to put their lives at risk because there is an increased belief in the region that the state doesn't protect them anymore," said Sariyildiz.
Sariyildiz defines ISIS as the most dangerous, the bloodiest and the most vandal terrorist organization of the 21th century.
In 2013, another border town of Reyhanli witnessed twin bombs by ISIS which cruelly killed about 50 people.
"Despite this, military tanks are massively deployed on the border zones with Kurdish regions, while between Sanliurfa's Birecik district and Kilis, you can barely find a handful of military officials, which creates an enabling environment for the easy transit of ISIS militants in a hundred kilometer-long stretch," he added.
If, according to Sariyildiz, groups linked to ISIS were recently able to perform the Eid prayer at the very heart of Istanbul, it is apparent that the state apparatus shuts its eyes against the spillover of this terrorist threat.
HDP published a press statement claiming the attack aimed to "undermine the international solidarity for Kobane", and arguing that all countries who gave support to ISIS or who keep silent are accomplices to this barbarism.
Turkey's southeastern province of Diyarbakir was recently shook by another bomb attack on June 5, just two days before the general elections. The attacker, a Turkish citizen, Orhan Gonder, joined ISIS last year as a reaction to Kurdish riots over Kobane. Killing four people in this attack, he was trained by ISIS for bombing missions.
And despite countrywide calls on social media, Turkey has not declared a national day of mourning yet for this latest ISIS attack.