'Unpredictable terror:' Can Turkey crush wave of sporadic attacks?
Turkey started the week with attacks that killed and injured many
Turkey started the week with attacks that killed and injured many. An overnight car bomb near a police station in Istanbul injured 10 people, including police officers.
Unidentified attackers later opened fire on police examining the scene of the explosion.
This second attack caused another gunfight that killed two of the assailants and the director of the bomb-disposal team.
In a separate incident, two women opened fire on the U.S. consulate in Istanbul Monday morning, and engaged in a gunfight with police.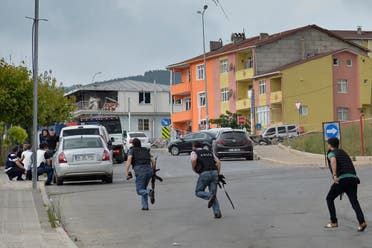 One of them, Hatice Aşık - allegedly from the far-left Revolutionary People's Liberation Army-Front (DHKP-C) - was captured in a nearby building.
The consulate's Twitter account said it would reopen Tuesday. U.S. diplomatic buildings have been targeted in recent years.
The consulate building was attacked seven years ago, and three policemen were killed.
In 2013, a suicide bombing by the DHKP-C at the U.S. embassy in Ankara killed a Turkish security guard and badly injured a journalist.
Also Monday, a remote-controlled roadside mine explosion in Turkey's southeastern town of Silopi killed four police officers and injured another in an armored vehicle.
Kurdistan Workers' Party (PKK) militants attacked a military helicopter in the southeastern province of Sirnak with anti-aircraft guns and rocket-propelled grenades, killing one soldier and wounding another.
Following the attack, Turkish helicopters bombarded areas where PKK militants had escaped.
Heightened security

The heightened state of security coincide with increased clashes between the army and the outlawed PKK throughout the country, as well as Turkey taking a more active role against the Islamic State of Iraq and Syria (ISIS) by opening its bases to the U.S.-led coalition.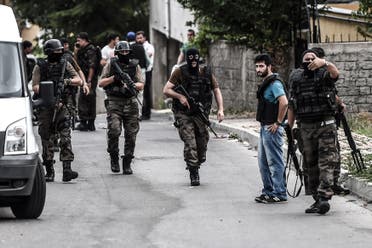 On Sunday, the U.S. military said six F-16 fighter jets had been deployed to Turkey's southern Incirlik airbase to support the fight against ISIS.
Last month, Turkey detained more than 1,000 people suspected of links to terror organizations in the country.
Experts underlined Turkey's political vulnerability, with a new government not having been formed yet, sparking further domestic instability.
Professor Halil Ibrahim Bahar, an expert on security and criminology at the Ankara Strategy Institute, told Al Arabiya News that these attacks were the inevitable consequence of Turkey's longtime domestic and foreign security risks.
"When people start to feel alienated from wider society with no positive part to play, social bonds begin to break, and terrorist networks benefit from promising them a sense of belonging," said Bahar previously a teacher at the Turkish Police Academy.
"Turkey should bring in more efficient security measures, and boost its capacity to control terrorist threats through active policing, intelligence-gathering and EU-aligned criminal justice in both proactive and reactive ways," he added.
Dr Cenap Cakmak, professor at Eskisehir Osmangazi University, told Al Arabiya News: "What is grave is that this is no longer a low-intensity conflict between security forces and terrorists; it is unpredictable terror."
Breakdown of trust
Cakmak said the primary reason for growing terror and violence is lack of confidence in both the state and the PKK, and more broadly hardline Kurds.
"Confidence should've been built between the parties, but now... the Kurds don't trust the [ruling] AK Party, and there's a political environment where the Kurds are being further alienated. It's now pretty unlikely they could trust each other to make peace."
Last month, the PKK said a two-year-long ceasefire had ended due to Turkish airstrikes in northern Iraq's Qandil mountains, the PKK's command center, where about 400 militants were killed in two weeks.
This dealt a blow to the protracted reconciliation process to end the decades-long conflict between the PKK and the Turkish state.
Cakmak called for intelligence efforts and preparations for terror attacks, rather than the nationwide wave of arrests that would further provoke people.
He added that the government should discourage hate discourse and antagonizing language that would further alienate the Kurds.