Poll: Most Iraqis see U.S., Iran as factors of instability
However, as much as 87 percent of Iraqi Sunnis, and 39.2 percent of Iraqi Shiites, see Iran as a factor of instability
Most Iraqis see the United States and Iran as factors of instability, according to a provisional poll conducted by ArabTrans, an international research project by the University of Aberdeen, together with the Independent Institute for Administration and Civil Society Studies (IIACSS).
The poll reveals that 72.8 percent of Iraqis feel that way about the United States, and 60 percent feel that way about Iran after conducting 1,750 "valid interview" across Iraq.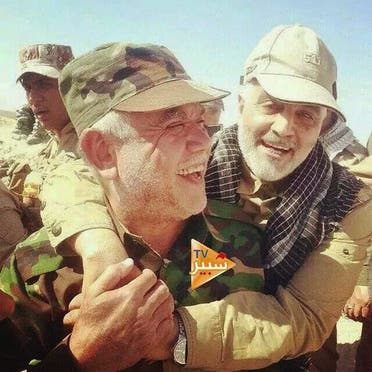 While there was a "fairly even split across all groups," a gap indicated that Iraqis based their perceptions of Iranians depending on their religious background. As much as 87 percent of Iraqi Sunnis, and 39.2 percent of Iraqi Shiites, see Iran as a factor of instability, according to the poll.
The poll, which has four options: 1) A factor in stability, 2) A factor in instability, 3) Has no effect and 4) Refuse to answer or I don't know, does not distinguish between Arab and Kurdish Sunnis.
Sunni Arabs in Iraq have long complained of Iranian interference and accused their Shiite-dominated government of being pro-Tehran.
However, Iraqi Shiites have welcomed military support from Iran against the Islamic State of Iraq and Syria (ISIS).
The survey was carried out in May and June last year, before the start of U.S.-led coalition airstrikes against ISIS in Aug. 2014.
At the same time, the data indicates suspicion of Washington despite U.S. help to Iraqi opposition groups and dissidents in toppling the dictatorial regime of Saddam Hussein in 2003.
Asked to explain this, Professor Andrea Teti of University of Aberdeen's Department of Politics and International Relations said given the phase which the survey is in, it is still too early to answer "such a specific question."
"What we can do is look at those variables which express stability/instability alongside responses to questions about the state of affairs in Iraq, and infer that factors of perceived instability are connected to areas in which respondents feel there is instability," he told Al Arabiya News.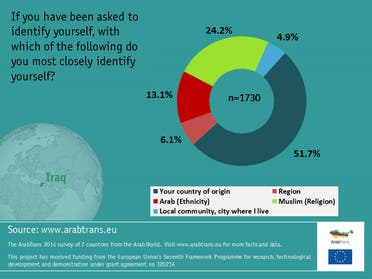 China, Russia
At least 48 percent of Iraqis see China as a factor of stability, ranging from the low-40s to low-50s across various ethnic and religious groups.
China, the biggest investor in Iraq's oil sector, last year offered support for airstrikes against ISIS but outside the U.S.-led campaign. So far, however, there have been no Chinese airstrikes.
Russia, a close ally to Iran, is seen by 42.9 percent of Iraqis as a factor of stability, with 23.8 percent of Sunnis perceive it as such, but almost 52% percent of others deeming it "irrelevant."
Turkey
At least 49 percent of Iraqis see Turkey, which has recently joined the U.S.-led coalition against ISIS, as a factor of instability.
There was a "strong split" between Sunnis and Shiites, with 21.8 percent of Sunnis and 70 percent of Shiites "believing Turkey has a stabilizing effect, and 60.8 percent of Sunnis vs. 15.9 percent of Shiites who believe Turkey is destabilizing."
The perception of Turkey is surprising, given that Sunni Arabs see Turkey as their natural non-Arab neighboring ally against Iran.
Final results of the poll - expected for internal publications – will be due in mid-November. The survey was also funded by the European Commission.