Jordanian MP: 'My dead son was an ISIS militant. Now I'm their target'
He has so far succeeded in bringing back two Jordanian women who were heading to join ISIS
Still grieving over his eldest son's death while allegedly fighting alongside ISIS, Jordanian MP Mazen Dalaeen has been taking it upon himself to personally counter the militant group's propaganda and recruitment efforts.
Dalaeen's son, 23-year-old Mohammad, referred to in local media as a "Jordanian medical student-turned-bomber" was reported killed in October this year after blowing himself up in a suicide attack in Iraq's Anbar province.
At the time, Dalaeen said his son left his studies in Ukraine last June, when he was "brain-washed" by ISIS and travelled to Turkey to cross over into Syria to join the group.
Mohammad's death has put his hometown district of Ai, in the southern Karak governorate, in the media spotlight again, previously reported on as also being the hometown of Jordanian combat pilot Muath al-Kasasbeh, who was burnt alive by ISIS.
Following Mohammad's death, Dalaeen has been engaged in what he describes as "fruitful" personal efforts to safeguard young people against ISIS' "false promises" to prevent them from falling prey to the group, which the lawmaker termed as the 'al-Khawarij' (the outlaws).
Dalaeen says he has so far succeeded in bringing back two Jordanian women who had already flown to Turkey and were allegedly heading to join ISIS.
"This has put me under ISIS's microscope," Dalaeen told Al Arabiya News on Monday, adding: "But I don't care and I have no fears."
A call for help
In November, Dalaeen rescued one of the women, a 25-year-old, before she reached ISIS-controlled territories in Syria.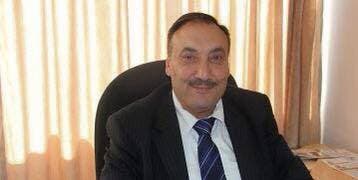 The story began, according to the MP, when the family of the woman – a psychology graduate – received an SMS from their daughter informing them that she would be joining ISIS in the group's stronghold of Raqqa.
"Her father called me asking for help, knowing that I am experienced in such matters," Daleen said, adding that he immediately notified security officials and then tried contacting her via WhatsApp.
"I wrote to her that she chose the wrong people if her purpose was to defend Islam, because these people [ISIS] are anything but Muslims.
"She replied saying she had already reached Raqqa and there was no way to return back. But I learned from the answers I received that she was not the one who was writing to me. I knew it because they were the same answers given to me by my son when I was trying to convince him to come back home."
The MP then told the woman that her father was already on his way to Syria to bring her back and that he was risking his life doing so.
"This piece of information had such an impact on her that she begged me to stop her father from entering Syria. She then told me that she was still in Turkey residing in a house that she was escorted to by veiled women," Dalaeen said.
"To make a long story short, the woman then left the house upon my advice and I contacted the Jordanian embassy in Istanbul who rescued her and then brought her back to Jordan in cooperation with the Turkish authorities."
A similar story happened a month later when Dalaeen was able to convince another woman to return to Jordan while she was in Turkey on her way to join ISIS.
"Again, just like the first time, I received a call from relatives of the woman telling me that their daughter had already flown to Istanbul to travel from there to ISIS-controlled territories in Syria," Dalaeen said. "When they called me, their daughter was airborne."
"I immediately informed the Jordanian embassy in Ankara to take action."
Without giving more details, Dalaeen said the woman is highly educated and belongs to a wealth family in Amman.
"Turkish authorities kept the woman in custody at the airport for some time before she was sent back to Jordan."
A target
After succeeding in bringing the two women back, the grieving lawmaker believes he has now become a target of ISIS.
"Recently, they [ISIS] threatened me by sending a recorded video of my son, calling Jordanian MPs 'apostates.'"
He added: "I am sure my son was pushed to say what he said. He wasn't himself at all. I am his father and I recognized from his facial expressions when he wasn't at ease. My son was brain-washed by ISIS. He was deceived and dragged into the group's hostile territories."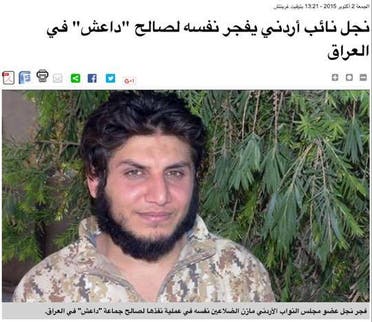 Giving an example of how he believes his son was brain-washed, Dalaeen said: "Mohammad one day was carrying Muath's picture," referring to a time when many in Jordan had been protesting for ISIS to release the fighter pilot or treat him civilly as a prisoner of war.
"At that time, I was very outspoken, condemning ISIS and exposing their deceitful propaganda. It could be that the group targeted me through my son due to my irreversible view of them as outlaws of Islam," Dalaeen said.
The MP said he will be relentless in fighting ISIS's "deviant" ideology and their recruiting efforts.
"Any threat from the group will not sway me from proving ISIS's deviant ideology. I lost my son and I don't want the same for other Jordanian families."
Recruitment
Dalaeen believes ISIS is trying to recruit highly educated, intellectual and professional young people in a bid to change its widely-held stereotypical image as only targeting marginalized and uneducated people.
"A week ago, a 24-year old Jordanian lawyer joined ISIS. I am currently working on bringing him back."
Dalaeen also said that a Jordanian engineer had recently joined ISIS but returned back after he "discovered the group's deviant ideology," noting that the young engineer is now serving a prison sentence for joining a terrorist organization under Jordan's Anti-Terrorism Law.
"I will work with my colleagues in the Lower House to push for amending the Anti-Terrorism Law so that the penalty on ISIS defectors returning home is softened," he said, adding: "Most of these young people were deceived and they should be given the chance to change."
Jordan's State Security Court has issued several rulings imposing prison terms with hard labor on charges related to joining or recruiting personnel for terrorist groups, publishing militant propaganda online and collecting, securing or transferring money to the militants. Prison terms ranged between three to 15 years.
Describing his anti-ISIS work as mostly individualistic, Dalaeen hopes that he is joined by university professors, imams, preachers and civil society organizations so that countering the group and radicalism is turned into an "institutionalized endeavor."