Message from Bin Laden's son exposes 'Iran's revival of al-Qaeda'
Believed to be 24 or 25 years old, Hamza is expected by experts to potentially become the next al-Qaeda leader
An audio message released recently by Osama Bin Laden's son Hamza has signaled the "continuation of Iranian sponsorship" of terrorism within al-Qaeda, a report by a US-based think tank has found.
In the message released on May 9 and titled "Jerusalem is but a bride, and her dowry is blood," Hamza called on all Syrian militant groups to unite and "liberate Palestine."
According to a report released this week by SAPRAC, the Saudi American Public Relations Affairs Committee, "Al-Qaeda observers believe the new message released by Hamza Bin Laden signals the continuation of Iranian sponsorship of Bin Laden's son, which started after the tragic events of 9 / 11.
"Blatantly defying world powers, Tehran hosted Hamza Bin Laden and provided him with necessary security, according to many intelligence agencies across the world."
Believed to be 24 or 25 years old, Hamza is expected by experts to potentially become the next al-Qaeda leader
The SAPRAC report added that on March 16, before the release of the audio message," American intelligence declassified 113 hand written messages by Osama Bin Laden. These included instructions on how Al-Qaeda should deal with Iran."
The messages also revealed that Bin Laden said Iran is 'the chief pathway for our money, men, communiqué, and hostages".
Bin Laden also urged his men "not to start a front against Iran."
According to SAPRAC, "this confirms the strong and warming ties between Al-Qaeda and the Islamic Republic of Iran."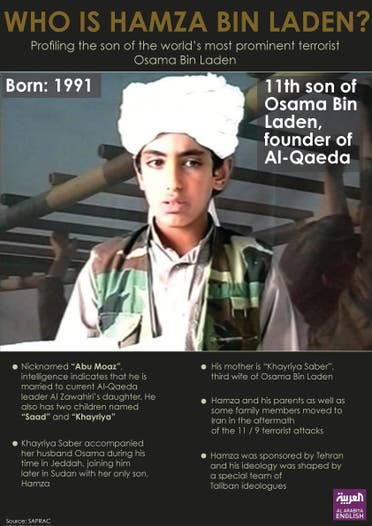 Three senior al-Qaeda members linked to Iran
The United States recently imposed sanctions on three senior al-Qaeda members living in Iran, shining a brighter spotlight on Tehran's involvement in violent extremism in the region.
The US Treasury department specifically designated Faisal Jassim Mohammed Al-Amri Al-Khalidi, Yisra Muhammad Ibrahim Bayumi, and Abu Bakr Muhammad Muhammad Ghumayn as "Specially Designated Global Terrorists," according to their findings published last week.
"Today's action sanctions senior al-Qaeda operatives responsible for moving money and weapons across the Middle East," Adam J. Szubin, Acting Under Secretary for Terrorism and Financial Intelligence, said in a statement.
"The Treasury remains committed to targeting al-Qaeda's terrorist activity and denying al-Qaeda and its critical support networks access to the international financial system."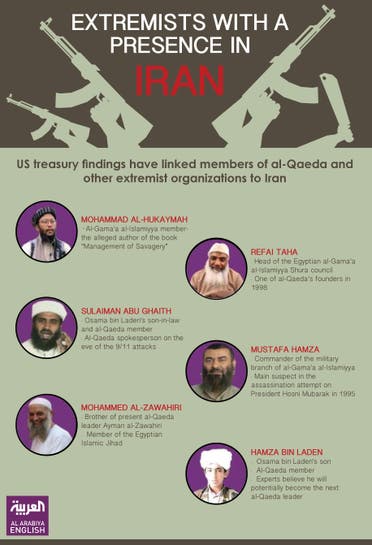 Al-Khalidi is a senior al-Qaeda official who was an emir of a brigade and part of a new generation of al-Qaida operatives, according to the US Treasury report. In May 2015, as al-Qaeda Military Commission Chief, he participated in an annual council meeting with other al-Qaeda commanders to discuss weapons acquisition.
As of 2011, al-Khalidi was responsible for liaising between al-Qaeda associates and al-Qaeda Central Shura members and leaders within the US-designated terrorist group Tehrik-e Taliban Pakistan.
The US also designated Bayumi for acting for or on behalf of al-Qaeda. He is a veteran al-Qaeda member who has been located in Iran since 2014 and a member of al-Qaeda since at least 2006.
As of mid-2015, Bayumi was reportedly involved in freeing al-Qaeda members in Iran. As of early 2015, he served as a mediator with Iranian authorities.
The third named operative, Ghumayn, is a senior leader who has served in several financial, communications, and logistical roles for the group. As of 2015, Ghumayn assumed control of the financing and organization of al-Qaeda members located in Iran.
On Tuesday, Iran denied the claims by Washington that the three senior al-Qaeda figures are based in the country, the official IRNA news agency reported.
Foreign Ministry spokesman Bahram Ghasemi was quoted as saying that Iran doesn't have "any information about their presence on its soil."
Revealing more Iran links
The recent sanctions come on the heels of documents leaked in March that reveal the level of ties between al-Qaeda and Iran, particularly on the situation in Iraq where the two sides allegedly sought to reach a deal.
One of those leaked documents was a letter written by an al-Qaeda operative in which he tells a fellow operative named Taqfik that he had met with someone in Tehran and that the Iranians wanted to build contacts with someone representing the "mayor," a codename for former al-Qaeda Chief Osama bin Laden.
The trove of letters also revealed Bin Laden ordered his al-Qaeda deputies not to attack Iran, which he called a "main artery" for his organization's operations.
The order was part of a collection of 112 letters taken from bin Laden's compound by US special ops forces after he was killed in 2011.
Those documents also revealed further names of operatives with links to Iran:
Abu Hafs the Mauritanian
Status: Returned to Mauritania in 2012
He was Bin Laden's religious adviser and al-Qaeda in Iran's expert on Islamic law. His official name is Mahfouz Ould al-Walid.
Abu al-Kayr al-Masri
Status: Presumed to have at one point been in Iran. Released in prisoner exchange with al-Qaeda in 2015. Whereabouts unknown
He was the Chairman of al-Qaeda's Management Council and former chief of foreign relations for al-Qaeda, including liaison to the Taliban. He is reported to have long-standing ties to current al-Qaeda leader Ayman al-Zawahiri.
Saif al-Adel
Status: Presumed to have at one point been in Iran. Released in prisoner exchange with al-Qaeda in 2015. Whereabouts unknown
He was a member of al-Qaeda's Management Council and was involved in planning operations and directing al-Qaeda propaganda efforts. He was a former chief of military operations and worked closely with Abu Muhammad al-Masri. There is currently a $5mln reward for information leading to his capture.
Abu Muhammad al-Masri
Status: Presumed to be in Iran. Released in prisoner exchange with al-Qaeda in 2015. Whereabouts unknown
He was a member of al-Qaeda's Management Council and is considered the "most experienced and capable operational planner" not in US or allied custody. He is former chief of training and worked closely with Saif al-Adel. $5 million reward for information leading to his capture.
Sulaiman Abu Ghaith
Status: He was captured and tried in US federal court in New York. Sentenced to life in prison.
He was a member of al-Qaeda's Management Council and official spokesman for al-Qaeda before detention
Abu Dahhak, aka Ali Saleh Husain al-Tabuki
Status: Presumed to have at one point been in Iran
He is an al-Qaeda facilitator and former representative of Chechen mujahideen in Afghanistan
Abu Layth al-Libi, aka Ali Ammar Ashur al-Rufayi'l
Status: Killed in US drone strike
He was a paramilitary commander and active in Eastern Afghanistan and Pakistan-Afghanistan border region. He is said to exercise significant autonomy and enjoys long-standing ties to senior managers.
Abd al-Aziz al-Masri, aka Ali Sayed Muhammad Mustafa Al-Bakri
Status: Presumed to have at one point been in Iran
Al-Qaeda associate; senior poisons and explosives expert; involved in nuclear research since late 1990s; had close relationships with Saif al-Adel and Khalid Sheik Muhammad.
Abu Dujana al-Masri
Status: Presumed to have at one point been in Iran
Explosives instructor before detention. He was a member of Egyptian Islamic Jihad and is Zawahiri's son-in-law
Muhammad Ahmad Shawqi al-Islambuli, aka Muhammad Ahmad Shawqi Islambouli
Status: Presumed to have at one point been in Iran
He was an al-Qaeda facilitator and senior member of Egyptian Al-Gamaat Al-Islamiyah. Has former ties to Iranian Ministry of Intelligence and is the brother of Anwar Sadat assassin Khalid al Islambuli.
Thirwat Shihata
Status: Has left Iran. Believed to have traveled to Libya
He is a former Zawahiri deputy and experienced operational planner. Considered as a respected among al-Qaeda rank and file with previous ties to Zarqawi.
Khalid al-Sudani
Status: Presumed to be in Pakistan, Jordan or Iran
Member of the al-Qaeda Shura Council.
Qassim al-Suri aka Yasin Baqush
Status: Presumed to have at one point been in Iran
Provides communications link between al-Qaeda leaders in Waziristan, Pakistan, and Iraq. Planning, coordinating attack plots in Europe with several al-Qaeda and al-Qaeda-affiliated cells. There is a $10mln reward for information leading to his capture
Ali Mujahid Tekushir
Status: Presumed to have at one point been in Iran
Provides explosives, computer and Internet training to al-Qaeda recruits. Facilitates movement of senior-level extremists from Iran into Iraq. Reports link him to plots against the New York subway system in December 2005.
Abu Talha Hamza al-Baluchi
Status: Presumed to have at one point been in Iran
Iran-based al-Qaeda facilitator
Jafar al Uzbeki, aka Jafar the Uzbek
Status: Presumed to have at one point been in Iran
Representative of al-Qaeda senior leadership working to negotiate the release of al-Qaeda members held by Iran
Anas al Liby, aka Abu Anas al-Libi
Status: Captured by US commandos in Libya but died of liver cancer before he was able to stand trial in federal court in New York
Believed to have been involved in the 1998 East Africa bombings; senior member of al-Qaeda; member of Libyan Islamic Fighting Group security committee