Perched on a low wall in the center of the Libyan desert oasis town of Ghadames, 80-year old tourist guide Mohammed Ibrahim says he is waiting for the foreign visitors he used to show around to come back.

For more than 30 years, Ibrahim used to work as a guide for the thousands of tourists who came to Ghadames, walking them around its enclosed old town that is a designated UNESCO World Heritage site and known locally as the "pearl of the desert."

But since the 2011 war that ousted Muammar Gaddafi, the flow of foreign holiday makers has ground to halt, as precarious security still taints Libya's image abroad.

"I used to take the tourists to all the beautiful sites in the old city, they used to love it," Ibrahim, dressed in a traditional robe and a scarf wrapped around his head, said steadying himself with a walking stick. "They are no longer coming now but when they return, I will be here."

Ghadames, a small town of around 11,000 people that lies on Libya's western border with Algeria, was a key destination for tourists who came to Libya before its Arab Spring uprising.

Once a busy caravan trade center in the Libyan Sahara, the old city, made up of hundreds of mud-brick and palm houses, has a network of covered labyrinthine walkways designed to provide shelter from the desert sun.

Nobody lives in the old town anymore but some residents of the wider town still have patches of land where they cultivate dates, figs and pomegranate. Men pray at the mosques and in the summer, they come to cool down in its long corridors.

A few of the old town's homes, whose internal white walls are decorated with painted red patterns, bronze ornaments, colorful closets and embellished straw food covers, have been opened for the few visitors eating couscous on a floor covered in carpets and cushions.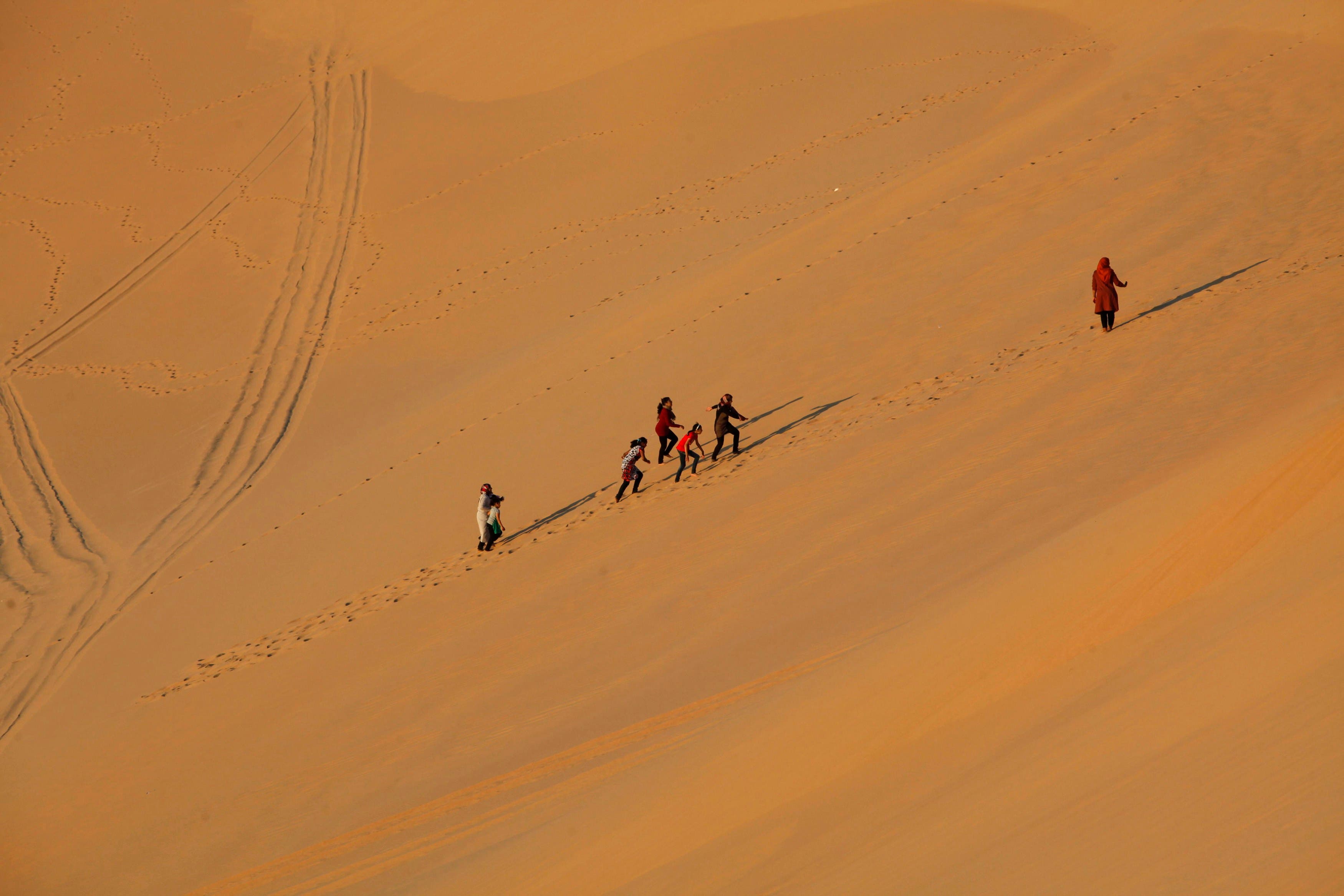 The Ghadames tourist season used to run from October to May. Taher Ibrahim, a former teacher and part time guide, estimated visitors at 30,000-35,000 per season.

"We used to have tourists from all over the world. Their visits boosted local people's revenues - hotels, guides, drivers," he said as he walked around the old city where renovation work is currently being carried out.

"However their numbers were not that big. The former regime did not focus on tourism that much, it was all done privately."
Dancing in the desert
Libya's new rulers have spoken of boosting the country's revenues, the bulk from oil, through tourism. However in a country still awash with weapons and where militias often take the law into their own hands, security remains their priority.

"Tourism is not one of the key priorities now, it's a long-term target although we have plans to boost it in the future," Sirajaddeen al-Mwaffag, head of Ghadames local council, said.

Residents stress Ghadames is not dependent on tourism – many are on the state payroll or have their own businesses. However, the impact from the lack of visitors is evident.

"Before the revolution, there were seven hotels in Ghadames, now only two are open full-time," Jafer Albdehamid, in charge of the still-open Ben Yeder hotel in the center of town, said.

"Hopefully the foreign tourists will come back in the future once there is a strong government in place, better security."

Sometimes, diplomatic or business delegations travel to the town, which has only three flights per week to the capital, some600 km (373 miles) away. Residents say their small airport needs investment to cater for larger numbers in the future.

"The foreigners were very good buyers so of course business has been affected," Mohammed al-Mwafagg, a souvenir shop owner, said, his hand flicking through a display of colorful necklaces as a group of young girls walked into his shop.

"Now we are mainly working through local, Libyan tourism."

Every October, Ghadames held a three-day festival where visitors came to enjoy singing and dancing in the streets as well as picturesque sunsets at nearby sand dunes.

Local officials hope it can do so again in October and maybe even see Ghadames named Libya's culture capital next year.

"Everybody who comes to Ghadames loves Ghadames and they all say they have never seen anything like it," Ibrahim said.

"And that is encouraging for us."