The minaret of the Umayyad Mosque of Aleppo, one of Syria's most famous landmarks, was destroyed last week during clashes between rebels and government forces.
The mosque is considered the largest and one of the oldest in Aleppo. It was built at the beginning of the eighth century, with the minaret crowning the building in 1090.
In September 2012, Aleppo's ancient souk, parts of which date back to the 14th century, was partially destroyed by a fire set by regime forces to intimidate protesters and rebels in the city.

Irina Bokova, director-general of the U.N. Educational, Scientific and Cultural Organization, has expressed "deep concern about the dramatic humanitarian situation in Syria and the threats to the outstanding cultural heritage of the country, which bear testimony to its history and to its cultural identity."
The UNESCO chief has reminded all parties of their obligations under the 1954 Hague Convention for the Protection of Cultural Property in the Event of Armed Conflict, to which Syria is a signatory.

Aleppo is not the only UNESCO world heritage site in Syria to have suffered damaged since the revolution against President Bashar al-Assad's regime started in 2011. The ancient cities of Bosra and Palmyra, as well as villages in northern Syria, have all been affected.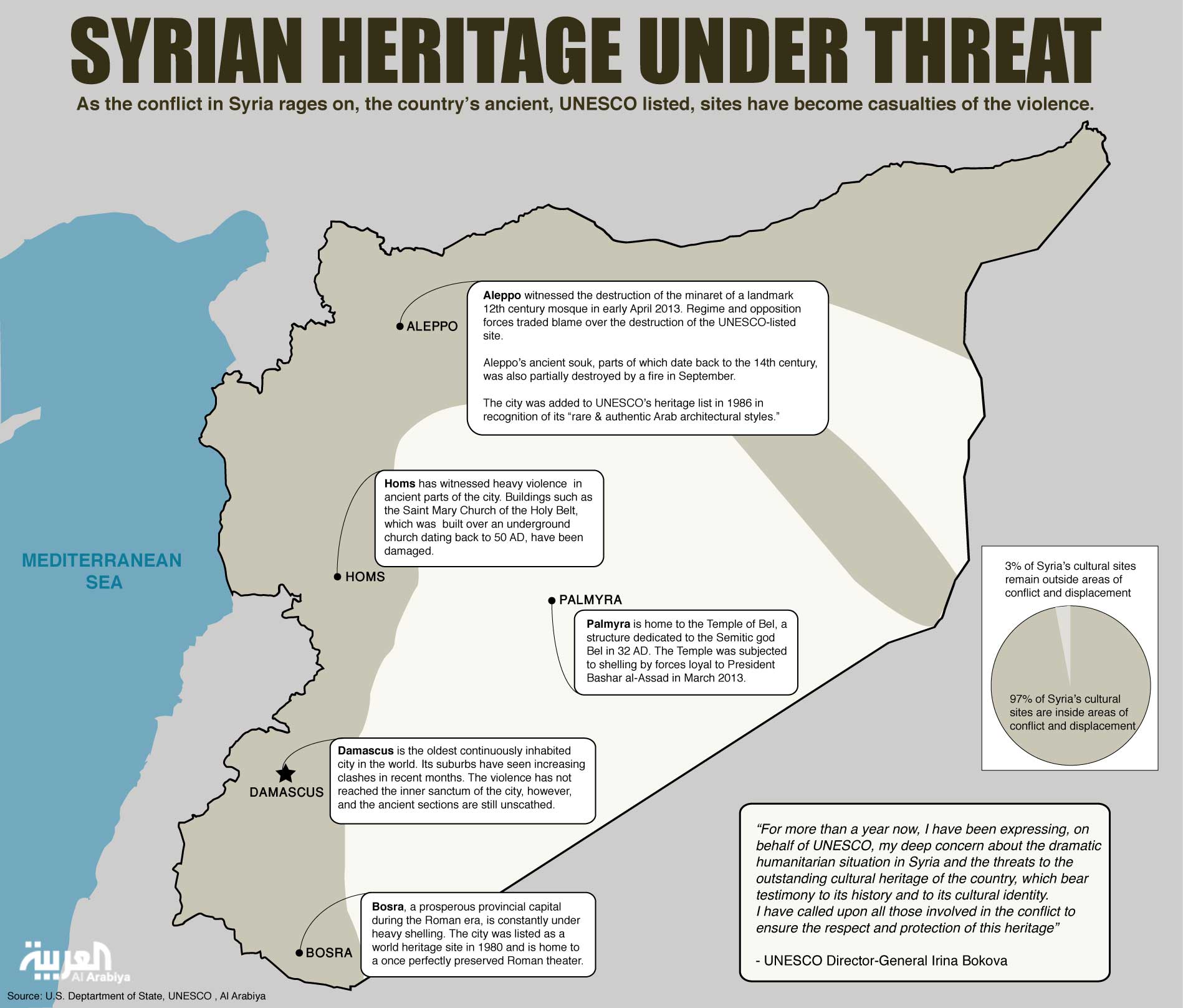 So far, only the ancient city of Damascus and the castle of Salah al-Din remain safe, but their future remains uncertain as the conflict rages on.

The Temple of Bel is a stone ruin in Palmyra that formed the center of religious life in the old city, and was dedicated in 32 AD. Its ruins are considered the "best preserved" in Palmyra. The temple was shelled during government attempts to stop protests.
On the outskirts of Homs, the Crac des Chevaliers, once one of the most important preserved crusader castles in the world, is now scarred by shells and bullet marks.

It is not only UNESCO sites that have been damaged. Homs is the site of the Saint Mary Church of the Holy Belt, dating back to 50 AD. It was used as a shield by rebels from 2011 to 2012, and was extensively damaged during fighting with government forces.

Fear of losing more of Syria's heritage treasures is increasing as the conflict rages on. Clashes are encroaching on Damascus, one of the oldest continuously inhabited cities in the world, and listed as a UNESCO world heritage site since 1979.