The 2013 Pakistani presidential elections marked the first democratic transition of power between civilian governments in the nuclear-armed state. Women headed to polling stations to cast their ballots despite threats and attacks by radical groups.
The Taliban believes democracy to be un-Islamic and has stated that it would disrupt the vote with suicide bombings. The radical group has killed more than 120 people in the run-up to the elections.
Early Saturday morning, tribesmen used mosque speakers to announce that women will not be allowed to leave their homes, AFP reported.
"I voted because I felt it was my responsibility to play a role in shaping the future of my country," Fatima Nabeel, a private banker in Karachi, told Al Arabiya on Saturday. "I wanted to make my voice heard."
"I wouldn't say that the apparent threat didn't cross my mind, but the will to go out there and vote was so overwhelming that it diluted such inhibitions."
Religious groups have been distributing pamphlets in an attempt to discourage the Pakistani people from voting, The Tribune said earlier this week. One pamphlet read: "Leave democracy, bring Caliphate."
"These organizations that are warning people [against voting] have created an atmosphere of fear," Farzana Bari, a director of Gender Studies at Quaid-e-Azam University in Islamabad, told Al Arabiya earlier this week.
Bari, a human rights activist, commented on the anti-democracy leaflet, saying: "Women are very fearful because these people [Taliban] are not only anti-democracy but also anti-women."
She also said that female teachers and other women in the work force have been targeted in the past few months, adding: "[The Taliban] are very much against the women's role in politics and public life."
Farheen Zehra, a teacher in Karachi, told Al Arabiya: "If I didn't vote, then I have no right to complain. It's my responsibility towards my country and a small contribution towards bringing positive change to Pakistan."
"The threats were there, but I felt, like many others, that in order to bring change, no matter how small, we had to cast our votes against all odds."
Asma Jahangir, a lawyer and founding member of the Human Rights Commission of Pakistan, said on Thursday that some women may be scared to go and cast their ballots on election day.
"A large number of women will be hesitant to walk all that way to the polling stations and walk back in this kind of intimidating atmosphere," she told Al Arabiya, correctly predicting that violence and intimidation may force women in certain areas to stay indoors on May 11.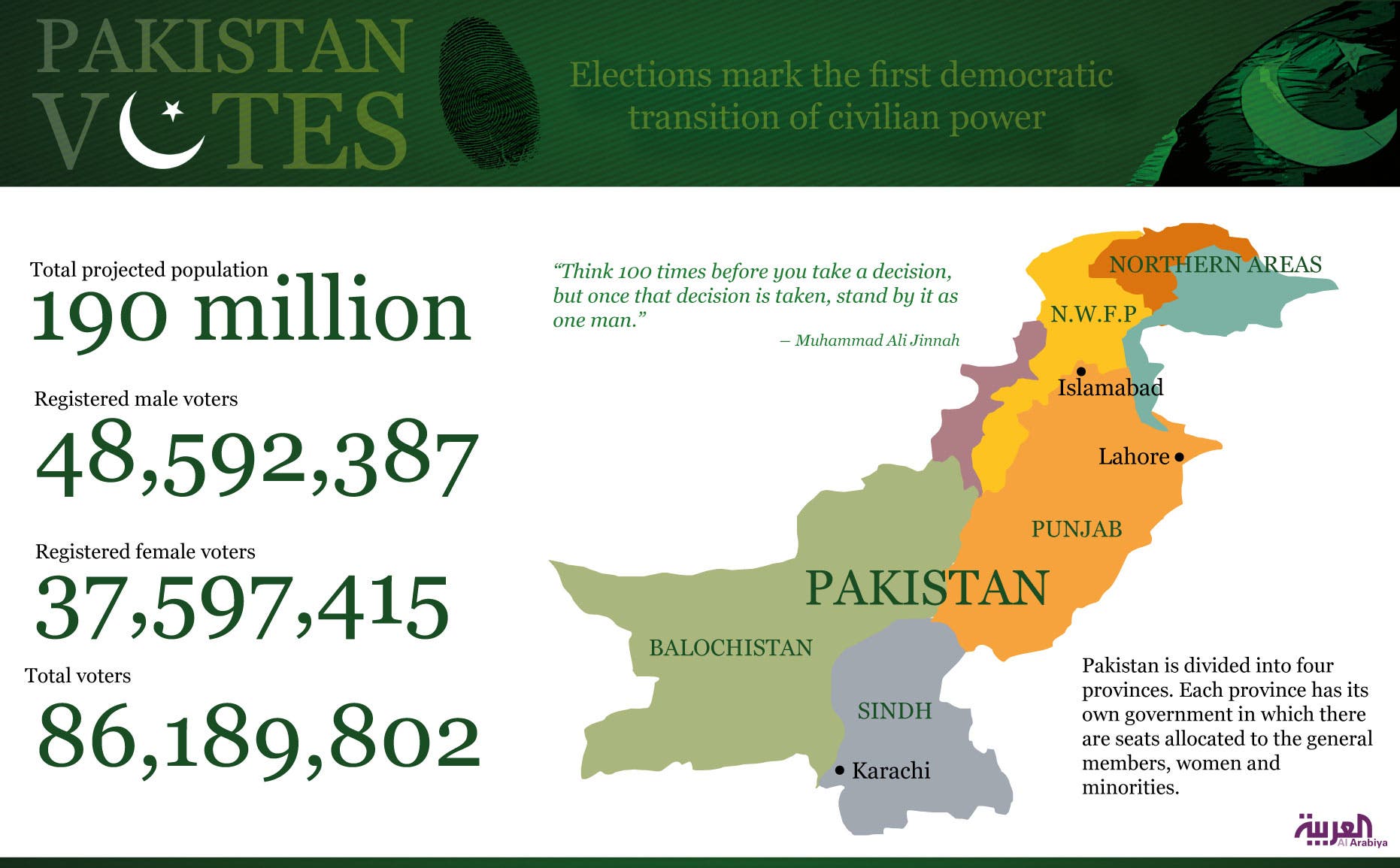 Reports emerged on Saturday that Pakistani women were prohibited from voting in the elections in various tribal districts known to be Taliban strongholds.
According to Ahmed Bilal Mehboob, Executive Director of the Pakistan Institute of Legislative Development and Transparency (PILDAT), there were cases of townsmen in Pakhtun and in some sub-districts of Punjab agreeing women will not be allowed to vote in their area, although not necessarily a Taliban stronghold.
"There was a case in the Punjab [region] where the men of a village decided their women would not go out to vote because there are no separate stations for women, and they expected them to get harassed," said Mehboob.
"I hope there will be action against those who are denying women of their voting rights."
Women step-up
According to the National Database and Registration Authority (NADRA), 40 million female voters registered to cast their ballots.
Mehboob said that, according to PILDAT, there has been a "gradual and steady" increase of women participation in electoral campaigns and activities.
Former Premier Nawaz Sharif, head of the center-right Pakistan Muslim League-N (PML-N) is the election front-runner but the campaign has been hyped up by cricketer Imran Khan – founder of the Pakistan Tehreek-e-Insaf (PTI) – with promises of reform and an end to corruption.
In a recent report by The Tribune, a number of women were interviewed about how they felt about the presidential candidates.
Women supporters of Imran Khan say they are inspired by the PTI's slogan of change, Naya (New) Pakistan, and believed that those who do not vote have no right to complain about the country, said the report.
Both Zehra and Nabeel voted for the PTI, who, they said, its promise for change was refreshing.
"I'm hoping that more honest and non-corrupt people will come into power," Zehra told Al Arabiya. "It was amazing how people had turned out to vote and were standing fearlessly in long queues. It was, I believe, a glimpse of the Naya (new) Pakistan."
--------------
Farwa Rizwan contributed to this article.