For security reasons, 27-year-old Shirine cannot disclose her full name. She is a Norwegian of Turkish decent who went from Norway to Syria in May in order to fight against the regime of Syrian President Bashar al-Assad. accompanied by her 32-year-old Algerian husband.
Shirine was accompanied by her 32-year-old husband, a Norwegian of Algerian decent, who was killed in action two months after the couple arrived in Syria. After her husband's death, Shirine decided to stay in the country and continue what she deemed to be a war against injustice.
The relatively normal and liberal couple could not be described as "militants" or supporters of any terrorist group, according to their friends in Oslo.
In fact, Shirine is described as a "normal, young Norwegian girl who liked to party, have fun and live her life," one of her friends, who spoke to Al Arabiya English on condition of anonymity, said. The friend added that she is shocked but proud of Shirine's decision.
Shirine states that she joined the Syrian opposition to help the people of the country.
"When we went to the Syria, we weren't sure what we could do for the Syrian people, but doing anything is considered something. My husband joined the rebel army and I tried to mainly provide food and water for the villagers," she told Al Arabiya English.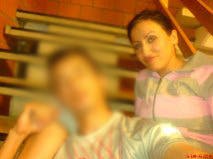 Her husband was injured in a rocket attack while he was on his way to get food. He was then transferred to a hospital in Idlib with wounds in his upper body, he did not survive his injuries.
A few days after her husband's death, Shirine posted a video on YouTube, telling her story and crying for help for Syria. The video has been translated into English.
"There are dead people everywhere. We have no doctors who can save those who are left and in need. The Syrian army is using brutal methods to increase a form of fear within the civilian population," Shirine says in the video.
There have been reports of other Scandinavian nationals, traveling to Syria to partake in the conflict. Scandinavian governments have expressed concern regarding the trend, according comments made by Norwegian Security Police Advisor Siv Alsén, reported by Norwegian newspaper Verdens Gang.
"Some of the young Muslims who have chosen to conduct Jihadist activities in Syria will come back to Norway with greater intention and capacity to plan terrorist attacks," Alsén said.
"As a result of personal experiences in Syria and close contact with groups who want to carry out attacks in Western countries, there is a reason for concern," the advisor added.
Norway-based professor of Disaster Psychology, Lars Weisæth, said he was concerned about the psychological impact the young fighters were imposing on themselves.
"The concern is mainly about the return from war. Young and radical warriors who travel to Syria and join terrorist groups will be more dangerous at homecoming, due to high risk of post-traumatic stress disorder combined with radicalism," Lars Wiesæth told Verdens Gang.
Why Syria?
According to Shirine, images of dead Syrian children and their parents, which she and her husband found online, prompted the couple to act.
She stresses that they are not militants or terrorists and that her husband wanted to help people in the country and that his intentions were good.
Shirine is still in Syria and has no intention of leaving the country before the conflict comes to an end.
"I will rather be called a terrorist and die for these people than go home and forget about them. I will stay until Syria stops bleeding," she says.
Shirine told Al Arabiya English that she is now in a village not far from Damascus in Syria. She states that she has joined a young newly married couple and together they support local residents while constantly moving location to avoid bombings