Egypt was about to implode from years of oppression and social injustice in 2010 when Hosni Mubarak's three-decade rule was tightening its grip and silencing the political opposition.
Emerging from a distinguished history of diplomatic accomplishments, a top post at the U.N. nuclear agency and a Nobel Peace Prize, Mohammad ElBaradei was for many the light at the end of the tunnel.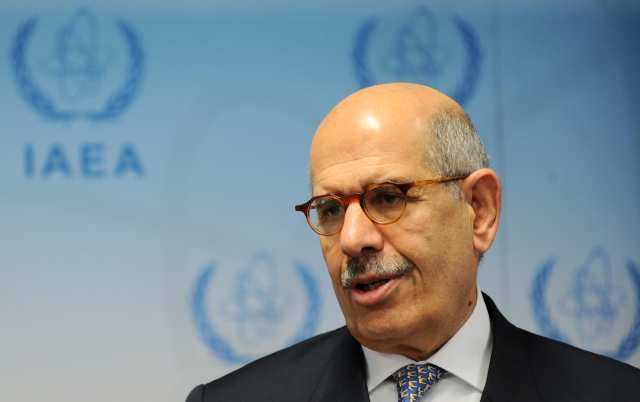 "Bardaei from Jan. 25 was an inspiration, he was a brink of hope , he was the light at the end of our tunnel," says Ahmed Naguib, a political activist who was at the frontline of the January 25, 2011 revolution.
ElBaradei formed the National Association for Change in 2010, committed to challenging the rule of Mubarak and his party upon his return to Cairo after resigning from the International Atomic Energy Association (IAEA).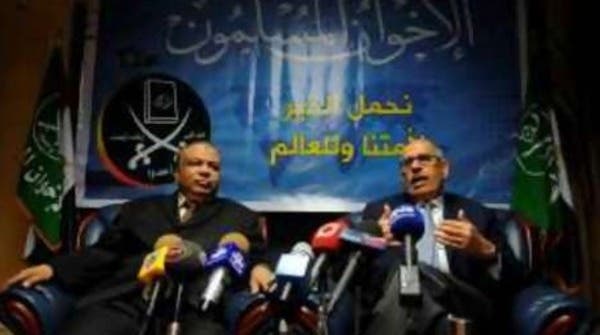 ElBaradei dared to speak when no one could.
"He was important in breaking the fear barrier and as an international figure supporting Egypt's political upheaval and giving them legitimacy," says Said Sadek an Egyptian political sociologist.
The Nobel Laureate who said that he would stand for presidential elections in 2011 depending on guarantees of a fair election saw his movement gather quick support from Egyptians who saw in him a future civilian leader for the country.
Nevertheless, people saw him as an outsider who lived his whole life abroad. He was even deemed responsible for the U.S. invasion of Iraq while he was heading the IAEA.
With a smear campaign launched at him, claiming he drinks alcohol and images of his daughter in a swimsuit being spread by the country's press, ElBaradei was also called an atheist. All this amounted to a general idea which spread like wildfire across the country: ElBaradei was unfit to rule a conservative country like Egypt.
The catalyst for change
But the death of Khaled Said in 2010 at the hands of police brutality paired with an uprising in Tunisia that led to President Zine al-Abidine Ben Ali's escape from power, Egypt was ready for change.
After an 18-day uprising on January 25, 2011 in Cairo's Tahrir Square, which saw the end of Mubarak's dictatorship, ElBaradei was seen as an inspiration for this change.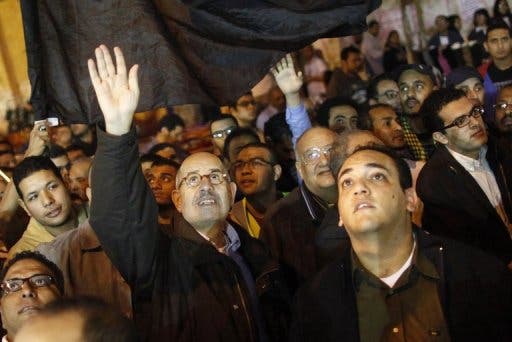 "He broke the culture of fear during Mubarak's era. When no one could stand up to Mubarak, ElBaradei stood up to him. On January 28, 2011, he was in the streets in the middle of protests and tear gas was thrown at him," says Sadek.
As the leaderless January 25 revolution ousted Mubarak and the Supreme Council of the Armed Forces (SCAF) took charge of the transitional phase, the political figure lost face again, falling victim again to criticism. This time it was over his stuttering political stances and speculation over his "hidden foreign agenda."
Famous for his posts on Twitter, activists started to blame him for his lack of action and for being too hesitant about political leadership.
"We had high hopes for him to lead, from 2011 until now, there were so many missed opportunities," says Naguib.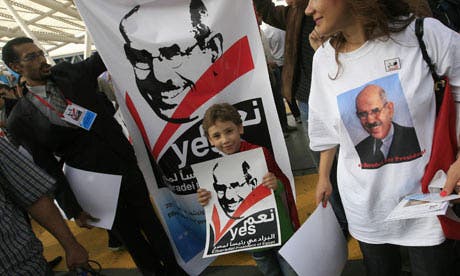 Despite the fact ElBaradei formed the Dostour (Constitution) Party in April 2012, a month before presidential elections, Muslim Brotherhood members and Islamists had already won the upper hand in the parliamentary elections.
Naguib said that ElBaradei disappointed Egypt's revolutionaries when he also refused to run for presidential elections.
"We wouldn't be here if he had run for presidency so he truly failed us many many times, he is a decent man but he is a reluctant, hesitant person who cannot be a leader."
Disappointing appointment
ElBaradei became a vocal opponent of the Muslim Brotherhood's presidential candidate Mohammad Mursi and saw Egypt as a failed state, even worse than under Mubarak's rule.
Ahead of June 30 protests staged to demand for Mursi's resignation, as the head of the opposition National Salvation Front (NSF), he urged Egyptians to take part in the nationwide demonstrations sparked by a grassroots rebel movement named "Tamarod."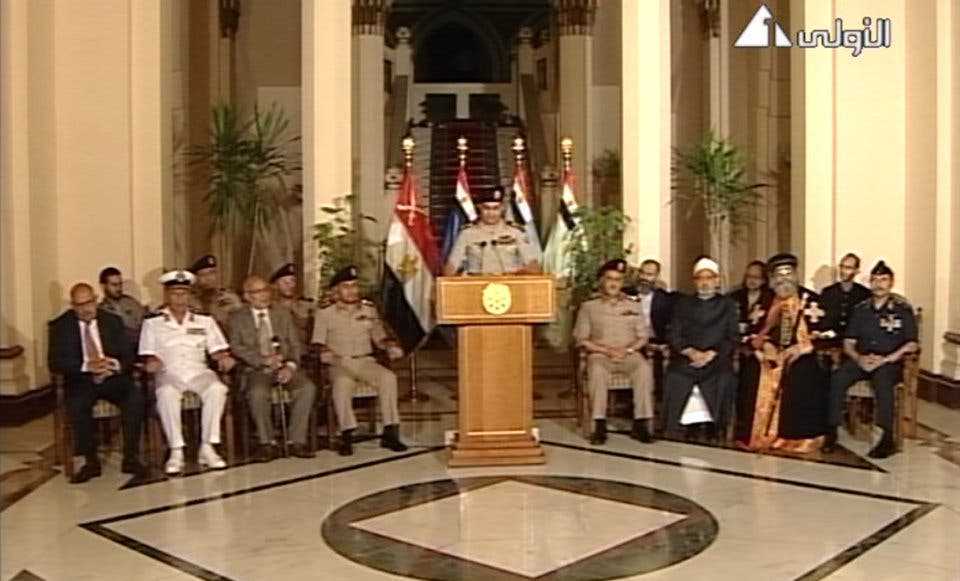 "We gave him [Mursi] the license to drive; he doesn't know how to drive. The country is decaying and is falling, this is not Egypt and this is not the revolution," ElBaradei said at the time.
When the military ousted Mursi from power last July, ElBaradei was appointed as vice president of the interim government.
His role did not last for long as he resigned in August, following a violent crackdown on pro-Mursi supporters that led to deadly clashes.
In his resignation letter to interim President Adly Mansour, ElBaradei said that "there were more peaceful ways" to solve the country's crisis and that he could not "bear the responsibility of one drop of blood."
His resignation confirmed doubts that he couldn't lead the country and that his time was over.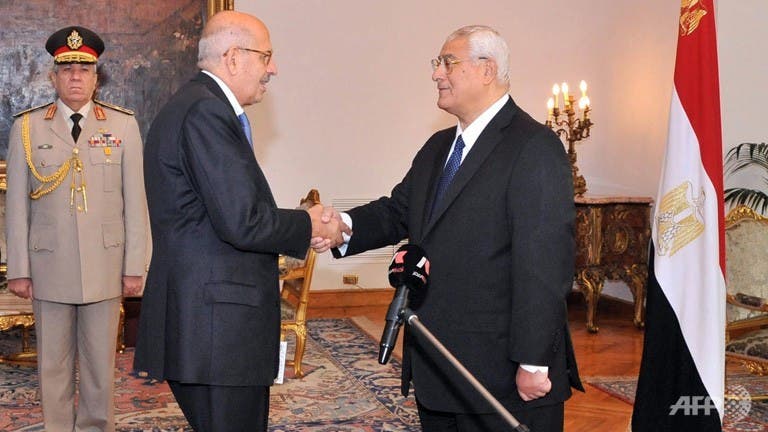 Sadek says that ElBaradei was a source of ideas and inspirations but is now "no longer needed" in the next phase of Egypt's revolution now being led by Tamarod and Army chief General Abdel Fattah el-Sisi.
"When his role as a catalyst faded and he became a vice president in a government facing terrorism it didn't suit him of course. If you accept to be part of any government in the world you have to assume that there will be violence at some point," Sadek adds.
Upon resigning in August, ElBaradei faced a barrage of condemnations by activists who accused him of giving up on Egypt.
"He does not have enough courage to lead, it takes a lot of bravery to lead. He somehow has always been running away," says Naguib.
"A fascist campaign"
ElBaradei has since been absent from the spotlight and is back in Vienna, limiting his presence to a few tweets. But his fall from political leadership was also paired with falling prey to campaigns and court orders against him.
The former vice president is now being accused of working from abroad in collaboration with the Muslim Brotherhood to destabilize Egypt's transition.
He also faces trial for the betrayal of trust over his decision to resign last August.
ElBaradei said on Monday the accusations were "a fascist campaign" against him, according to the Associated Press.

"Violence begets violence," he tweeted.
Despite disagreeing with him and jokingly musing that his Internet connection must not be working properly due to his recent lack of tweeting, Egyptians may still value ElBaradei's contribution to the the country's rough road to democracy.
Rasha Abdulla, an Associate Professor and the former Chair the Journalism and Mass Communication department at the American University in Cairo, says that there is no question about ElBaradei's vision and ethical standards despite her disagreements with some of his decisions.
"I still think he should come back to Egypt, and work with the youth who trust him and whom he trusts," the professor told Al Arabiya News.
"This is no time to be out of the country, we need everyone's efforts."