'I don't know if I'll survive next attack,' writes Beirut girl before death
18 year old Maria al-Jawhari shared on her Facebook account she felt she wouldn't surive the next bombing shortly before dying
18 year old Maria al-Jawhari foretold her own death after writing on her Facebook page that she had barely escaped three Beirut-based bombings and that she didn't know if she would "survive the fourth," reported The Daily Star on Wednesday.
The Lebanese teen was killed in the bombings on Tuesday when she was working at a shoe store.
Jawhari died on the same street that was struck by an earlier bombing on Jan. 2, at almost exactly the same place.
"She was very lighthearted, it was a pleasure to sit with her ... She treated everyone equally, old, young – she treated me like a friend, not an auntie," said a family friend of Jawhari.
"She worked in the store but she had dreams, like any girl her age. She dreamed of having a life, a future, of living in security," she added.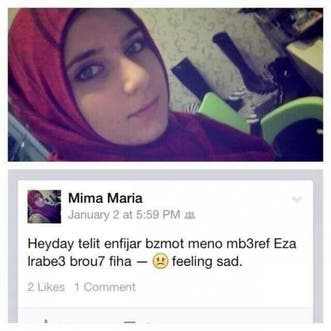 With a recent surge in bombings in Lebanon, many empthaize with the vulnerability the teenager expressed on her social media page.
One woman, who would not give her name, says she thinks about leaving the southern suburbs "every day."
"Every time I walk down the street, every car I see, I think 'is this it?'" she says, adding hopefully that over time Hezbollah supporters will become tired of paying the consequences for the party's actions.
Residents near the site of the bombing insist there were no military or Hezbollah-affiliated targets on the street.
Tuesday's suicide attack occurred in Beirut's southern suburb of Haret Hreik, an area of Hezbollah support, killing at least four people and injuring another 31.
The Lebanon branch of the Nusra Front claimed responsibility for Tuesday's attack, vowing to continue to strike Hezbollah over its role in the Syrian war.
The other fatalities included Ahmad al-Obeidi, Ali Ibrahim Bashir, and Khodr Srour.
Social media flooded with pictures of Bashir, who also died at the young age of 20. Obeidi died while driving with his son, who was injured by the blast but survived.