Remembering Khaled Saeed, whose death sparked Egypt's revolution
Khaled Saeed is an icon of the January 2011 nationwide uprising after being brutally killed by police
Three years ago, Khaled Saeed became an icon of the January 2011 nationwide uprising. Not because he participated in it, but because his death was one of many reasons that highlighted the need for it.
Pictures of the young man brutally killed by police shocked the Egyptian community. The shock was later translated to protests, demanding the downfall of a dictatorship regime, in which citizens are tortured and abused under the grip of a police state.
Who was Khaled Saeed?
Khaled was a 28-year-old entrepreneur from Egypt's northern city of Alexandria. He liked fishing, taking care of pets and composing music for his friends.
He became known to the public after a brutal incident which led to his death in June 2010.
An image of Khaled went online showed a distorted face, with a broken nose, and a dislocated jaw with gaps between his teeth.
The picture, unrecognizable at first, was of Khaled. He was reportedly beaten to death by two officers for possessing a video in which policemen were seen sharing the loots of a drug bust.
Despite it being not the first case of torture under the then regime of President Hosni Mubarak, Khaled Saeed's death was memorable.
It later became one of many drives that sparked protests which toppled Mubarak in the Jan. 25, 2011 uprising.
The public and Khalid Saeed
As Egypt marks the third anniversary of the 2011 uprising on Saturday, questions on how Egyptians today react to his case and whether they give it as much attention as they did before, were answered by Khaled's sister, Zahra.
"I'm optimistic," Zahra told Al Arabiya News, commenting on the current situation in Egypt after the July ouster of Islamist President Mohammad Mursi.
The officers, Mahmoud Salah and Awad Ismail Suleiman, who were accused of killing Khaled and were released during Mursi's rule, are now in custody, Zahra said.
She said a lot of the evidence regarding the case was destroyed in recent years, adding that she hopes more committees would be established to find evidence and for retrials to take place.
Zahra said that until now there has not been an official statement that says Khaled Saeed is a martyr.
"Yes people recognize Khaled as a martyr, but officially he is not," Zahra said.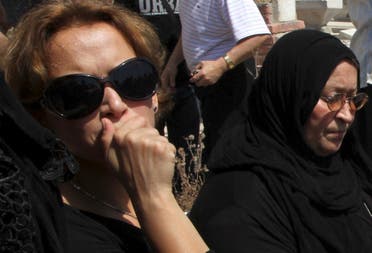 'We are All Khaled Saeed'
"We are All Khaled Saeed" is a page that was created after Khaled's death to call for supporting his case.
It played an integral role in encouraging people to participate in the 2011 protests.
Zahra said the page did not give much attention to Khaled's trial dates.
"We knew Wael Ghoneim as everyone else did, when he appeared on TV during the days of the revolution," she said.
"Ghoneim is not in touch with us and we never knew him before Khaled's death," Zahra added.
Uprising anniversary
"Jan. 25 was a revolution," Zahra said. "People took to streets to topple a regime, and they came out again on June 30 to oust another," she added, referring to mass protests calling for Mursi's ouster.
Despite her appreciation of the January uprising, Zahra called on Egyptians not to protest during the 2014 anniversary to avoid more bloodshed.
Egyptians on the anniversary of the uprising are reacting differently to Khaled Saeed's death, said Bahey eldin Hassan, the director of the Cairo Institute for Human Rights Studies.
The Egyptian community can today be divided into three factions: those who believe the 2011 uprising is a relapse, those who believe it was a popular revolt but has not achieved its goals yet and a third group that thought the revolt was a way to reach power and achieve political ambitions.
According to these divisions, Hassan said the reaction towards Khaled Saeed's death today and its repercussions would differ.
"The brutal death of Khaled was one of many factors that stimulated people to take to streets," he said.
But now, as the country undergoes turbulent times, people are disagreeing on how today they perceive the revolution and those who inspired it, Hassan said.
"Until this moment, those who killed Khaled Saeed have not been convicted," Hassan said.
On Wednesday, Hassan sent a memo on behalf of the center to U.N. Secretary-General Ban Ki-Moon, including a set of proposals to promote the role of the U.N. in the Arab world.
The memo included recommendations for how the U.N. might address human rights abuses in the Arab world, and in particular, countries that underwent the Arab Spring.
The most significant recommendations regarding Egypt included a request to the U.N. to urge the Egyptian authorities "to uphold and protect the right to peaceful protest."
Also, it called on the U.N. to urge the Muslim Brotherhood to "reevaluate its practices that have contributed to the current crisis – both while the group was in government and after leaving power – and to cease acts of violence."
During his interview, Hassan said many activists who took part in the 2011 uprising, inspired by Khaled Saeed's case, are under detention.
"They will spend the uprising's anniversary in jail," Hassan said, instead of celebrating it with masses outside.