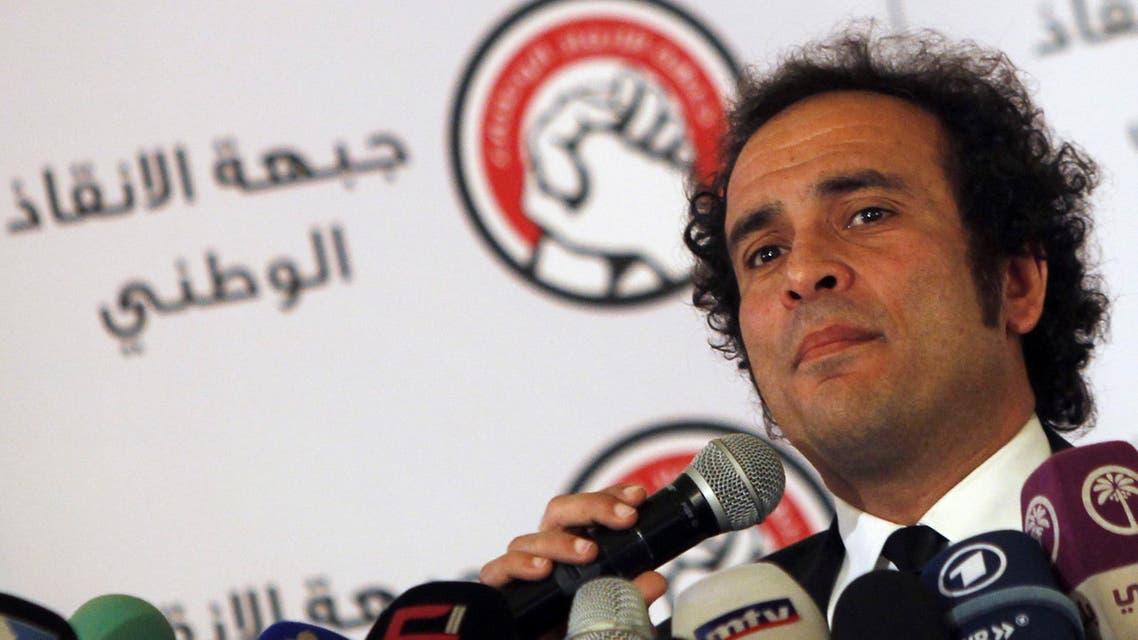 Egyptian liberal Amr Hamzawy finds enemies on all sides
Hamzawy is a rare example of a secular critic of the army's decision to depose Islamist president Mohamed Mursi last July
Amr Hamzawy's liberal politics put him on the wrong side of the Islamists who rose to power after the 2011 uprising. Now his criticism of the army-backed order that replaced them is generating new enemies.
A rare example of a secular critic of the army's decision to depose Islamist president Mohamed Mursi last July after mass protests against his rule, Hamzawy says Egypt is now witnessing a "fast recovery of authoritarianism", challenging the government's depiction of a country on a path to democracy.
In an interview on Jan. 21, he said his views have led to him being demonized as a closet Islamist and a "fifth columnist" by a pro-government media campaign he describes as part of a "fascist build up" against opponents of the new order.
"This dehumanization can only lead to massive repression, which is going on," said Hamzawy, 46.
A political scientist, Hamzawy was charged on Jan. 19 with "insulting the judiciary" and could face jail time. He would not comment on the case, stressing respect for the judiciary.
His story illustrates the sharp twists and turns in Egypt's political journey in the chaotic three years since the historic 2011 uprising that led to President Hosni Mubarak's downfall.
Hamzawy shot to stardom after the uprising, a rare case of a secularist who made an impact on a political landscape dominated by well-organized Islamist groups. He defeated a Muslim Brotherhood member to win a seat in parliament in one of the strongest performances of 2011 legislative elections.
His liberal approach drew Islamist scorn even as he tried to build bridges to narrow the divisions that contributed to Mursi's downfall. He was denounced by the religious right on grounds including the fact his wife is an actress.
But while he called for protests against Mursi last year, he argued his fate should have been decided by a vote, not the army. He says he has been squeezed from public life since making that point on TV on July 3, the day Mursi was toppled.
"I am paying the price of sticking to my principles," he said. "I am paying the price of being a critic in all phases."
Hamzawy was speaking ahead of a wave of deadly bombings in Cairo targeting policemen over the last few days.
Twelve people were killed during anti-government marches on Saturday while thousands rallied in support of the army-led authorities, underlining Egypt's volatile political fissures three years after the fall of autocrat President Hosni Mubarak.
Hamzawy also faults the Brotherhood for their recourse to an "undemocratic narrative" during Mursi's one year in power, when he was either unwilling or unable to build an inclusive administration.
Squeezed out of public eye
Hamzawy says he is no longer invited to speak on widely watched nightly talkshows which once hosted him on a near daily basis. The last time he appeared on satellite TV was in August, he said. Invitations to speak in public have also dried up.
"If you are attacking someone for six or seven months for his opinion, and trying to attack him as a fifth column traitor, people steer clear from you," said Hamzawy, speaking at his office in the American University in Cairo on the city's desert outskirts.
"This is part of the fear tactics, the silencing tactics autocracies always play out against their opponents," he said.
The charges brought against Hamzawy stem from his criticism of a court ruling last year that sentenced 43 Americans, Europeans and Egyptians who had worked for international democracy promotion groups, including U.S.-based groups.
Two dozen others, including Mursi, are due to go on trial in the same case, accused of insulting the judiciary on a number of different occasions in different contexts.
Many other secular-minded Egyptians took a different view of the army's move against Mursi, their concern about Brotherhood rule outweighing everything else. Hamzawy said they had given up on democratic ideals.
The main channel for Hamzawy to express his views today is a regular column in the independently-owned Shorouk newspaper.
Hamzawy said he was calling for an "awakening among Egyptians" so they understood Egypt is on a path to autocracy reminiscent of the Mubarak era.
"In terms of the grand design, it is very much the same: a center of power, with everyone else in society expected to say yes or be silenced," he said.
"That is the grand design of autocracy."
The army-backed government says it is restoring democracy after a revolution against Mursi and the Brotherhood. With lethal attacks on the security forces commonplace since Mursi's removal, the government says it is in a "war on terror".
Hamzawy said that the state must act against anyone turning to violence, but criticized what he described as "exceptional measures" against members of the Islamist movement.
"A country in fear"
"We are seeing a build-up of undemocratic narratives, arguments, dehumanization, defamation, suggesting to Egyptians there are conspiracies against us everywhere: that everyone is conspiring against Egypt, as if nobody is considering any other country in the world," he said. "A country in fear is not a country that can democratize easily."
He has spoken out against mass killings of Mursi supporters in the weeks after his downfall, the closure of Islamist-run TV stations, a law that tightly restricts protests and, mostly recently, what he described as repressive articles of a new constitution overwhelmingly approved in a referendum last week.
The government bills the referendum, passed by 98 percent of voters on a 38 percent turnout, as a foundation for democracy.
Were army chief General Abdel Fattah al-Sisi elected president, as is now widely expected, Hamzawy says the outlook for freedoms will dim further.
"I do not buy the argument that retired generals have been elected elsewhere to be democratic presidents. In a country trying to get out of autocracy after decades of military dominance since the 1950s, that is a highly misleading argument," he said.
"I am very concerned about freedom of expression and human rights in that case as well, because if you have one center of power in any society, this center of power will be driven to silence dissent."
But he still harbored hope for democracy on the Nile. "It's a tough time and probably it will not end very soon, but once again we have a mobilized electorate ..., that is not going to be containable unless we figure a way to come back to an inclusive model."