'Halal hysteria'? UK's Pizza Express defends menu
Experts argue tabloid story over Halal products is part of growing anti-Islamic sentiment in the UK
In what has been described a new episode of possible growing anti-Islamic feelings in the United Kingdom, renowned restaurant chain Pizza Express found itself having to hit back at London-based tabloid The Sun for a recent front page story claiming the food company was "secretly" using Halal meat.
The international pizza restaurant slammed the story for being misleading, saying "it is not secret that all chicken used in our dishes is Halal slaughtered," according to British daily, Metro.
"We're committed to high animal welfare standards and as such the birds are stunned before slaughter," the statement said, in reference for one style of slaughtering in Islamic law where animals are stunned before being killed.
The company added that staff can offer this information to customers and that it is also published on its website.
The rejoinder came after The Sun claimed the use of Halal meat was not clearly written on the menus.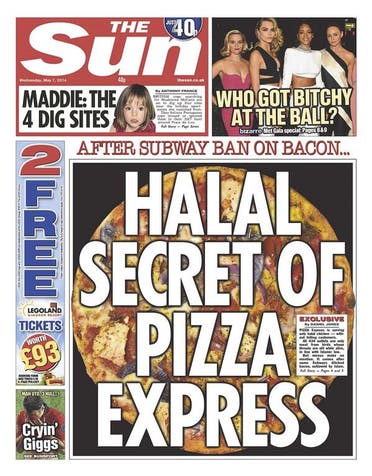 The Sun picked up the news from The National Secular Society, an organization who believes "the separation of religion and state and promotes secularism as the best means to create a society in which people of all religions or none can live together fairly."
The group claimed that "unsuspecting members of the public" were "duped" into buying religiously slaughtered meat.
Pizza Express explained it had to balance animal welfare concerns and "the views of religious communities."
Chris Doyle, director of London-based think tank the Council for Arab-British Understanding, told Al Arabiya News that the alarm over Halal meat being covertly served is "a non-story."
"There is definitely an element of hysteria over this. Many restaurants and fast food premises in Britain have adopted [the serving of] Halal meat for years."
Doyle says the frenzy over it fits into an anti-Islamic narrative he argues is in the United Kingdom.
"[This issue] is being used to whip up anti-Islamic sentiment," he said, noting that the issue had come to the surface after recent news of an Islamic infiltration plot in several schools in the city of Birmingham.
"The timing of [this story] reflects that," said Doyle.
The Guardian echoed Doyle's sentiments by calling The Sun's story "a half-baked attempt to invoke outrage."

Pizza Express Public Relations Manager Gemma Shaw told Al Arabiya News that "quality and integrity of our ingredients remain our number one priority," adding that this means their products "meet the global standard for food safety."
Shaw also added that "None of our other meats are halal."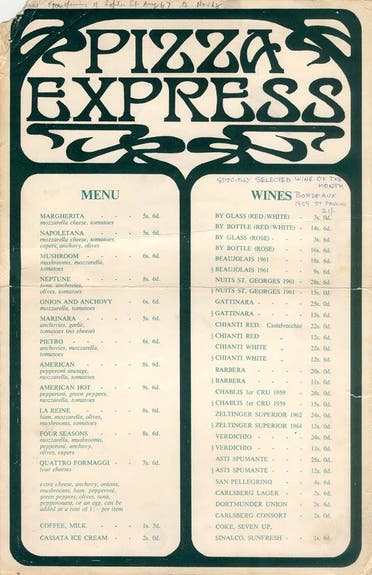 Despite standing by the transparency of its food sources, Pizza Express told Al Arabiya the company is "looking at whether take should take steps to make this information even clearer through our menus."
A secret trend?
Many UK consumers may be surprised to realize they have been consuming Halal meat for quite some time.
Due to globalization and rapidly growing diversity across the world, many supermarkets and restaurant chains have an increasingly expansive and diverse customer base.
Switching to Halal meat can save some chains money, as the final product can be eaten by both non-Muslims and Muslims.
The decision to use Halal is simply "consumer driven," Doyle said.
In fast food restaurant chains such as Domino's, Nando's, KFC, Slug & Lettuce, Halal meat is used in some locations.
In a similar move, sandwich giant Subway recently announced it was removing ham and bacon from almost 200 fast food outlets.
Today in the United Kingdom, Halal slaughterhouses make up a quarter of the country's 352 abattoirs, according to The Daily Mail.
The trend extends far beyond countries with a largely Muslim majority.
More than 70 per cent of all New Zealand lamb in supermarkets is from Halal abattoirs – a fact not stated on labeling. Major UK supermarket chains Tesco, Sainsbury's, Morrisons, Waitrose and Marks & Spencer all confirmed they sell the imported meat.
According to Islamic belief, animals (excluding fish) have to be bled from the neck while it is still alive to rid it of unclean blood.
This technique has been condemned as cruel by experts on the Farm Animal Welfare Council, the Humane Slaughter Association and the Federation of Veterinarians of Europe.
Muslim religious leaders have responded to these concerns by allowing Halal animals to be stunned before they are killed.
Representatives of Jewish and Muslim groups waded into the debate, saying in a letter to the Daily Telegraph that consumers should be informed at the point of sale of precisely how animals have been killed, Agence France-Presse reported.

The call for comprehensive labelling comes after it emerged that people eating at Pizza Express and other restaurants were eating halal-slaughtered chicken without their knowledge.
"Comprehensive labeling should be supported by faith communities and animal welfare groups alike," said the letter signed by Henry Grunwald, chairman of Shechita UK, the body which represents the Jewish method of religious slaughter, and Dr Shuja Shafi, Deputy Secretary General of the Muslim Council of Britain.

Food labels should specify whether or not an animal has been stunned prior to slaughter "and whether it has endured repeat stuns if the first attempt was ineffective," they added.

"They should also be told the method of slaughter: captive bolt shooting, gassing, electrocution, drowning, trapping, clubbing or any of the other approved methods," the letter said.