Jailed: Ranya al-Huthaili, the Saudi woman who robbed 5 U.S. banks
In a transcript of the sentencing, Huthaili was described as having "had a life of relative privilege"
A U.S.-Saudi woman sentenced earlier this week to three years prison over a spate of bank robberies was described by her lawyer as a "naïve" individual who "had been trained her whole life to be submissive," according to a transcript of the sentencing obtained by Al Arabiya News.
Ranya al-Huthaili was sentenced this week to three and a half years in prison for committing five bank robberies in both Wisconsin and Minnesota, in four weeks, in 2013.
See also: The Unusual Suspect: Saudi woman accused of robbing 5 U.S. banks
During the sentencing hearing, Huthaili explained how "ashamed" she was of the crime she was being sentenced for.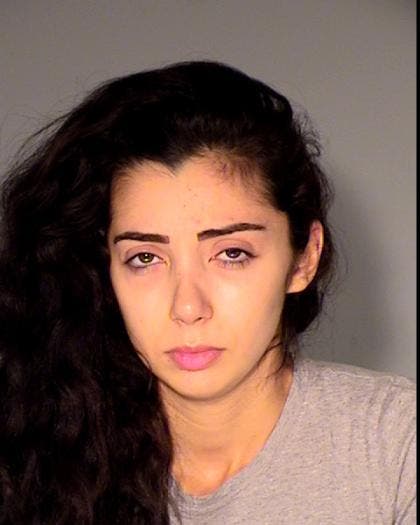 Huthaili, now 23 years old, was born in Saudi Arabia to a reportedly well-off family but moved to the U.S. at 17 and lived a modest life in Minnesota, where she went to school, and graduated from Roseville High School. Her family and a large group of supporters were present at her sentencing hearing on Wednesday.
The government of Saudi Arabia reportedly paid for her tuition and gave her a stipend of over a $1,000 when she attended Hamline University in St. Paul, Minnesota. She was a senior at the university at the time of her arrest. The Saudi government often pays for their citizen's college tuition.
Huthaili's mother, whom she moved to the U.S. with as a teenager, said that she had no reason to believe her daughter was in need of money.
Relative life of privilege
In fact, in a transcript of the sentencing, provided to Al Arabiya News by the court, Huthaili was described as having "had a life of relative privilege."
"I know what I did is horrible … what I did is unacceptable … I deserve to be punished for what I did," Al-Huthaili told the court, during her sentencing hearing.
"I'm just so ashamed and so disgusted with myself for my mistakes," she said.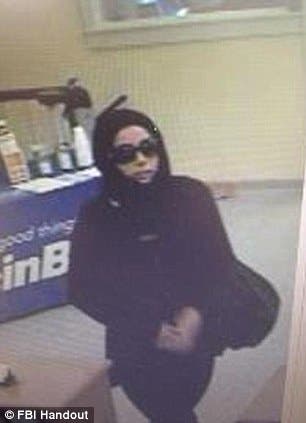 Huthaili pleaded guilty to robbing the Dairy State Bank in Menomonie, Wisconsin, on September 9, 2013 as well as another bank in Wisconsin and three in Minnesota.
Reports show that she went on the robbery spree to get money to support a boyfriend, Thomas Rubino, who claimed he needed money for cancer treatments and to pay off the Mafia.
Court documents reflect Huthaili's sentiments that Rubino did not ask her to rob the banks, in fact, it was reflected that he did not know she was planning on committing the robberies.
'Very naïve'
Huthaili's lawyer described her as a "very naïve and dependent young woman" that is the product of being raised in Saudi Arabia and having a strict father.
"The psychological testing shows that she was trained her whole life to be submissive," her lawyer, Daniel Scott, told the court during her sentencing trial.

"Her mother, who spent her time here … as a regular American, spent her time in the house basically for [Huthaili's] whole upbringing," which did not give Huthaili the skills or the understanding of "how to deal with each other in a social setting," her lawyer said.
Despite her apparent naivety, records show that Huthaili robbed the five banks systematically —slipping a note to the tellers, reading: "I have a gun. Do not make noise. You have one minute to give me the money."
While she did not have a gun on her, in actuality, the threat still worked. In just one of her robberies — the Dairy State Bank incident — she walked out with $2,350 in cash.
At Hutaili's sentencing trial on Wednesday, Mary Zacharias, who was the teller at one of the banks that Huthaili robbed, told the court "she terrorized us. She terrorized everybody that she hit."
Five of the $20 bills that Huthaili walked out of the Dairy State Bank robbery with were actually marked bait money — money that has serial numbers that are recorded with the bank, so, in the case of a robbery, can be passed on to the police.
The marked bills are what eventually led police to arrest Huthaili, after she used some of the bills to purchase a laptop from an Apple Store in her hometown. She was arrested in the parking lot of the shopping center. She had also purchased another wig and sunglasses, leading authorities to believe she was planning another robbery.
"There's no sign that this crime spree was going to come to an end voluntarily had you not been arrested," the judge told Huthaili during her sentencing. "You were on a roll with this criminal activity."
It was with this understanding that Huthaili accepted the sentencing to three-and-a-half years in prison with three years of supervised release.