'Racist Britain:' Qatar in World Cup sympathy bid
Qataris are drumming up Arab and Muslim support by branding a recent Sunday Times report and wider British society as 'racist'
Qatar, a state positioning itself as progressive and close to the West, which previously rejected co-hosting the World Cup with a Gulf neighbor, is now trying to drum up Arab and Muslim support by branding a recent Sunday Times report and wider British society as "racist."
Using social media to build sympathy, many in the country are now bashing recent coverage by the British newspaper on Qatar's alleged World Cup 2022 bribery scandal as having "racist" and "biased" overtones.
But just what is "racist" about bribery?
In an interview with Al Arabiya News on Tuesday, a spokesman for the newspaper rejected claims of racism in its investigation of "millions of documents ranging from emails to bank records."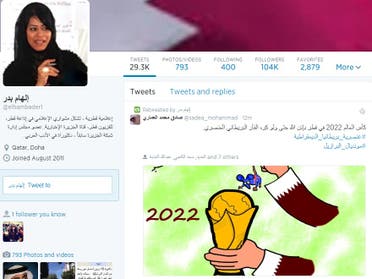 At the crux of The Sunday Times report were documents which allegedly bolstered claims that Qatar bought the 2022 World Cup with millions of dollars-worth of bribes — administered by disgraced FIFA vice-president Mohamed bin Hammam.
"The story was one about alleged corruption in a major international sporting body, not about a particular nation or race," the spokesman said.
"We believe global events such as the World Cup should be properly scrutinized and the investigation by The Sunday Times involved the analysis of hundreds of millions of documents ranging from emails to bank records. This professional piece of journalism from an award-winning team is of significant public interest and we continue to stand by our report," he added.
See also: Qataris call for a boycott of 'racist' UK
Is Qatar contradicting itself?
Still, this has not stopped Qatari media figures from pulling out the racism card, even urging fellow citizens to boycott the UK as a holiday destination this summer.
"There is a broad popular sense that a withdrawal of the right to host the World Cup would be seen as discriminatory, biased and even Islamophobic," James Dorsey, a columnist and the author of the blog, The Turbulent World of Middle East Soccer, told Al Arabiya News.
Earlier this week, Ilham Badr, a Qatari media figure, urged fellow citizens on Twitter to not visit the UK and to look for "other beautiful cities that are not racist and whose governments are not defaming our country," according to Qatari daily The Peninsula.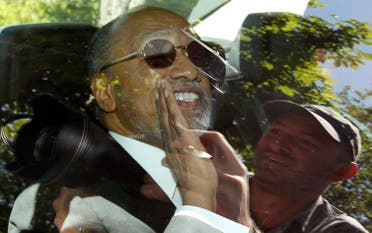 Jabir al-Merri, another Qatari media figure, said on Twitter: "Racism against the Arabs has surfaced after one of the Arab countries proved that it is capable to host the World Cup."
But years of Britain welcoming heavy Qatari influence in its property and investment markets suggest it may be contradiction to suggest the Sunday Times coverage was driven by anti-Qatar sentiment.
Famous British assets including Harrods, the Shard – Europe's tallest building, - swathes of the Canary Wharf financial district, Olympic Village buildings, No. 1 Hyde Park - the world's most expensive block of flats – are all Qatari-owned.
Also, a sovereign wealth fund with tens of billions of pounds in assets and a global reach, the Qatar Investment Authority, has already invested billions in Britain, while Qatari LNG accounted for high percentages of Britain's liquefied natural gas imports in recent years.
'Wrong media strategy'
"Playing the racist card is ridiculous," Michael Stephens, the Qatar-based Deputy Director of RUSI, a British think-tank, told Al Arabiya News on Monday, highlighting previous years of stout Qatari ties with Britain.
"It's evident the Qataris don't have their media strategy right which is going to make the problem worse," Stephens added.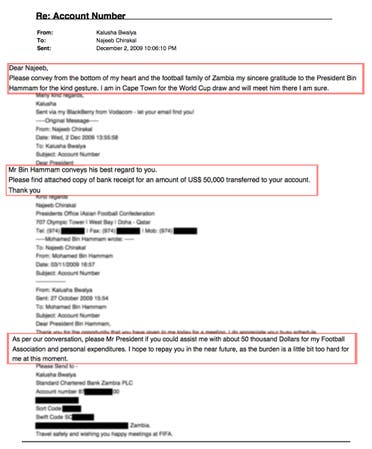 The Peninsula even referred to an unsourced "survey of Arab youth" which found that "more than 60 percent of youth in GCC countries and 57 percent in non-GCC Arab countries believe Qatar is the right choice to host the 2022 World Cup."
Also, in an effort to portray Qatar as being backed by its neighbors, local media on Monday reported that Gulf states were rallying behind Qatar following the allegations, with Secretary-General Abdullatif al-Zayani of the Gulf Cooperation Council attacked what he called a "biased media campaign," saying that the GCC will support "Qatar in the face of all doubters and haters."
Another dilemma Qatar has recently faced followed a campaign urging tourists and foreign residents to respect the country's strict dress code.
Many expats speaking to Al Arabiya News were confused as to how the country was planning to welcome World Cup 2022 visitors with a campaign advising them that "leggings are not pants." The news had also been widely reported in the international press, against the World Cup backdrop.
See also: Show respect! Qatar 'dress code' shocks expats
Arab and Islamic sympathy
Meanwhile, sports hosts in the country have already been calling for Arab unity in the face of "anti-Qatar" news reports, while FIFA President Sepp Blatter last week openly slammed British reports as being driven by "discrimination."
"It's a newspaper, not a government, that has criticized them," said Stephens.
"The vast majority of the Arab and Islamic world is probably very happy that a World Cup can be hosted in the region and there could be regional sympathy building, but Qatar has to show that it can be done," said Stephens.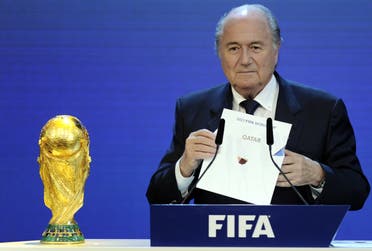 "Saying it's all racist does not answer the allegations of corruption. They need to understand that there was a thorough investigation conducted by The Sunday Times," he added.
In 2013, as the corruption allegations began to wildly unravel, Blatter ruled out that Qatar would ever co-host the 2022 tournament with one of its Gulf neighbors, à la Japan and South Korea in 2002.
At the time, while observers noted the costly downside to co-hosting the tournament, it was evident that Qatar wanted to position itself as the standalone Gulf state that could host such a colossal event.
"If you look at the divisions now in the Gulf, with Qatar on one side and Saudi Arabia, UAE and Bahrain on the other, it has become even more evident as to why they wouldn't want to share the tournament," Dorsey said.
But now, as the allegations mount, what can Qatar do to save face?
"The Qataris need to release detailed documentation outlining exactly what the relationship was between the FIFA executive committee members and Bin Hammam," said Stephens.
"That's the basis of the allegations, not racism. Nobody's buying Qatar's argument, and I'm not speaking for myself."