Egypt's ban of religious slogans on vehicles sparks controversy
The ministry said religious banners and stickers on vehicles will be banned, fearing they could lead to "sectarian tendencies"
Egyptians have taken to social media to mock a recent decision by the Ministry of Interior to ban religious slogans on vehicles in the country.
The ministry said religious banners and stickers on vehicles will be banned, fearing they could lead to "sectarian tendencies."
"Nothing but license plates will be tolerated," Deputy Interior Minister for Media Affairs Abdel-Fattah Osman told Al Arabiya News, adding that no banners, religious or otherwise, would be permitted.
"Any statements of a racial, ethnic or religious nature, in addition to promotional or advertising purposes, will not be allowed on vehicles."
Osman stated that this is not the first time his ministry has launched an operation against banners and stickers on vehicles.
He said the ministry has seen attempts to provoke sectarian rifts through the use of such slogans in the past.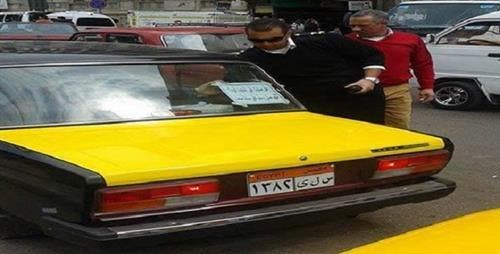 An Arabic hash-tag that translates to "Have you praised the Prophet today?" has gone viral among Egyptian users of Facebook and Twitter using it to share their views on the decision.
The phrase is a relatively common sticker posted on vehicles around the country.
The decision has upset some Egyptians who think the move is politically motivated to quell Islamists and is part of the state's crackdown on supporters of ousted President Mohammad Mursi, who hailed from the Muslim Brotherhood.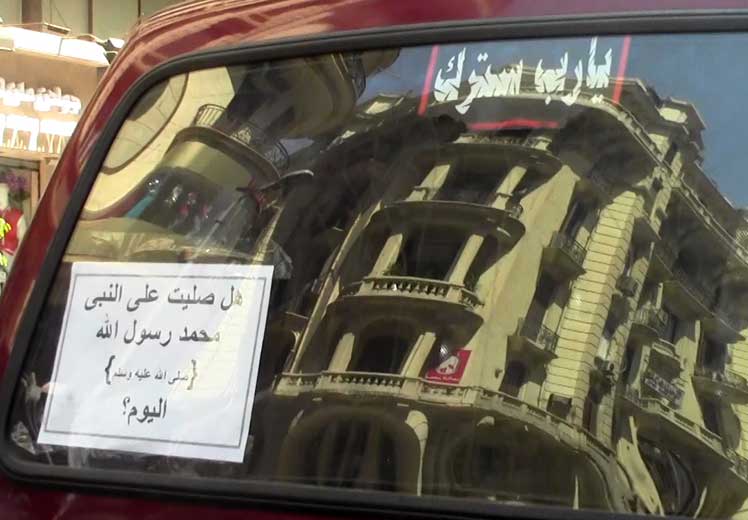 "Only in Egypt sending prayers for prophet Muhammed is a crime," tweeted @UmMusaab1.
"Egyptians police bans 'Have you prayed on the prophet today?' banners or stickers. #MilitaryCoup #Egypt #Islamophobia" said Twitter user @dawahwoman
One Twitter user said in Arabic: "If posting a sticker that said #Pray_Upon_TheProphet is a violation, what would listening to the Quran amount to?"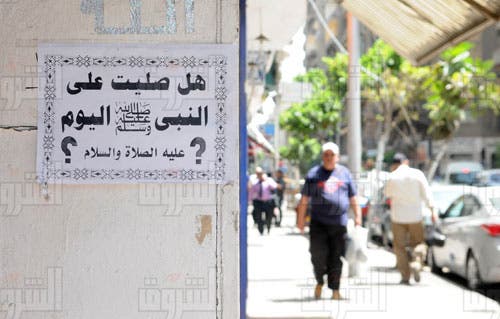 The ministry official told Al Arabiya News that the ban does not target a certain type of slogans.
"[It has] nothing to do with the content of the sticker or the slogan," Osman said, "any statements will be considered illegal."
Since the ouster of Mursi in July last year, thousands of supporters of the Muslim Brotherhood have been arrested in a clampdown on the group.