'King of Qat' warns of illegal drug trade after UK ban
As Qat houses across Britain close their doors, the Yemeni man who first imported the herbal high warns of dire consequences of criminalization
Buying a bunch of Qat on London's Edgware Road was once as easy as buying a shawarma or smoking shisha.

The shrubby plant, used as a 'herbal high' stimulant, is popular in the Yemeni, Somali and Ethiopian communities, and was once freely available in the UK capital's 'Little Arabia' as well as areas like Finsbury Park, Peckham and Southall.

Stems of the Qat plant, wrapped in banana leaves to keep them fresh, were once sold openly in these areas; men could be seen in 'mafrish' (Qat houses) with bulging cheeks as they chewed on the bitter-tasting narcotic leaves.

But on Tuesday, Qat was officially designated an illegal drug and banned across the UK. Now, the flora on offer in the capital's small grocery stores don't get much more stimulating than lettuce and tomatoes.

"Qat? What's that?" responds one Edgware Road shopkeeper, somewhat disingenuously, when asked on Thursday if he still sells the stuff.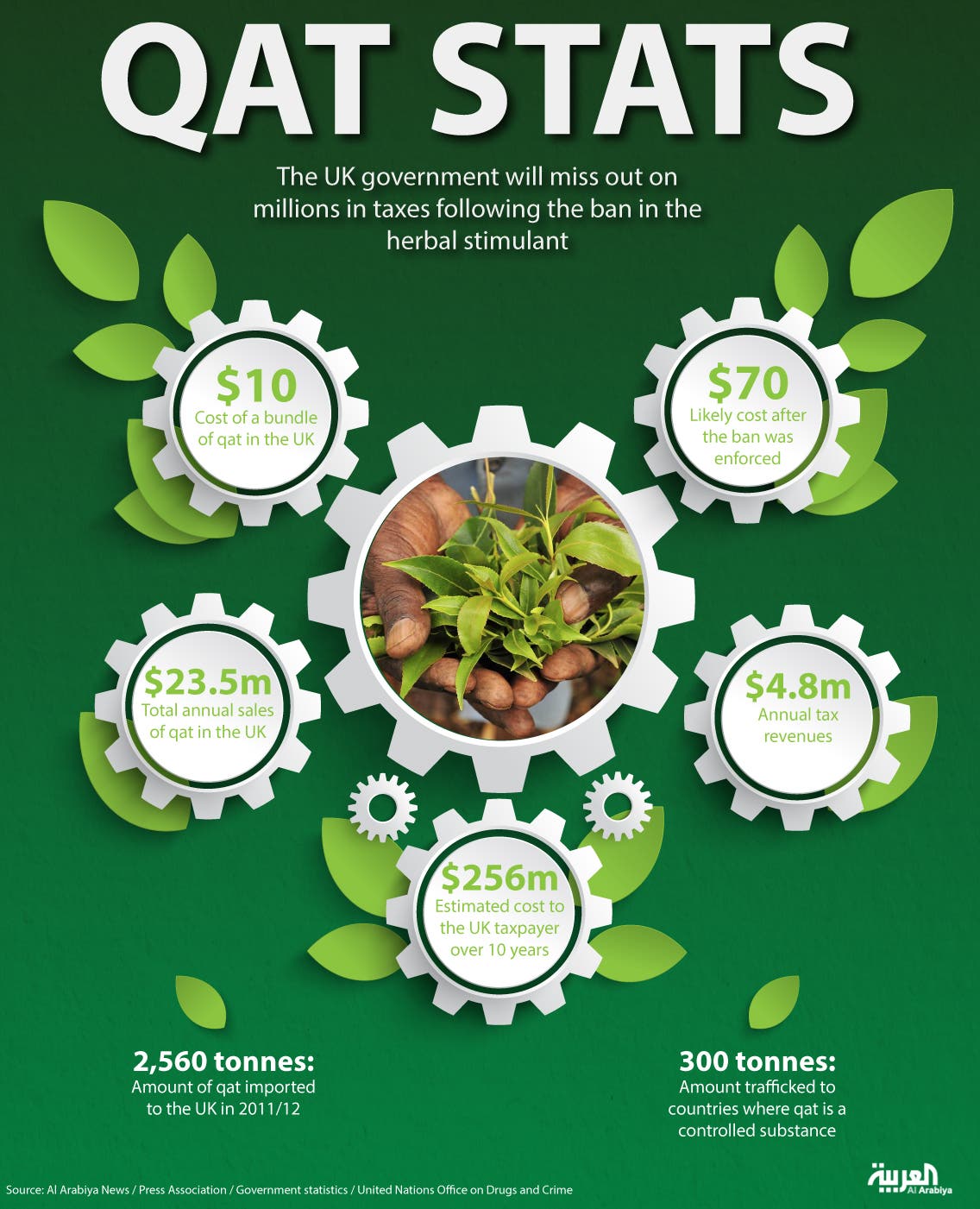 He is right to be cautious. A spokesperson for the Association of Chief Police Officers Press Office told Al Arabiya News a "firm but proportionate approach" would be taken to the ban.

"At first they'd be a Qat warning, similar to a cannabis warning," the spokesperson said. Those caught in possession of the drug for personal use for a second time will get a £60 ($102) on-the-spot fine, while those with three strikes against their name face a two-year prison sentence.
Yet shopkeepers and importers of Qat face much harsher penalties. Those selling or producing the drug face up to 14 years in the slammer, an unlimited fine, or both.
'King of Qat'


The new rules anger 66-year-old Mohammed Ismail, who was originally from Yemen but moved to the UK fifty years ago.

Ismail was one of the first legal importers of Qat, having obtained a license from the government in 1980. For almost two decades he legally bought and sold the plant, paying taxes on it, and earning the nickname 'King of Qat'.

But despite having voluntarily given up this crown about 15 years ago, Ismail is still upset about the ban – which he says is "very dangerous" as it will encourage many to turn to alcohol and possibly turn violent.

"The man will go to the bar, get drunk and beat his wife," he said. "You go to a disco and fight, then you are arrested by the police."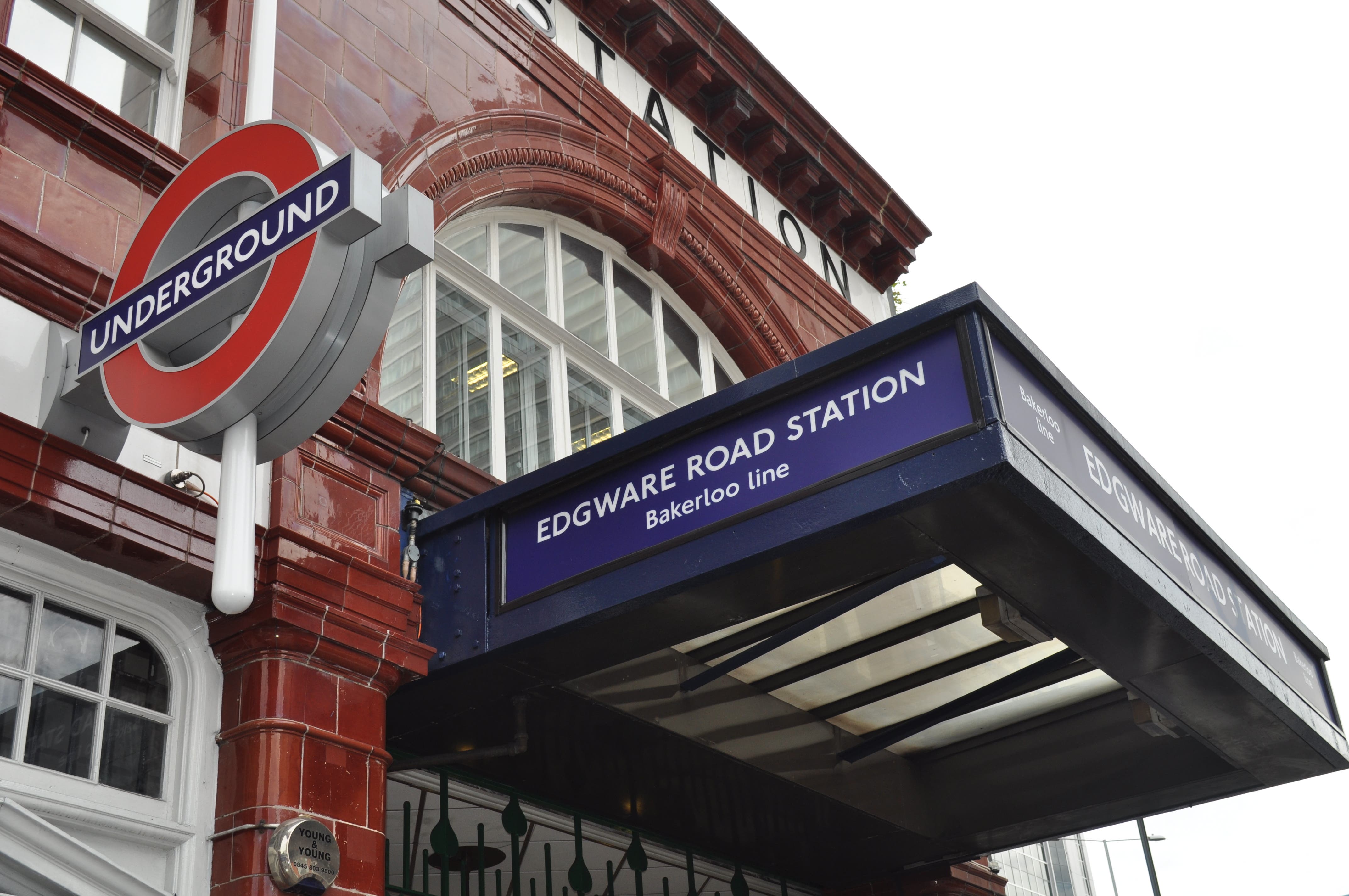 Qat, unlike alcohol, is consumed by families in safe environments, Ismail added. When chewed, the plant makes users feel more alert, happy and talkative. "We don't cause any problems, any killing or fighting in the streets," he said.

A bundle of Qat previously cost about £6 ($10.22) in the UK. But in the wake of the ban, trade in the drug will be pushed underground and prices are likely to soar, Ismail said.

"Now it'll be like in America, where they sell it for $70," he said.

That said, Qat is not the most practical drug to smuggle. Its stimulant effect is greatly reduced if the plant is not chewed within about 48 hours of picking. Despite that, the drug is known to be consumed in countries where it is already prohibited such as the U.S.; the UK was previously used as a transit hub to such places.

Yet despite this, Ismail says the trade in Qat – including in dried form – will continue in the UK. "Many people will still be taking it... They can't stop these people," he says.
Black market

Julian Huppert, the Liberal Democrat MP for Cambridge, also fears that a criminal market will emerge following the Qat ban.

"It is highly likely that a black market in the drug will spring up. This puts whole communities at risk, making them vulnerable and open to abuse from organised criminals," Huppert told Al Arabiya News.
Huppert, who is also vice chair of the all-party parliamentary group on drug policy reform, strongly opposed the ban, calling it "another example of Britain's failing drug policy."

He pointed out that the trade in Qat was beneficial to the UK economy and that of producing countries such as Kenya.

"Qat was imported legally into this country before the ban and tax was paid on it. This ban will cost the UK taxpayer in the region of £150 million [$256m] over 10 years, cause the closure of businesses involved in the importation and sale and take away jobs," he said.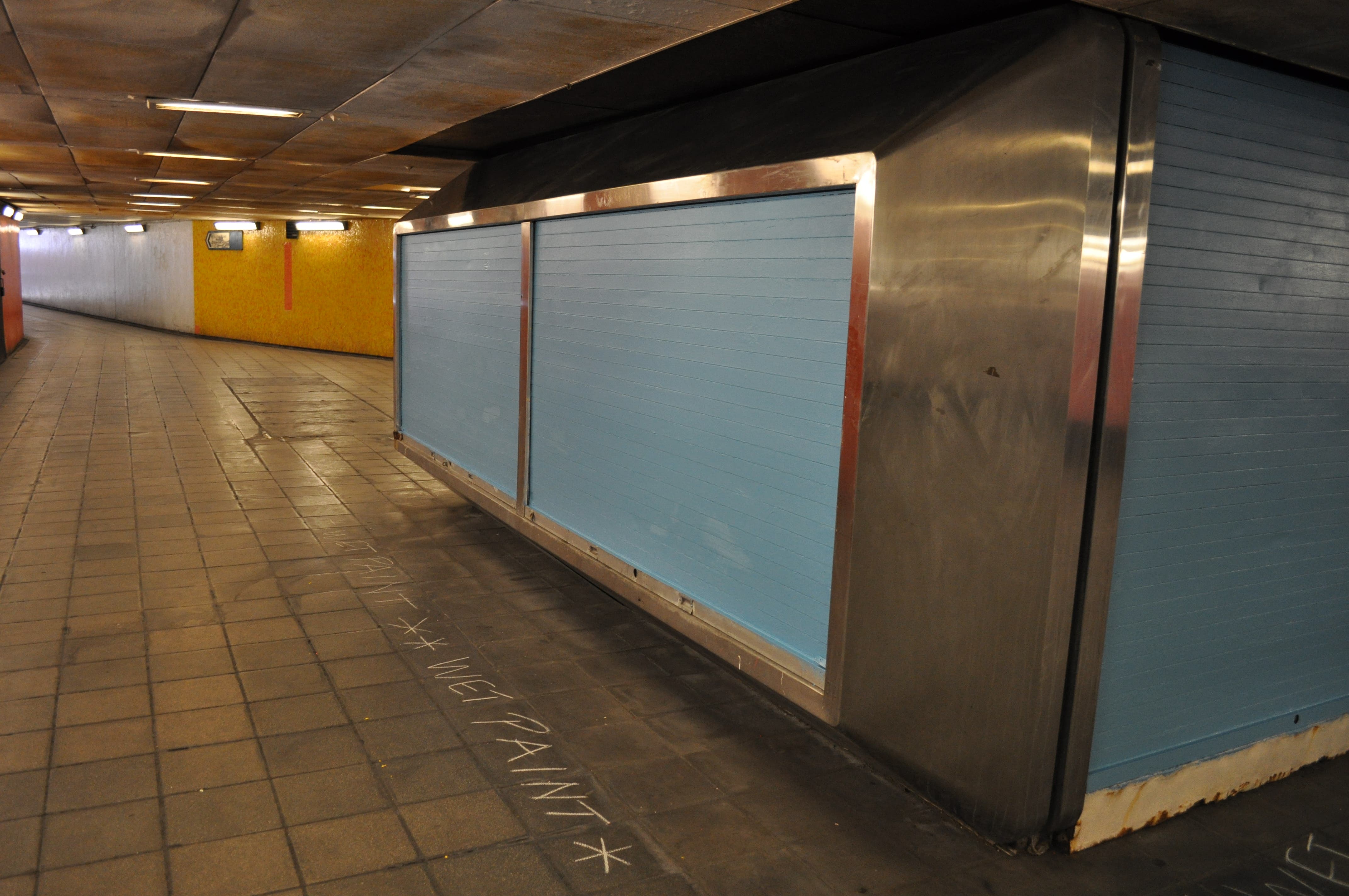 "It will also leave an already marginalised section of society even more vulnerable and being targeted by the police," he added.

Huppert noted that the Qat ban was against the advice of the government's own Advisory Council on the Misuse of Drugs, which said that a ban would be "inappropriate and disproportionate".

He added that there was "no clear evidence" that Qat exacerbates mental health issues in users, as is claimed by some.

'Death and destruction'


Yet some who work with London's ethnic communities have welcomed the ban with open arms.

Abdi Hassan, a community worker at the Ocean Somali Community Association in London, says that the drug has caused "death and destruction" in the UK.

"It does not have any positives at all. It's known to cause mental health problems, illnesses and psychosis," he said.

"Families have been torn apart because of the husband chewing Qat and the mother left to look after the children… It's not an issue just for the Somali community, it's for the whole UK."

The ban "should have happened 20 years ago," Hassan added.

Hassan, who works in the London Borough of Tower Hamlets, said he heard of people buying fridges so that they could stock up on Qat before the ban was enforced. He added that some people had taken even more drastic measures.

"We have heard of people migrating to Africa to get the thing, actually leaving the UK," he said. However, he said he thought it unlikely that an illegal trade in the drug would blossom.
'It brings families together'

Even some former Qat users welcomed the ban.

Ali Salim, a 59-year-old Yemeni living in London, a teacher in English as a second language, said he used to chew Qat when he lived in East Africa and in Liverpool in the UK.
"I used to chew it. But I wouldn't miss it really... I think the ban is a good thing really," he said. "At the same time it doesn't cause any problems. In Yemen, you see families chew it together. It brings families together in a way."

However, Salim added that this applies to the Yemeni community only – and said that some other nationalities had problems with Qat use. Salim said that he believes illegal trade in Qat will continue, although it will be difficult to find.

Shuttered shops


Nazek al-Shuaibi, chairperson of the Yemeni Community Association, said she strongly disagreed with the ban.

"It's not good for us. It's not a drug and everyone knows that," she said. Shuaibi added that she does not believe that Qat will continue to be sold in the UK following the ban. "It's stopped everything... Everywhere is closed."

That certainly seemed to be the case on a tour of London neighbourhoods where Qat sales once thrived.

On Edgware Road, no one wants to sell you Qat, but many point you in the same direction. "Try the shop in the underpass," says one.

One of London's most famous Qat vendors was located in a subway close to Edgware Road underground station. The shop is now shuttered, with a friend of its proprietor saying he has closed the business down.
"They've just made a whole bunch of people drug addicts overnight," said the friend, who did not wish to be named. "It's a shame because he was one of the super-legal sellers of Qat," he added.

In Southall in west London, members of the local community say the local Qat houses have closed. "They're all gone. How could they pay the rent?" says one Somali man, sitting outside a barber's shop. In Finsbury Park, traders in the small convenience shops and cafes along the Blackstock Road also shrug when asked if Qat is still available nearby.

It remains to be seen whether Qat will become a major part of the UK's otherwise thriving drug trade, with illegal substances such as cannabis, ecstasy and cocaine widely sold across the country.

The Association of Chief Police Officers says it is only aware of only one arrest for Qat possession since the ban, concerning a 20-year-old man allegedly trying to smuggle 500kg of the drug out of the UK.

If an underground trade in Qat is already thriving, its main customers are likely to be from the ethnic communities with which the drug is popular.

As the 'King of Qat' says when asked where one could buy the drug: "You think people are going to tell you?"