Muslims show solidarity with Iraqi Christians in Baghdad rally
An event organized late Saturday by a civil rights activist was attended by Muslims in support of the embattled Christian community
More than 200 people – many of them Muslims – gathered on Sunday in front of a Catholic church in Baghdad carrying "I am Iraqi, I am Christian" slogans to show solidarity after a radical Islamist group evacuated Christians from their homes in the northern city of Mosul.
"What gives us hope is a group of citizens - I do not want to say Muslims but they were Muslims - from Baghdad carrying slogans saying "I am Iraqi, I am Christian," Father Maysar Bahnam of Mar Korkis Catholic Church told Al Arabiya News.
"They prayed in solidarity with us, saying that we are people from this land," Bahnam said, emphasizing that the rally "is a hope for us as Iraqis and Christians, that there are good Iraqis. In fact, Iraqis are good people but sectarian issues which could have come from abroad affected us."
Addressing both the Muslim congregates and the approximately 150 Christian worshipers after Sunday mass, Patriarch Louis Raphael Sako, head of the Chaldean Catholic Church, started his speech saying "I am Christian, Sunni, Shiite, Kurd, Mandean, Yazidi and I am Iraqi," in reference to the country's diversity.
"His words were very influential and had a big echo among the attendees," Father Bahnam said.
An online video posted on the "I am Iraqi, I am Christian" campaign page on Facebook showed the Christian and Muslim participants holding their slogans up while singing the Iraqi national anthem to the accompaniment of the church's pianist.
The event was organized late Saturday by civil rights activist and journalist Yousif al-Tamimi, after calls to show solidarity begun flooding social media and as a deadline expired on a decree imposed by the Islamic State of Iraq and Syria (ISIS) militant group ordering Christians in Mosul to convert to Islam or leave.
Secure atmosphere
"Late Saturday, calls started on Facebook and social media to organize the event and to make use of the timing that the day after was Sunday, mass prayer of our Christian brothers," Tamimi, the campaign's organizer told Al Arabiya News.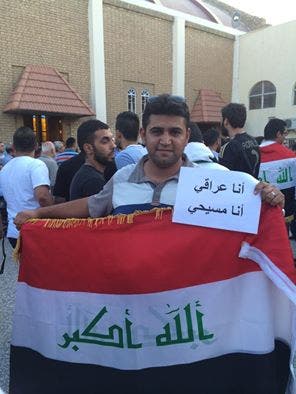 "We coordinated with the church and the security forces to give Iraqis a secure atmosphere," the activist, who described Iraqi Christians as a "historic and principle entity in Iraq," said.
Tamimi said the Christian worshipers initially seemed disheartened over what had happened in the militant-held Mosul, but with the campaign's participants showing solidarity with them, "it raised their confidence, especially with their surrounding people."
Iraqis from the southern and central parts of the country wanted to come but couldn't reach Baghdad due to the security complication in the country, Tamimi said, adding "even Iraqis abroad, took pictures and posted it on our Facebook page, saying
"I am Iraqi, I am Christian" to show solidarity."
Like many Iraqis, the activist said that the chaotic events taking their toll on the embattled country has not only let the Christians down, but everyone including Shiites, Sunnis, and other minority group such as Yazidis.
Before the 2003 U.S-led invasion, around one million Christians called Iraq home. But since then, the community has been a frequent target for militants, and attacks on churches, worshippers and clergymen has prompted many Christians to leave the country. Church officials now estimate the community at around 450,000.
Father Bahnam lamented the days when Christians and Muslims were able to peacefully coexist as "good neighbors," urging leading figures especially the religious establishment to keep Iraq as their number one priority.
"We won't have a future, only if we have a real country, constitution and that the law must prevail."
The pastor said: "Our dignity is being defiled because there is no unity government and when groups such as Shiites, Sunnis and Kurds who are the heavyweight sides in Iraq are not reconciling."
Oppression
While the Iraqi parliament recently chose its speaker, after the April elections no new government was announced, a delay that continued after the lightning offensive by ISIS militants in June.
"When there is an oppression on one faction, there will be oppression on others," he explained.
"Even imams [Sunni religious clerics] were executed by ISIS in Mosul because they did not obey the militant group orders."
When asked about what had happened to the Christians who fled Mosul, he said "around 100 families left to Qaraqosh, 50 others left to Barqila, Bahshiqa and other Christian villages about 30-50 kilometers away from Mosul."
"There was a man who was escaping Mosul with his elderly handicap mother, but he was forced to give his car and her medicine to ISIS. He had to carry his mother on his back," the pastor recounted one painful story.
"Unfortunately this creates a bad image for Muslims," he said, calling for mercy for all Iraqis.