'What would you do?' Israeli tweet shocks London
Trying to put outsiders in their shoes, the IDF mocked up an image of rockets raining down on the Houses of Parliament
In an apparent attempt to win over the British public over their assault on Gaza, Israel's Defense Forces on Monday sent out a controversial image on social media, in which the guns are pointed at Westminster.
Trying to put outsiders in their shoes, the IDF mocked up a shock image of rockets raining down on the Houses of Parliament.
Alongside the image, @IDFspokesperson tweeted: "Hamas terrorists just fired rockets at southern and central Israel. What if they were attacking your home?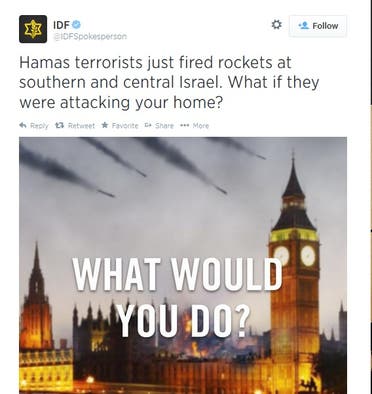 The image is part of an information war on social media between both sides attempting to use hashtags such as #GazaUnderAttack and #IsraelUnderFire along with images of death and destruction, mainly in Gaza, where more than 500 people have died in two weeks of Israeli bombardment and a ground invasion.
The IDF's onslaught seeks to stamp out Hamas rocket attacks against Israel being launched from Gaza, but the vast majority of deaths has been from the Palestinian civilian population.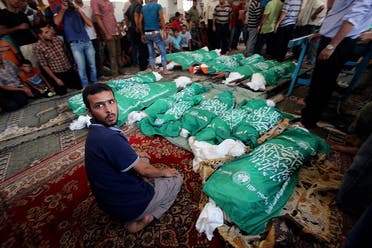 The IDF's tweet to Londoners appears to be in response to wave of mass protests in London. At the weekend, up to 15,000 people are thought to have marched through London from Downing Street to the Israeli embassy in Kensington to protest its actions.
But the tweet prompted mostly angry reactions online:
"Oh my. You're really getting desperate aren't you? This would be funny if it weren't pitiful."

"FYI Palestine is not ur home! Go get one then we will support u defending #gaza"
"I'd probably not have colonised their homes, driven them into ghettos and shot their children."
British Prime Minister David Cameron told the House of Commons on Monday that he has grave concerns over the heavy loss of life during the ongoing crisis in Israel and Gaza.
"I spoke to Prime Minister Netanyahu again about this crisis last night," he said. "I repeated our recognition of Israel's right to take proportionate action to defend itself, and our condemnation of Hamas' refusal to end their rocket attacks, despite all international efforts to broker a ceasefire."