Egypt celebrates Eid amid security fears, rising costs
Security concerns and high living costs have made this year's holiday a bit more difficult to fully celebrate for some
Egyptian Muslims celebrated on Monday Eid al-Fitr, which marks the end of the holy fasting month of Ramadan, amid security concerns and high living costs that have made this year's holiday more difficult to enjoy in full for some.
Like many Muslims, for Mahmoud Ahmed, a citizen from Upper Egypt, the day begins with the usual early Eid al-Fitr prayer at the local mosque where the faithful, dressed in their finest attires, greet each other with "Eid Mubarak" or "have a Blessed Eid."
"Eid Al-Fitr prayer is sacred," Ahmed told Al Arabiya News. "Everyone goes to the mosque for this prayer: men, women and children. Everyone. Even those who don't usually pray at the mosque."
Following the early-morning prayer, many families and relatives, as per tradition, reunite to celebrate the event and share in a meal.
"The Eid breakfast is essential," Ahmed, who enjoys eating Kahk – a traditional dry pastry – petit fours and Egyptian butter cookies called Ghorayeba for his Eid meal, said.
As part of the celebration, which goes on for three days, families hand out gifts and small sums of money known as "iddiya" to their children who can spend it on different activities held throughout Eid.
With schools, universities and government offices off for the holiday, many Egyptian families take advantage of Eid to enjoy a day out with their loved ones.
"Egyptians usually go to public spaces such as the zoo, cinemas, public gardens and cafes," Mena Mokhtar, a Cairo-based resident, told Al Arabiya News.
"Al-Azhar park is probably the most popular place during both Eid al-Fitr and [Eid] al-Adha," Mokhtar, referring to the event that marks the end of the Hajj pilgrimage to Makkah, said. "You can hardly put one foot in front of the other."
Felucca Nile rides are also common during Eid celebrations in Egypt, she added.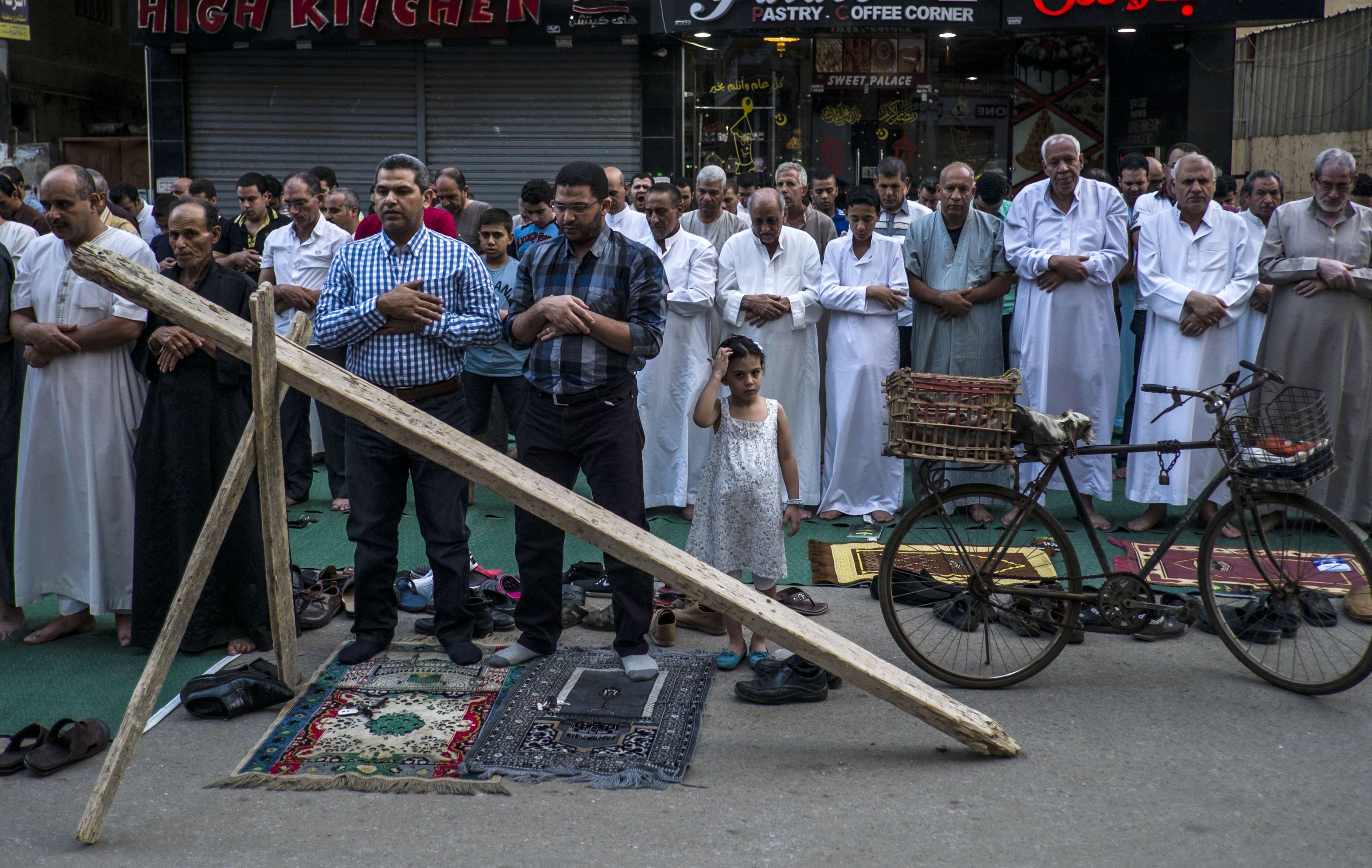 Egyptians seeking a break from the hot weather also use the occasion to head to the beaches.
"I left yesterday [Sunday] to be able to take advantage of the full week in the north coast," the 23-year-old graduate said, explaining that she wanted to avoid the busy city streets as well as the hot weather.
Security concerns
However, security concerns have made celebrating Eid al-Fitr a bit more difficult this year.
Earlier on Monday, Al-Ahram newspaper reported a heavy police presence at Giza's Nahda Square adjacent to the zoo which traditionally welcomes a significant number of visitors during Eid al-Fitr.
The opening of the zoo was delayed as explosives experts with sniffer dogs searched the premises for any explosives material.
Increased costs
Increased costs have also prevented Egyptians on modest incomes from enjoying Eid in full.
"New clothes, food, gifts and 'iddiya' are already hard to afford," a mother of five kids who works as a maid, said, adding that the prices are "increasing in a ridiculous manner."
"We can't go out on top of that. We will stay in," she said.
Her kids will be playing outside the house with the neighbors this Eid, she said.