Gaza ER doctor: 'I'm begging the world to help us'
Doctor at Gaza's al-Shifa Hospital tells Al Arabiya News what he has witnessed during the frantic rush to save lives
Inside Gaza's al-Shifa Hospital, scenes of bloodied, limbless victims are a morose reality for Palestinian general doctor Bassel Abuwarda, recently transferred to the compound's emergency department amid the frantic rush to save lives.

Mustering a resolute voice, Dr. Abuwarda stuttered occasionally when trying to find the right words to depict casualties he had seen and treated during the ongoing Israeli offensive on the Gaza Strip which has claimed more than 1,830 Palestinian lives in almost a month.

"I'm not asking, no, I'm begging the world to help stop this massacre that is happening now in Gaza. People are dying every day," Dr. Abuwarda told Al Arabiya News on Sunday.
"Palestinian women and children are being killed while they sleep in their homes, I rarely see a minor injury.

"People are coming [into the hospital] missing pieces of their bodies, a limb or even their head.

"We have seen all kinds of injuries imaginable; burns, multiple fractures, internal and external injuries. One patient had multiple fractures all over the body that resulted from a roof collapsing on him."

During the violence, Israel has lost 67 lives, mostly soldiers coming under attack from Hamas rockets. The Palestinian Islamist group has said it will not halt hostilities until Israel and Egypt lift their blockade of Gaza, imposed after Hamas overran the territory in 2007.

Al-Shifa bombed
Only a week ago, the al-Shifa Hospital compound came under Israeli fire, resulting in the deaths of 10 Palestinians, including children.

Gaza's police operations room said the deaths and injuries were caused by Israeli airstrikes. The attack was condemned by international medical organization Doctors Without Borders/Médecins Sans Frontières (MSF).

"Targeting hospitals and their surroundings is completely unacceptable and a serious violation of international humanitarian law," said Tommaso Fabbri, MSF's head of mission in the Occupied Palestinian Territories in a statement.
"Whatever the circumstances, health facilities and medical staff must be protected and respected. But in Gaza today, hospitals are not the safe havens they should be."

Mads Gilbert, a Norwegian surgeon volunteering at a Gaza hospital who works with Dr. Abuwarda, called the conflict a "major defeat for the development of humanity," in an interview with Al Arabiya News Channel last week.

"What we see playing out under our eyes is the total lack of respect for international humanitarian laws," he said in reference to the Israeli army's offensive against the Strip.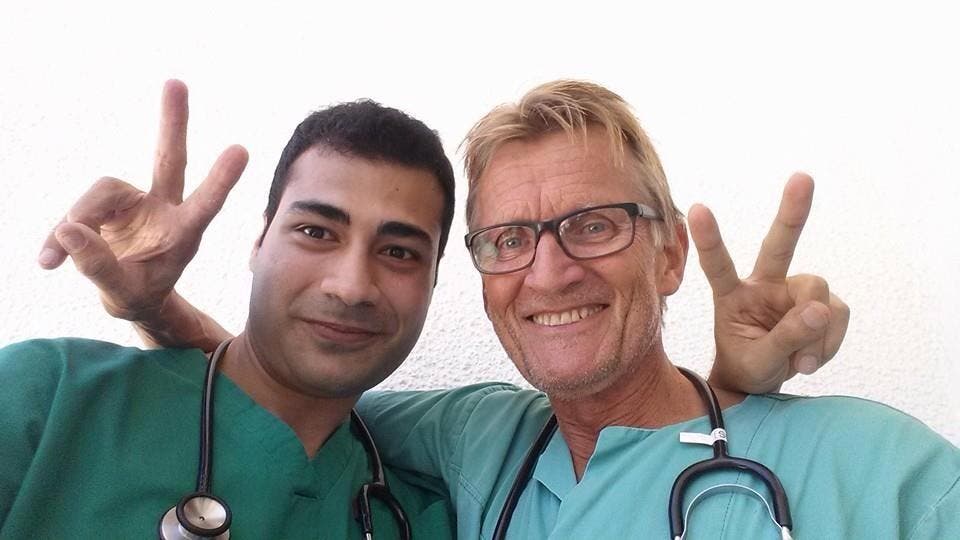 Dr. Abuwarda has worked in Gaza since 2000. He described last week's attack on the hospital and the evacuation that followed.

"The emergency department is about 50 meters from the building that was bombed so we had to evacuate, which meant that any patient that would arrive at that moment would have no place to go to be treated."

Soon after, Dr. Abuwarda said the medical staff returned to the department.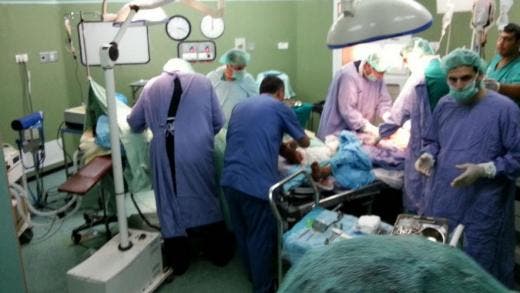 "We had to start working again because casualties were coming in. We are risking our lives … this building can be attacked any minute but we can't just leave the injured people without any attention."

'Stop attacking the hospitals'
Dr. Abuwarda said some Palestinians are now taking refuge inside the hospital after their homes were shelled.

"The last seven years [of the Gaza blockade] have been killing us slowly. What's happening now is just speeding things up. The medical situation in Gaza is on the verge of collapse.
"Medical aid must be allowed to enter Gaza immediately. Hospitals are running out of lots of drugs and medical equipment and the hospitals are being attacked directly or indirectly by the Israeli army; they are neutral places and should be guaranteed safe by international law. Even the central hospital in Rafah has been right now almost destroyed," Dr. Abuwarda said.

There is currently tight Egyptian control of aid deliveries through the Rafah border crossing.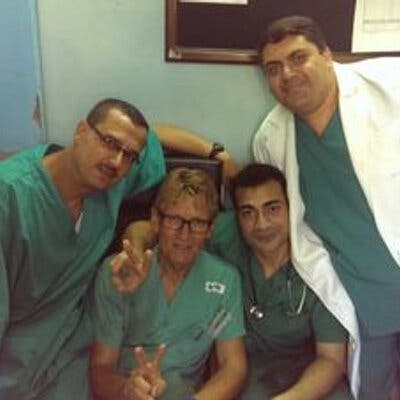 Between July 25-26, the crossing authority says 130 tons of humanitarian aid was transferred to Gaza using donations from Morocco, Saudi Arabia, the Arab doctors' union in Egypt, and a Jordanian donor, according to the Guardian. Among other states, Turkey and the United Arab Emirates have also sent aid in recent days.

Dr. Abuwarda hopes his pleas for an end to the escalating violence will be heard.

"Please stop attacking the hospitals; this is the least I'm asking for. These are neutral places they have nothing to do with this conflict - they should be safe for everyone."