Gaza war seen as boost for Scottish independence
Westminster's 'weak' stance on the conflict highlights the need for Scotland to split from UK, campaigners say
Ongoing violence in Gaza has prompted a surge in support for Scottish independence, amid rising frustration over the UK government's "weak" stance on the conflict, prominent politicians and campaigners say.
A historic referendum on Scotland's future is due to be held on Sept. 18, marking a once-in-a-generation opportunity for people to vote on splitting from the UK.
Shocking images from Gaza, where more than 1,650 Palestinians have been killed – as well as the lack of a strong rebuke by UK Prime Minister David Cameron – are encouraging more people to vote "yes" next month, according to some in support of independence.
The Scottish Government has already been active in its response to the crisis. It pledged £500,000 ($840,000) of aid to Gaza and was among the first governments globally to promise to house Palestinian refugees following the recent surge in violence.
Some of those in favor of a full split from the UK say a "yes" vote would allow an independent Scotland to form its own foreign policy – and potentially go further in condemning Israel's actions.
But several "no" campaigners played down the impact of the Gaza crisis on the referendum, with some asserting that Scotland would have more influence on the matter if it was to remain part of the UK.
'Genuine outrage'
Shabbar Jaffri, Scottish National Party Councillor for Greater Pollok area of Glasgow, says the Gaza situation is encouraging "a good number" of people to vote for independence. His party, the SNP, is leading the drive for an independent Scotland.
"People are genuinely outraged at the lack of response that people expected from the UK government," he said.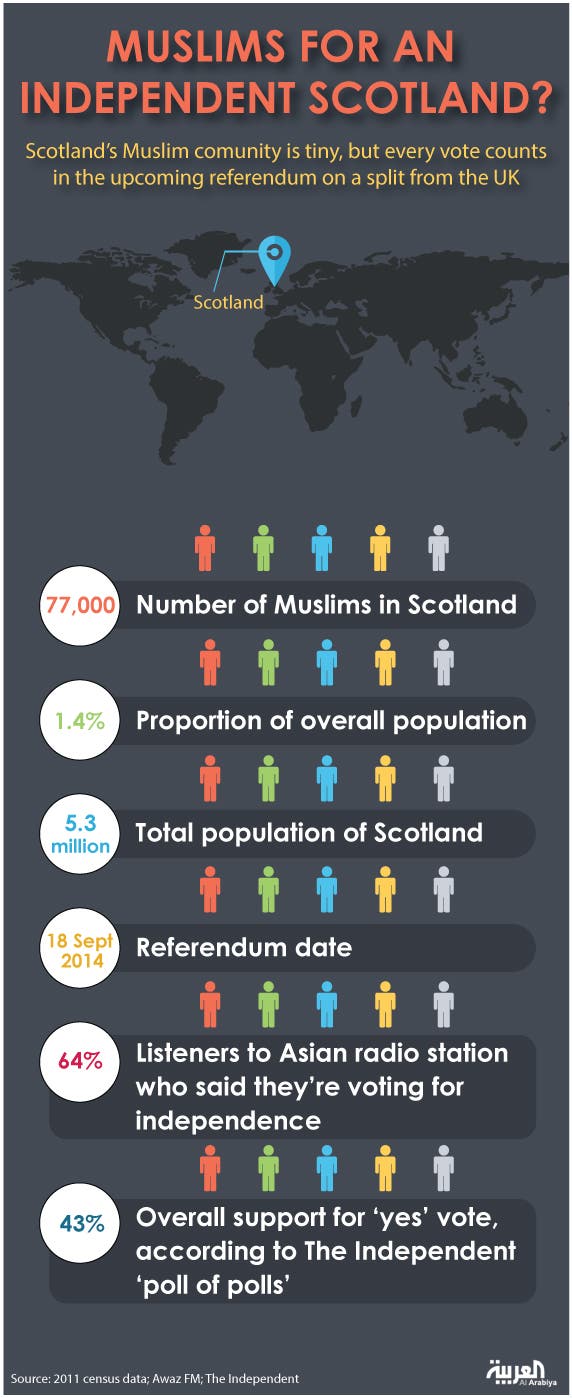 "Israel has been the judge, the trial and the executioner. People in Scotland feel that they're helpless, because the Scottish government does not have any control over our foreign policy or international affairs. They're seeing the atrocities on their TV screens and they're beginning to question it."
Nighet Nasim Riaz, a PHD researcher who lives in Glasgow and facilitator for the "Scots Asians for Yes" campaign, said 30 of 35 families she has visited over the last 10 days now plan to vote "yes" because of Gaza.
"Whole families have said to me, 'we were a definite 'no' before,'" she said.
"The Scottish government has said they want a ceasefire; they want the U.N. to investigate the validity of what is happening. People have turned around and said, this is the sort of society we want to belong to, that has humanitarian values."
Political power
Scotland already has its own parliament and certain powers through a devolution process that took place in the late 1990s. But full independence would allow the country to sidestep what Riaz called the "hypocrisy of Westminster" over issues like the Iraq war.
"We may be small once we get independence, but at least our voice will be our own," she said.
Humza Yousaf, a member of the Scottish Parliament for Glasgow, and Minister for External Affairs and International Development in the Scottish Government, said he was not interested in 'politicizing' the Gaza issue in reference to the referendum.
But he said the UK government's response to the crisis had been "weak" – and that an independent Scotland would have the chance to put forward its own foreign policies.
Yousaf dismissed concerns that Scotland would have an insignificant voice in global diplomacy after independence given that it would not have a place – like the UK does – on the United National Security Council. "It's not possible to have less influence than zero," he said.
But Dr. Timothy Peace, an academic at Edinburgh University, said that an independent Scotland would "have no clout on the international scene" – and that it may have more influence on issues like Gaza by remaining part of the UK.
"They'd be a nation of five million people … If Scotland became independent, it would not count," he said.
Muslim vote
Scotland is home to 77,000 Muslims, comprising just 1.4 percent of the 5.3 million-strong population, according to 2011 census data.
There are no official forecasts on which way Scottish Muslims are likely to vote in the referendum. But a poll by the Scotland-based Asian radio station Awaz FM found that 64 percent of listeners support a split from the UK.
Yousaf said that the support could be even higher than that. "From my experience there's at least two-thirds support for the 'yes' vote among the Muslim community. And that's being conservative," he said.
Yvonne Ridley, a journalist and political analyst, said the Scottish government's reaction to the Gaza crisis has been much more assertive than the "dithering" UK government in Westminster. And that could boost the vote for independence, she said.
"Those who are undecided [about the referendum] would rather stand with a government that has a backbone," she added. "Gaza isn't a Muslim issue, it's an issue that lots of people in Scotland care about."
Proud to be Scottish
Ridley rose to fame in 2001, when she was captured by the Taliban having entered Afghanistan disguised in a burka while working for the Sunday Express. She converted to Islam after her release and is a strong supporter of an independent Scotland, where she moved two-and-a-half years ago.
She says most Scottish Muslims favor independence and that – because the outcome is likely to be very close – they could swing the outcome of the vote.
But Dr. Peace said that he doubted whether Scottish Muslims would make much of a difference in the referendum.
"It's a very small percentage of the overall population, and not all Muslims vote the same way," he said. "I think Muslims are going to be divided on the referendum, as is everyone else."
There is a "possibility" that an independent Scotland would take a different line on Gaza to the UK, Dr Peace said. But he downplayed the importance of this in the referendum.
"I don't think Gaza is going to make a huge difference. I'm not sure whether so many voters – Muslim or not – would think that's a good reason to vote for independence," he said. "The economy and whether Scotland gets to keep the pound – those are the issues that people really care about."
Integration
One reason for Scottish Muslims to vote "yes" is their strong sense of identity, said Ridley. "They're proud to be Scottish. They still wear the hijab and have beards but enjoy being Scottish," she said.
"The Scottish Muslim community knows fine well what's happening in England. They look over the border and despair at the rise of Islamophobia."
Yet not everyone agreed that the integration of Muslims in Scotland is as Ridley describes. Umbreen Khalid, 39, a member of the Labour Party who has lived in Scotland for 12 years, said it was a "parochial" country.
"I've been at job interviews where they don't want to hire you because they feel uncomfortable. There's a very strong attitude of, 'we don't want you getting ahead of yourselves,'" she said.
The SNP's Alex Salmond, Scotland's first minister, has plans to increase net migration into Scotland to about 24,000 each year after independence.
But Khalid – who says she is voting "no" in the referendum – was skeptical of this: "If people are not getting jobs, then so what?"
'Common enemy'
Mohammed Razaq, Labour councillor for the Maryhill ward in Glasgow, said his personal view is that Muslims would be more vulnerable in an independent Scotland.
He said that Scottish people currently have a common enemy – the English – who he said get blamed "for everything." If Scotland was to become independent, Muslims would "become targets" in times of difficulty, such as during times of economic austerity or upsurges in global terrorism, he said.
"Post-independence, it will be a different ballgame, because the common enemy will not be there," he said. "Who will get the blame then?"
Razaq – who is against independence – said he doubted that the Gaza conflict would see many more people voting "yes" in the referendum although it will always be an issue that Scots are passionate about.
"Scotland has championed various causes. Irrespective of whether we'll be independent or not, I think we'll still continue that," he said.
Hanzala Malik, a member of the Scottish Parliament for Glasgow, said that Scottish people have "a history of standing with people who we feel have not been justly treated."
But this does not mean that the Gaza issue is likely to be "particularly influential" in the independence referendum, he added.
Malik said that he believes the Muslim vote is "split down the middle," with younger people tending to favor independence and older voters the union with the UK.
Like his party, the Scottish Labour Party, Malik is firmly in the "no" camp. He says that a vote for independence would be "madness" because it would sever Scotland's link to the powerful, prosperous UK economy.
"Why would I risk giving that away for something less?" he asked.