Backlash over Britain first's 'ban the burqa' poster
A photo of Afghanistan's first female police officer was used to promote an anti-burqa campaign
An image of Afghanistan's first female police officer is being used to promote an anti-burqa campaign by the Britain First party, causing uproar against the far-right nationalist political movement.
The photographer who took the picture, Canadian Lana Slezic, said she was informed of her photo being used by Britain First without her permission from various media outlets.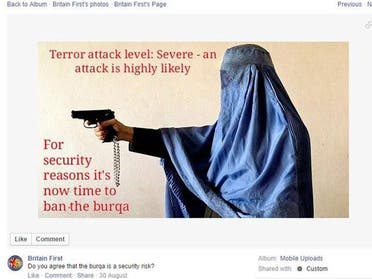 Slezic had snapped Lieutenant Colonel Malalai Kakar in action, holding a gun. Kakar was shot dead by the Taliban in 2008. She was known as a high profile policewoman who fought for women's rights and against extremism and terrorism, the Independent reports.
In the Britain First image, Kakar is used to imply a different message. It was edited with a caption that reads: "Terror attack level: severe – an attack is highly likely. For security reasons it's now time to ban the burqa."
The image was shared by Australian Palmer United senator Jacqui Lambie on her Facebook wall.
"Here's a woman whose life was taken by terrorists, extremists in the most horrific way," Slezic told the Australian Associated Press. "She died in front of her son, shot to death outside her home on her way to work.
"Everything she stood for, everything she fought for, for herself, her family, her daughters and future of her country, everything has been desecrated by how Jacqui Lambie and Britain First have used this photograph."
Following Slezic's outrage, Lambie, said criticism of her use of the image is a "gross overreaction" and Kakar would have supported her view, knowing how easy it is to "conceal weapons or bombs" in a burqa.