Hajj fraud: UK victims speak out
One elderly man was scammed out of $6,100 and fears he has lost the chance to make his final journey to Makkah
This year's hajj pilgrimage was particularly important to Mohammad Jawaid Mir, because he knew it would probably be his last.
The 71-year-old British citizen suffers from diabetes and chronic kidney disease and fears his deteriorating health will make future visits to Saudi Arabia impossible.
So when Mr. Mir paid a large deposit on a £7,590 ($12,200) hajj tour for himself and his wife, it was with the knowledge it would probably be his last opportunity to visit the plains of Mount Arafat or drink from the Zamzam Well.
"I decided that before something happens, we should make the pilgrimage," said Mr. Mir, who moved to the UK from Pakistan in 1969. "If something goes wrong from here, I will be on dialysis, so I won't be able to move. So we thought, perhaps this is the last chance."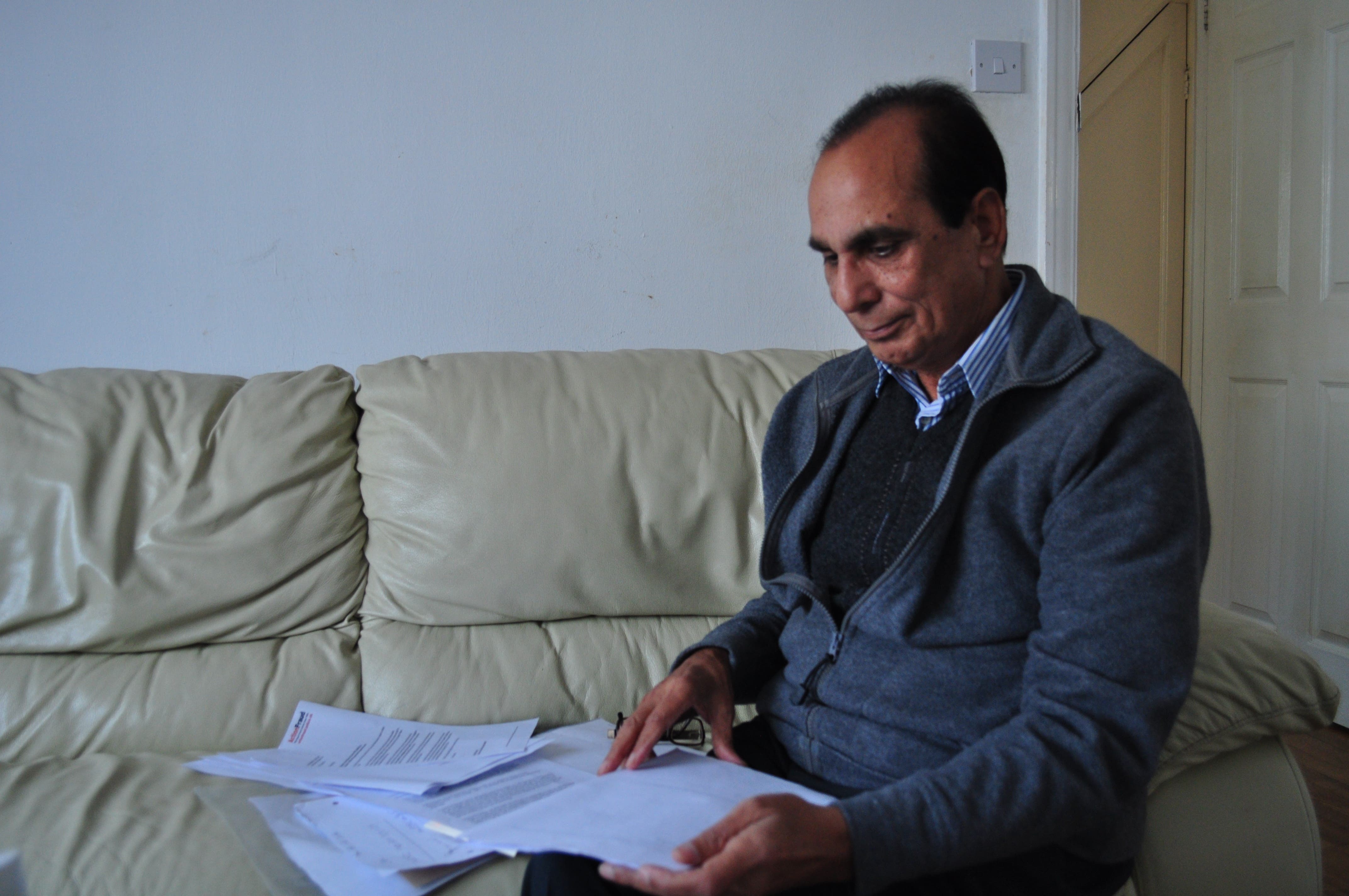 But instead of travelling to Saudi Arabia earlier this month, Mr. Mir and his wife were stuck at home in South London, having become victims – like many thousands of others – of hajj fraud.
Scams typically involve the sale of bogus packages or travel agents delivering substandard accommodation. With British Muslims spending about $160 million a year on pilgrimages, there are rich pickings to be had for fraudsters.
But while thousands of British citizens are believed to fall victim each year, many never report the crime, community groups say.
'Chance of a lifetime'
Mr. Mir is one of the minority who did make a report to the police. He lost a total of £3,795 ($6,100) in an alleged scam believed to affect several others but has little hope those responsible will be brought to justice.
The pensioner started looking for a hajj package in June, for himself and his wife Bushra, 68. Because of his health problems, Mr. Mir wanted to undertake a relatively short pilgrimage, of less than two weeks. As he is not computer-literate, he asked his son to help.
They found a company online that was apparently based in Sheffield in northern England. And that is where the family's problems began.
The company appeared to offer exactly what Mr. Mir wanted: A 12-day hajj tour, complete with flights, and accommodation in 5-star hotels in Makkah and Jeddah.
They made contact with the company, communicating via telephone and email, and were asked to pay a £2,000 deposit against the total cost of £7,590 for a hajj tour for two people.
"They were very softly spoken, and we thought perhaps they are Muslim people doing it for the welfare of the [community], so we can't go wrong," Mr. Mir told Al Arabiya News from his home in London.
But it did go wrong. After paying the deposit, a company representative called Mr. Mir and said the firm needed the full payment upfront, due to overbooking.
Mr. Mir was wary of this, as it did not seem to be the normal procedure. But he eventually agreed to pay an additional £1,795, making up the full cost of the package for one person.
But no air tickets arrived, with the agent either making excuses or not answering calls. Mr. Mir did eventually receive an email from the company inviting him to an event in London to discuss – ironically – the "philosophical and spiritual significance of hajj."
The email, seen by Al Arabiya News, said flight tickets, accommodation vouchers and other items would be provided at the event.
Mr. Mir was uncomfortable with this arrangement and requested his money back, which the agent agreed to. But that, of course, didn't arrive either.
"They took our money and they just vanished," Mr. Mir said. "I really am shattered. I saved all that money from my pension … We were robbed of the chance of a lifetime."
5,000+ victims
Mr. Mir is not alone. About 200 cases of hajj fraud were reported in the UK last year but the actual number of victims is thought to be more than 1,000 annually.
Khalid Pervez, general-secretary of the Association of British Hujjaj (Pilgrims) UK, said he had heard of between 300 and 400 hajj fraud victims this year, but thinks many more will emerge.
In the last four years more than 5,000 people have complained about hajj packages to Pervez's organization – but few, he says, go to the police.
"Only 10 to 15 percent of people come forward with their complaint. The rest just suffer in silence," he says.
Many of those affected have provided testimony to the Association of British Hujjaj. Substandard hotel accommodation is a common complaint: one pilgrim told the association his group had been promised a 4-star hotel, but once he arrived in Saudi Arabia the reality was somewhat different.
"Hajis were having to share up to nine to a room in accommodation that would not even collect a single star under international standards," he wrote.
Another pilgrim told the association she was promised air tickets to Jeddah – but a week before travel was asked to pay another £1,000 for direct flights.
"When we refused we were sent by a chartered plane to Medina and we had to make our own way to Makkah," she told the association. "The trauma of the journey was too much for one of our group members and he died in Medina."
UK crackdown
The UK authorities are cracking down on hajj fraud – although some Muslim groups say not enough is being done.
City of London Police, which has an ongoing awareness campaign on the issue, says it has received double the number of complaints this year. But it is difficult to estimate the actual scale of the problem because so few victims come forward.
"Up to June there were 84 reports, double that of last year," a spokesperson for City of London Police said.
"Trading Standards had hundreds of reports. However, we believe the problem is much worse with individual victims telling how they were one of tens if not several hundred who had fallen foul of the same hajj fraud."
Sajeela Naseer, head of Trading Standards at Birmingham City Council, said her organization was awarded £100,000 to tackle the problem in June. It is working with 17 local authorities across the country to fight hajj fraud, Naseer said.
"We're proactively going out and looking at who is selling hajj package tours," she said. "There's a non-compliance rate of between 75 and 80 percent – so it's really high."
Transgressions range from travel operators not providing receipts or the correct paperwork, to criminal acts such as not issuing Air Travel Organizer's License (ATOL) certificates. Naseer said a "notable" number of operators selling hajj packages that include flights were found not to be adequately registered with ATOL, which is a legal requirement.
She added that the number of prosecutions for hajj fraud in Birmingham stood at just one in 2011-2012. In the last six months, six prosecutions are being vetted by legal services, with a further eight cases under investigation. "The number of prosecutions is increasing year-on-year," Naseer said.
Mosques urged to act
But according to Pervez of the Association of British Hujjaj, not enough is being done to fight hajj fraud.
"We are only a charity, we're struggling for resources … We're not getting any help from any government agencies," he said. "There are huge issues in this country."
Mosques also need to do more to combat the problem, Pervez said. Many hajj packages are sold within the community, including some that may not have adequate protection from organizations like ATOL.
Mosques need to clamp down on the issue by educating congregations and not allowing the advertisement of illegal packages within their walls, Pervez said.
"I'm very disappointed with the mosques. They're not playing their role as they're supposed to be," he said.
'I pleaded with them'
Yet any further action on hajj fraud will come too late for Mohammad Jawaid Mir.
The pensioner says he was taken in by the alleged fraudsters partly because he put his trust in them as fellow Muslims.
"A Muslim knows what the significance of hajj is, so I thought they would not do this. But I have been proved wrong," he said.
A month after reporting the crime to Action Fraud, the UK's national fraud and Internet crime reporting center, Mr. Mir received a letter confirming the information he provided "enabled the police to take action to disrupt the activities of suspected criminals."
The pensioner later called the police and was told that the alleged fraudsters had fled to Jordan. The company Mr. Mir purchased the hajj package from could not be reached by Al Arabiya News for comment; the firm's website and telephone numbers appear to have been suspended.
Mr. Mir says that he is not happy with the police, who he says promised to collect a formal statement from him, but never have.
"Hajj time came, and hajj time has gone ... And I'm still waiting for the police to take my statement," he says.
Mr. Mir has performed hajj once before in 2009, and umrah four times but he is uncertain whether he will be able to make the trip to Saudi Arabia again, due to both health and financial concerns.
Nor does he think those responsible will be brought to justice.
"I pleaded with them that I am a retired pensioner, maybe this is my last chance, please send my money back," he said. "And they promised me again and again that they would send it. But no, nothing."