No ISIS on my watch, says Egypt Sinai governor
Governor Abdel Fattah Harhoor tells Al Arabiya News Channel that the militant group is not present in the peninsula
A senior Egyptian official denied reports of Islamic State of Iraq and Syria (ISIS) militancy in the Sinai Peninsula, Al Arabiya News Channel reported.
In an interview with Al Arabiya's Randa Abul Azm, Northern Sinai Governor Abdel-Fattah Harhoor said that although insurgents followed tactics similat to the militant group, he confirmed that ISIS is not present in the peninsula, where an October attack by extremists left at least 30 Egyptian soldiers dead.
Following the incident, the deadliest attack on Egyptian forces in decades, President Abdel-Fattah al-Sisi inaugurated a military operation targeting militant extremists.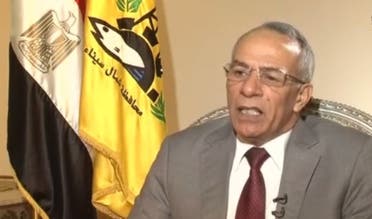 The Egyptian government imposed a curfew scheduled to last for three months, in addition to creating a five-kilometer buffer zone along the Gaza-Egypt border, which saw the eviction of many families from their homes.

More than 600 households accepted the eviction order, out of the 802 that needed to be demolished, Harhour said.
Authorities have so far destroyed 78 homes, which the official claimed lied on top of a series of tunnels that ran along the border with the Palestinian enclave.
The eviction notices were only issued after Egyptian authorities reached an agreement with residents, aided by mediation from tribal leaders, Harhour said.
In a survey conducted among 237 families residing in the area, the official said 67% preferred monetary compensation instead of a reimbursement of land.
Thirty families have received the money.
Islamist militants, who have killed scores of security personnel, say their attacks are retaliation for the wide-scale government crackdown against ousted President Mohamed Mursi's supporters.
The crackdown has left at least 1,400 people dead and more than 15,000 jailed.