Sliver of Aleppo's once thriving nightlife returns
In the government-held zone, a fragile stability has allowed a few dozen cafes to open or reopen
A sliver of Aleppo's once famous nightlife has returned to the war-torn Syrian city, with cafes and singers catering to residents of regime-held districts, and even some heavily bombed rebel areas.
In the chic Mogambo neighborhood in the divided city's government-controlled west, Jalaa and her three friends eat ice cream at the Fayrouz cafe, their gossip interspersed with peals of laughter.
"Of course, we complain about the electricity rationing, the water shortages. But most of the time, we talk about our lives, our work colleagues and what we watched on TV," said Jalaa, a lawyer.
Dressed up and elegant in multicolored headscarves, the women amuse themselves by swapping messages and photos on their mobile phones, as a violinist struggles to be heard above the chatter.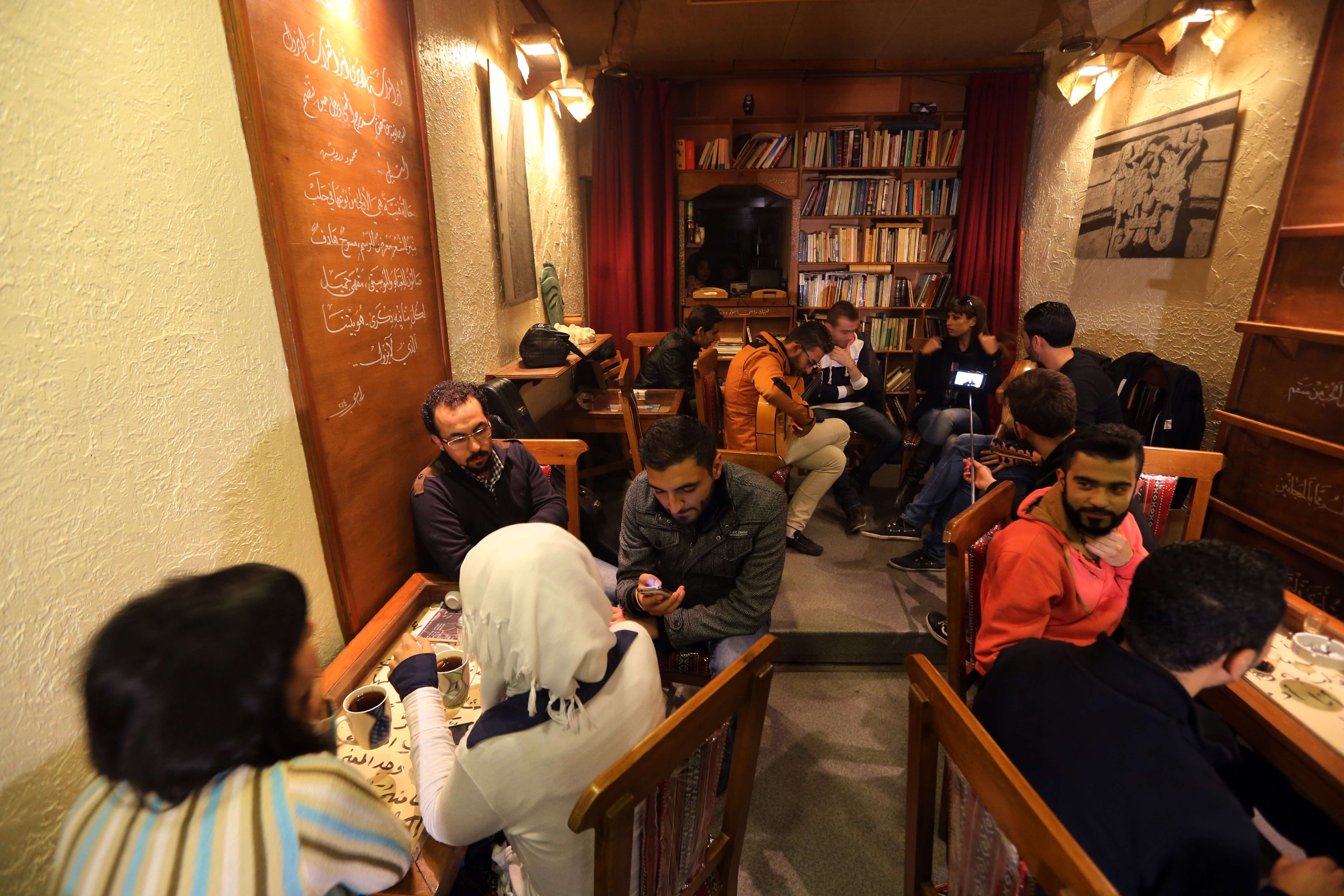 "Ironically, we stay at home less these days than before the war. We're often in a cafe these days," said her friend Mays, also a lawyer.
The frequent power cuts mean many people prefer to go out to a cafe that has a generator, rather than sit at home in the dark, she explained.
Once Syria's industrial powerhouse, Aleppo has been reduced to a shadow of its former self by the conflict that began in March 2011.
The fighting arrived in the city in mid-2012, with rebel groups seizing its eastern half and confining government forces to the west.
"In the beginning, we were paralysed. We didn't dare go out," said Jalaa's friend Dibeh, an employee at the electricity company.
"We were afraid of everything: snipers, the sound of bombs. But now the fear has subsided. That explosion we just heard? No one reacted."
In the government-held zone, a fragile stability has allowed a few dozen cafes to open or reopen in the Mogambo and Aziziyeh neighbourhoods.
Fayrouz's owner, Jihad Moghrabi, opened the cafe just six months ago.
"Despite the war, we have to work and live," he told AFP.
"On the other side (of the front line), they have opened up restaurants too, but it's not like here. The only thing we have in common is coffee and nargileh (water pipes)," he said.
'Bombing every night'

On the rebel side of the city, many neighbourhoods have been virtually emptied of residents who have fled repeated bombardment by government forces.
Residents say cafe closures intensified after the government began dropping barrel bombs packed with shrapnel on the eastern neighbourhoods of the city.
But in a few areas, restaurateurs have felt safe enough to open up.
"Thank God, the security situation is better and young people sometimes stay out until 1:00am," said Abu Sami, owner of the Al-Antik restaurant in the rebel-held Bustan al-Qasr neighbourhood.
It is next to a checkpoint and frequented by the rebels who man it.
"This is the fighters' restaurant and it's very popular," Abu Sami said.
On the rebel side, restaurants are more conservative and less trendy than their counterparts across the front line.
Women come out only with their husbands, and entertainment takes the form of qudud halabiyeh and muashashat, traditional Aleppine music and sung poetry.
Residents say there are only a dozen or so restaurants in all of the city's eastern side, but they provide a much-needed change of pace for those still in the area.
"I often go with my friends and sometimes with my family. There is a section for men and another for families," resident Riad al-Hassan said.
But he is nostalgic for the old days.
"When the city was unified, we had much more choice. Now it's very limited. The streets aren't safe anymore because every night there is bombing or fighting."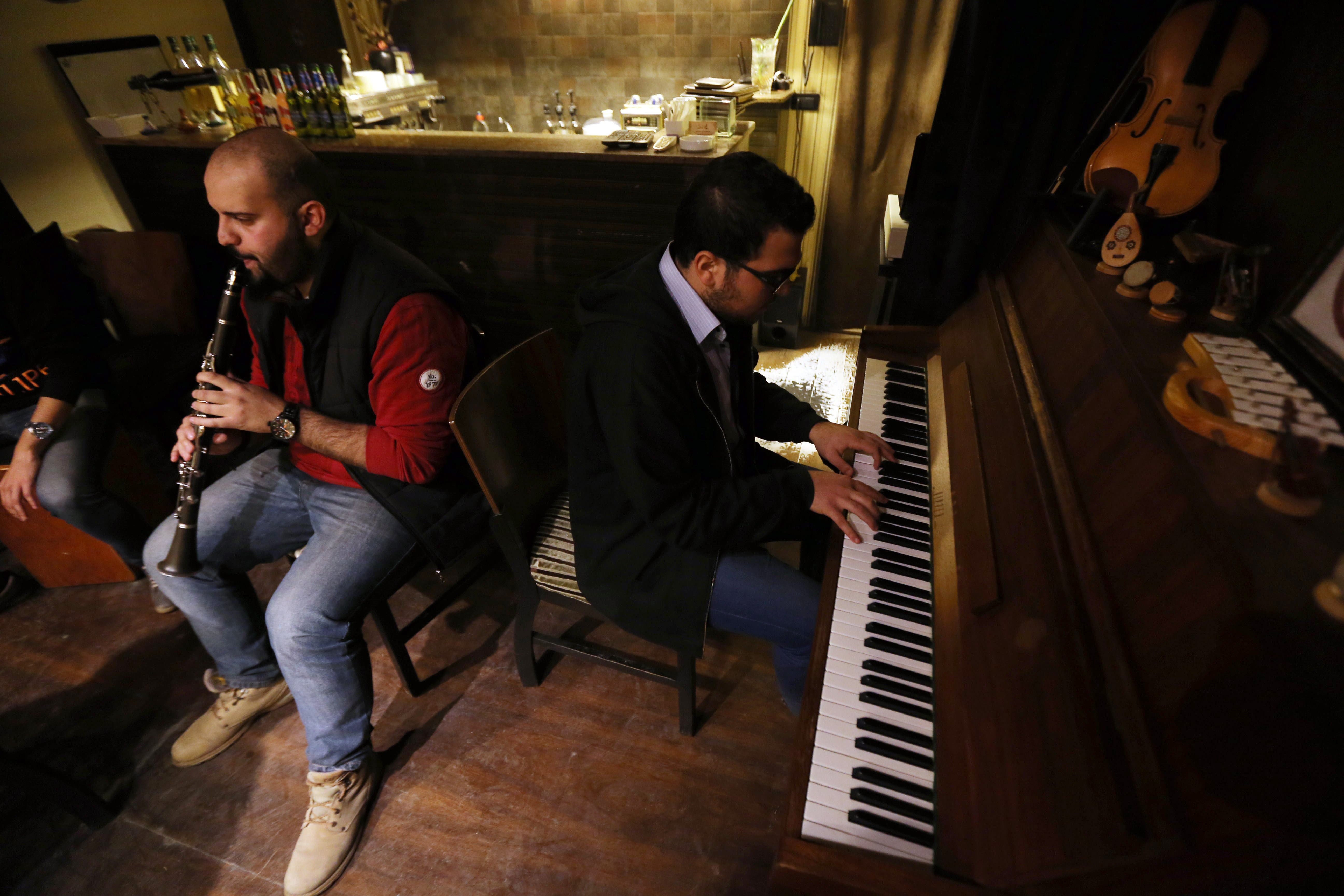 'Before we were afraid'

Back on the government-held side of town, the nightlife is more freewheeling.
In Shahba al-Sham, the former Meridien hotel hosts a disco every night.
Even on a week-night, a few dozen customers bop to loud music under laser lights, and on the weekend up to 100 revellers hit the dance floor.
"All my friends come here," said Hussam Shaaban, a 29-year-old car salesman, accompanied by his trim and heavily made-up girlfriend Sally.
"Before, we were afraid. But now we're used to it. Two days ago, a bomb fell near my house and I came here to forget the war," he said.
In the Syriac Christian quarter, Firas Jeilati, 25, runs Athar al-Farasha (Touch of the Butterfly), a cafe where artists come to sing or recite poetry.
"The space belonged to two brothers, who were my friends. Almost like a premonition, they told me that if anything happened to them, I would have to take it over," said Jeilati.
"Half an hour later, they were killed in shelling.
"I'm losing money, but I'm going to keep going to keep my promise to them."
In the background, a performer sings a line of poetry that resonates in the war-torn city.
"Aleppo is a fountain of sadness that flows across my country."