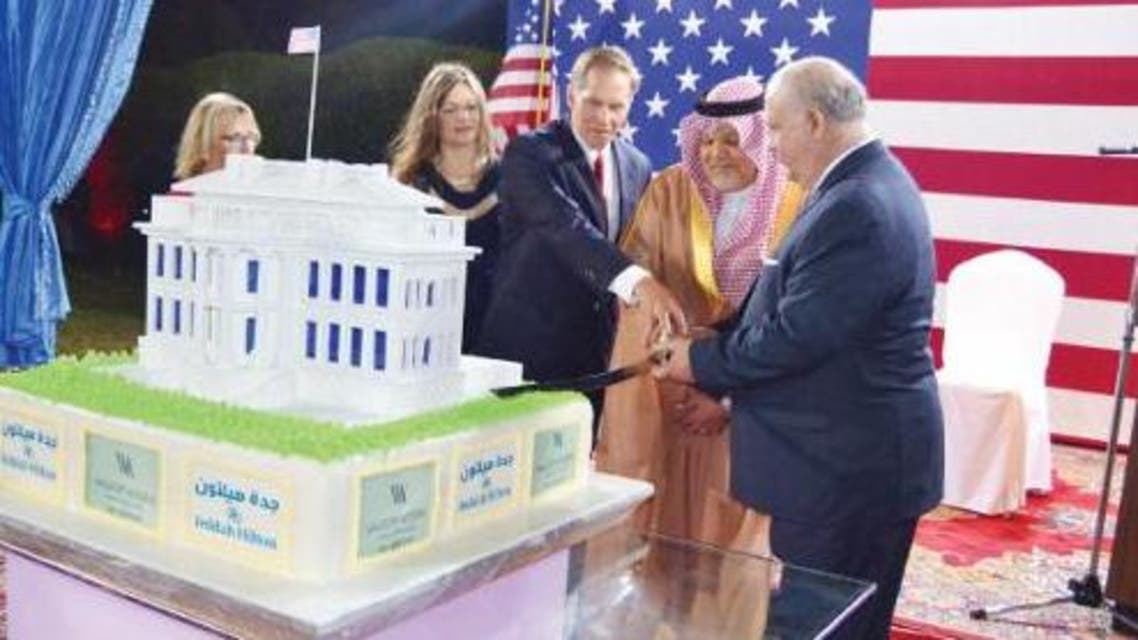 U.S. shares common ground with Saudis at Independence event
The U.S. Consulate in Jeddah celebrated the 239th American Independence Day at its premises on Wednesda
The U.S. Consulate in Jeddah celebrated the 239th American Independence Day at its premises on Wednesday.
The event was attended by Ambassador Joseph W. Westphal and his wife Linda together with Consul General Todd C. Holmstrom and his wife Alexandra. Ambassador Jamal Balkhiour, director of protocol at the Ministry of Foreign Affairs' Makkah branch, was the guest of honor.
A number of other diplomats, dignitaries and American community members were also present.
Westphal said the consulate chose to celebrate their National Day in February because it was close to the 70th anniversary of the historic meeting between President Franklin D. Roosevelt and King Abdulaziz.
This meeting took place on board the U.S. navy cruiser Quincy, after which the ambassador's residence in Riyadh was named.
Westphal said: "Perhaps no one expected that the meeting between King Abdulaziz and President Roosevelt would have such important ramifications for regional security and economic partnership.
"Since that meeting in 1945, our two nations have been steadfast friends and partners, despite cultural, historic and religious differences.
"These differences, however, are heavily outweighed by our shared interest in the continuous growth and development of our nations and our relationship as people."
He pointed out that for 239 years America has developed as one nation through the "continuous influx" of people from different backgrounds.
"As our country has grown and as our people have migrated throughout the vastness of our land, we have continually celebrated our diversity and exhibited the pride of our origins.
"We are a single people and nation, evolving out of many cultures, ancestries and languages.
"And it is predicted that by 2045 the United States will be a truly plural nation, with no ethnic group making up the majority of our citizens."
He thanked members of the U.S. Army's First Infantry Division Band who came from Kuwait and Fort Riley, Kansas, to entertain the guests.
"May America's New Year be filled with peace and wellbeing and may that be shared with our friends in Saudi Arabia," he concluded.
A Color Guard Ceremony was presented and a ceremonial cake cut by the Westphals, Holmstroms and Balkhiour.
This article was first published in the Saudi Gazette on February 23, 2015.