As Israeli election nears, peace earns barely a mention
The Israeli election has become a two-horse, two-issue race
In a rare TV debate ahead of Israel's tightly contested election on March 17, eight party leaders from across the political spectrum held forth for 90 minutes in a noisy, argumentative discussion of Israeli policy.
While social issues and the economy were grappled over at length, the conflict with the Palestinians and efforts to forge a two-state solution to the crisis - the issue which much of the world has looked to the region to resolve for the better part of 30 years - drew little new comment or insight.
The word "peace" was mentioned five times, three of those by the only Arab candidate taking part, while Naftali Bennett, the leader of the ultra-nationalist Jewish Home party, declared he would never let the Palestinians have their own state.
In part, the focus was understandable - Israeli voters are most concerned about house prices and the cost of living. But it underlines how dim prospects now are for any progress in resolving perhaps the world's most intractable conflict.
"The Palestinian issue, as much as it is crucial, is not perceived as existential, which is the case with Iran," said Reuven Hazan, a professor of political science at Hebrew University and a specialist on the Middle East.
"And it is not perceived as manageable over the next three years, which something like the economy is."
Instead, the election has become a two-horse, two-issue race, with Prime Minister Benjamin Netanyahu, who is seeking a fourth term, emphasizing the threat from Iran and regional Islamist groups, and the center-left opposition criticizing his perceived failures on social and economic policy.
The latest polls published on Tuesday put the center-left ahead, predicting it will win 24 or 25 seats in the 120-member Knesset, against 21 for Netanyahu's Likud party.

Other polls show a tighter race, with each of the main parties expected to win 23 or 24 seats. As has always been the case in Israel's 67-year history, no party will secure a majority, making coalition negotiations critical.

Given his experience of cobbling together partnerships and the fact that there are more parties on the right around which to build an alliance, Netanyahu could still return as prime minister, even if his party does not win the election.
The center-left Zionist Union would need to bring one or two ultra-Orthodox parties, the centrist Yesh Atid movement and
Kulanu, a breakaway party from Likud, into its camp to be able to form a working coalition, a possibility but a slim one.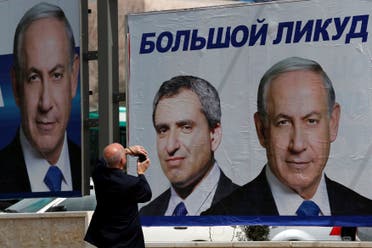 No time for peace
If Netanyahu returns, the chances for a resumption of peace talks, which last broke down in April 2014, are low, not just because analysts believe Netanyahu does not want them, but because the Palestinians, beset by internal divisions, are not seen as willing partners either.
What's more, the most powerful figure alongside Netanyahu in any new right-wing government is likely to be Bennett, the 42-year-old Jewish Home leader, who advocates the annexation of most of the occupied West Bank, which Palestinians want for an independent state, along with East Jerusalem and Gaza.
Bennett's party is expected to capture 13 seats and he himself is lined up to be defense minister if Netanyahu wins again, a position with direct oversight of Palestinian issues.
Another complicating factor is settlements. Despite U.S. and European opposition, Netanyahu has continued to expand the building of Jewish homes in the West Bank and East Jerusalem, and that policy is unlikely to change.
Both Bennett and Avigdor Lieberman, the outgoing foreign minister and head of the ultra-nationalist Yisrael Beitenu party, are ardent supporters of settlement expansion and would press that line hard in any future Netanyahu government.
When it comes to the center-left getting into power, the chances of a resumption of peace talks may be better - especially with the White House adding pressure in the last 18 months of Barack Obama's presidency - but the first priority would be to deliver on their economic and social promises.
And on settlements, the centre-left is adopting a line not far distant from Likud's, saying it would continue building in existing settlement blocs, a policy in defiance of the United States and Europe, not to mention the Palestinians.
Gilead Sher, a former Israeli peace negotiator, believes a regional approach is needed, with the United States, Europe, Russia and the United Nations bringing Egypt, Saudi Arabia, Jordan and the Gulf states into efforts to conjure a solution.
Even then, he favors small, interim steps rather than a "big-bang" approach to two states, Israel and Palestine, side by side, which he acknowledges is a tall order at this stage.
As a result, and barring a dramatic turn of events, the coming years are unlikely to bring any progress in resolving the conflict. Instead, unilateralism will be the watchword: Israel focused on its domestic and regional concerns, the Palestinians seeking to bring Israel before the International Criminal Court.