Inside Iran: The wealth and power of the 'Millionaire Mullahs'
"Inside Iran: 'Millionaire Mullahs" gives an in-depth look at Iran's post-revolution elites
The second report of a new series by Al Arabiya News Channel takes a look at Iran's "Millionaire Mullahs" – a phrase coined by the U.S.-based Forbes magazine – referring to a class of Iranian leaders who made large fortunes from the new government formed after the shah was overthrown in the 1979 Islamic Revolution.
Entitled "Inside Iran: 'Millionaire Mullahs" the report gives an in-depth look at Iran's post-revolution elites, as part of a special series tackling political, social and economic issues in the country.
The article titled "Millionaire Mullahs" by American journalist Paul Klebnikov in 2003 discusses the period after the revolution in which the assets of nationalized foreign companies and the country's richest families were seized by a handful of clerics.
It also mentions how the clerics made millions of money from monopolizing charity funds and "everything else of value"—including banks, hotels, and car and chemical companies.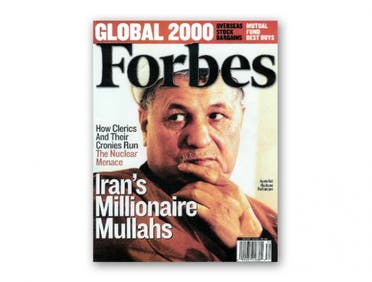 Majid Rafizadeh, an Iranian-American political scientist and scholar, explained in an interview with Al Arabiya News how the Iranian economy is "led by the state rather than private sectors," thus creating a large obstacle for growth.
"The office of the Supreme Leader and IRGC have monopoly over main economic sectors, preventing the distribution of wealth and trickling-down of funds."
"Iranian presidents, who are mainly part of the system, do not desire to challenge (or have the power) to change Iran's economic system fundamentally through transferring state assets to public assets or promoting privatization."
This state grab of power, along with sanctions imposed by Western powers on Iran for its ambiguous nuclear program "have also played a role in further weakening Iran's economy and devaluating its currency," Rafizadeh added.