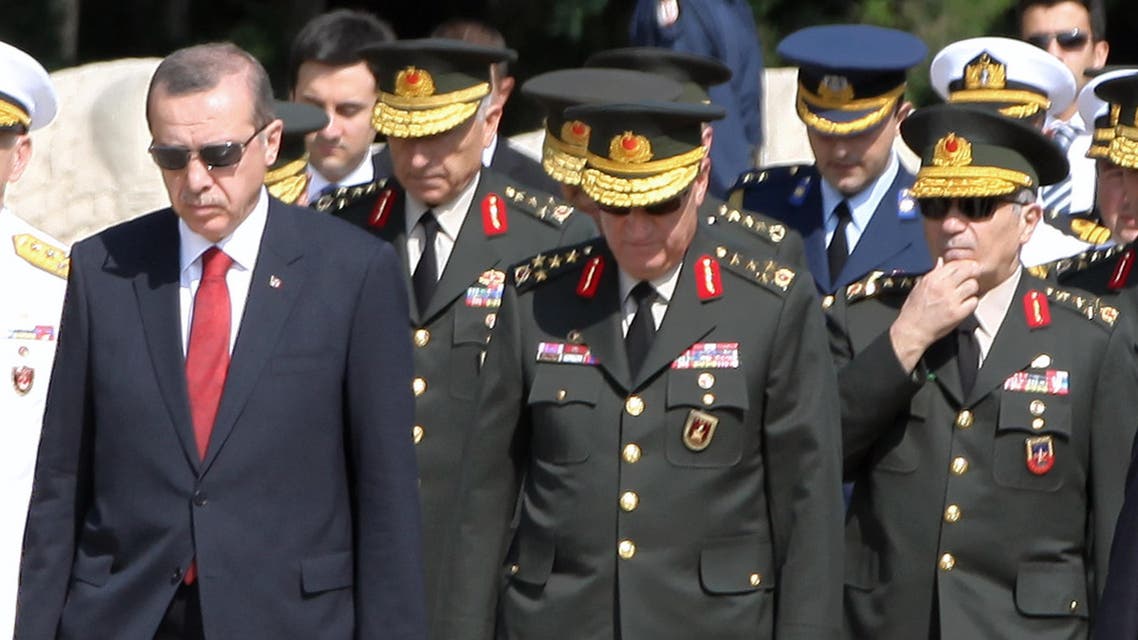 Erdogan aims to turn Turkey into major defense industry power
Erdogan wants to build up a defense industry to match the power of the Turkish army, NATO's second largest.
For years Turkey has boasted NATO's largest army, bar only the United States, and now President Tayyip Erdogan wants a defense industry to match.

Erdogan's dream that Turkey will make all its own military equipment within a few years reflects his ambition to play a greater role in a turbulent region and achieve independence from long-time allies in the West.

Trying to drum up nationalist support as the ruling AK Party heads into tough parliamentary elections next month, Erdogan has also called repeatedly for the country to become a major exporter of everything from rifles to fighter jets.

This chimes with his declared aim of returning Turkey to the glories of the Ottoman Empire - Erdogan has already built a 1,000-room presidential palace, drawing accusations from opponents that he is behaving like a modern-day sultan.

"As long as there are assailants in the world, we will always be required to be ready for defense," he told a defense industry conference in Istanbul this month.

Erdogan's sights are set on the centenary of the modern Turkish republic's foundation. "Our goal is to completely rid our defense industry of foreign dependency by 2023," he said.

Ankara spends around $18 billion a year on defense with just over half of its equipment made domestically. Defense exports rose 18 percent last year to $1.65 billion, and a tank and infantry rifle are nearly ready for mass production.

Warship and fighter jet projects are in the early design phase but Erdogan hopes they will go into production by 2023, when he wants defense exports to total $25 billion.

"Turkey's rulers firmly believe that Turkey cannot be the regional power they wish it to become without a really deterrent military force," said Burak Bekdil, a defence analyst and columnist with the Hurriyet newspaper.
"Painful experience"
Ankara had to ask NATO to deploy Patriot missiles in 2014 to bolster security along its frontier with Syria. This kind of dependency has long grated on Turks.

Last month Prime Minister Ahmet Davutoglu remarked on Turkey's "painful experience" in World War One when it was forced to buy arms from abroad.

"A nation without its own defense industry cannot fight the cause of liberation," he said at the 100th anniversary of the Battle of Gallipoli, adding that by 2023 a locally-made combat plane will "fly the Turkish skies".

Turkey's desire for self-reliance is understandable as it shares a 1,200 km (750-mile) border with Syria and Iraq, where Islamic State has carved out a self-declared caliphate.

A U.S. arms embargo imposed after Turkish forces invaded northern Cyprus in 1974 left Ankara under-equipped and served as a wake-up call, according to Atilla Sandikli, a retired naval officer and head of the Bilgesam security think-tank.

The embargo was lifted a few years later. Small projects to develop everything from radios to aircraft tires were followed by production under license of F-16 jets in the 1980s, coupled with joint modernization projects with Egypt and others.
From tanks to satellites
Now Turkey is home to two of the world's 100 largest defense companies, Aselsan and TUSAS. But if the sector wants to compete with Western defense giants, it must diversify its exports away from Europe - where defense budgets are being cut - to Asia, the Middle East and Africa, where expenditure is rising.

"We're making products better than most in the West. We're cheaper ... We're ready to share technology. The Turkish defense industry can be a valid alternative to the West," Faik Eken, General Director of Aselsan, Turkey's biggest defense firm, told Reuters.

The transfer of technology has been the latest sticking point between Turkey and its NATO allies. Ankara chose China Precision Machinery Import and Export Corp in 2013 as the preferred bidder for a $3.4 billion long-range missile system, saying that acquisition of new technology was a priority.

This has raised concerns about security in the West, as the Chinese firm has been previously hit by U.S. sanctions over alleged violations of the Iran, North Korea and Syria Nonproliferation Act.

Turkey's Western allies are also worried about the compatibility of the Chinese technology with NATO systems.

While still young, the Turkish defense industry is gaining the ability to tackle big projects, said Muharrem Dortkasli, the chief executive of TUSAS. Now it wants a place alongside its biggest NATO allies, the United States, France and Britain, as well as Russia and China.

"We are talking about a country that will have its own national tank, national ship, national helicopter, satellite and war plane," he said. "We are aiming to have everything the five permanent members of the U.N. Security Council have."