How a simple dish of Hummus can transform lives
For Syrian Mohamad Bitar, foods that he grew up consuming provide not just comfort but have also opened the door to prosperity f
It is a relatively well-known fact that cuisine from one's childhood can be very comforting, but for Syrian Mohamad Bitar, foods that he grew up consuming provide not just comfort but have also opened the door to prosperity for him ever since he had to leave his war-ravaged country.
Bitar, 49, is one of the fortunate ones among the almost 2 million Syrians that have sought refuge in Turkey.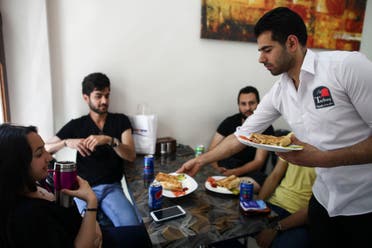 His idea to use food as a way to interact with his hosts and also help his fellow countrymen have access to both employment opportunities and a taste of home has proven to be such a hit that his first modest establishment, setup in 2012 in the conservative Istanbul neighborhood of Aksaray, also known as Küçük Halep, or Little Aleppo, has now become the Tarbush Kitchen (Fez in Arabic) chain.
"Thanks to my restaurants, Turkish people get to learn many details about Syrian cuisine. Initially it was difficult to convince them to taste our specialties, but after a certain amount of time we succeeded in changing their minds and they became regulars," Bitar told Al Arabiya News.
A teacher-turned-entrepreneur, Bitar currently owns seven restaurants and two bakeries in Istanbul.
He has more than 300 fellow Syrians in his employ, paying them an average monthly salary ranging from 1,000 to 3,000 Turkish Lira ($350 – 1,000), thus enabling many of them to bring their families to live in Turkey as a result.
Before Syria succumbed to civil war, he owned a trade company -- registered in Istanbul -- that was engaged in the mosaics, stones and marble trade between Syria and Turkey. This previous familiarity with Turkish customs, culture and the Turkish market served him well in establishing his new business.
As the situation in Syria worsened he decided to move to Istanbul because, in his words, "there were many conveniences such as being able to apply for visas and many job opportunities".
According to the data from the Union of Chambers and Commodity Exchanges of Turkey, about 32 percent, or 491, of new companies formed in Turkey by foreign nationals in the first four months of 2015 were directly set up by Syrians. Last year, Syrians founded 1,257 companies in Turkey.
Entering the restaurant business has proved to be particularly attractive for the Syrian community, resulting in an abundance of venues now serving Syrian delicacies.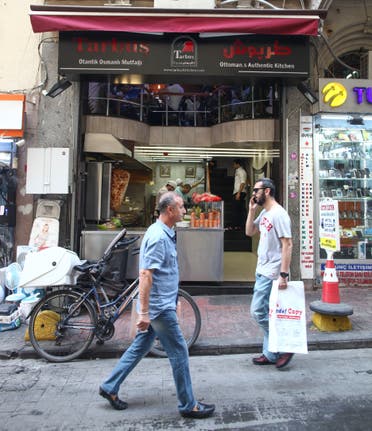 Helping hand
Last year Turkey introduced special arrangements clarifying and expanding the rights of Syrian refugees. They were provided with identification cards, allowing them free access to basic services like education and healthcare.
Turkish authorities are also working on regulations to introduce reserved quotas for Syrians in certain sectors and workplaces especially in the cities like Istanbul, Gaziantep and Adana where Syrian refugees live predominantly.
Healthy rivalry
More than three years have passed since the arrival of the first batch of refugees and Bitar says the countrymen he employs have demonstrated great skill in adapting to the society they live in.
"The more they learn Turkish, the better becomes their social integration," he said.
"When the first restaurants and shops were opened by Syrians in Turkey, it inevitably caused a lot of tension and jealousy among the Turks and proprietors of other restaurants. But after a certain amount of time, the Turkish people gradually became accustomed to this social phenomenon and began introducing variety to their products to compete with us," Bitar added.
The widespread presence of Syrian refugees in the job market, willing to work for low wages and often without social security, has fostered resentment in some regions of the country, particularly those where unemployment is high and competition for jobs is fierce.
According to the 2014 Transatlantic Trends Survey by the German Marshall Fund, two-thirds of Turks favor more restrictive policies against Syrian refugees.
Bitar believes that a significant number of Syrian refugees, including himself, who started their own business in Turkey and who are self-employed would somehow keep their business ties with Turkey intact even after the conflict in Syria ends.
"In that case, I would return and open a new business in Syria, but I would not abandon my company here in Turkey," he said.
Food as a bonding experience between people
Hande Bozdoğan, the founding director of the Istanbul Culinary Institute, says the long-term success of the ever-expanding Syrian restaurant scene depends on the capital invested and the quality of the places.
"It is a golden opportunity to introduce their own gastronomy culture in the new society they live, make a decent living and also provide other refugees with employment avenues," Bozdoğan told Al Arabiya News.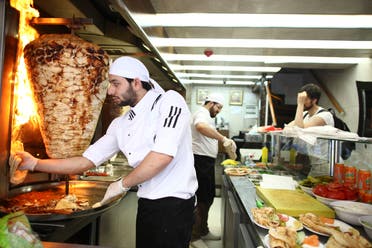 According to Bozdoğan, gastronomy is one of the easiest ways to bring people closer in cultural terms, and reduce the prejudices that arise due to a lack of knowledge.
Metin Çorabatır, former spokesman for the UN Refugee Agency in Turkey, who currently heads the Center for Asylum and Migration in Ankara, says success stories, like Bitar's, should inspire Turkish authorities to re-design the country's integration policies.
"We see Bitar's success as a final product of a years-long process. But, we should also bear in mind that by clawing his way to the top, he had to overcome many socio-economic and administrative barriers," Çorabatır told Al Arabiya News.
Çorabatır, who believes that Syrian refugees are here to stay for an open-ended period, says that Turkey should come up with policies that focus on integrating Syrian refugees willing to open small shops, instead of abandoning them to their fate and focusing on charity.
"When they stand on their own legs, they will contribute to the Turkish economy and ease the economic burden considering Turkey's limited resources and the potential for an imminent social uproar," he added.