Egypt president's 'entourage' of movie stars raises debate
Sisi's trip to Germany was the subject a debate that was unequalled in any of his official visits during his first year in power
Egyptian President Abdel Fattah al-Sisi's trip to Germany was the subject a debate that was unequalled in any of his official visits during his first year in power, even if for quite peculiar reasons. Concerns about protests organized in Berlin by Europe-based Islamists, and speculation over the impact of recent death sentences handed to Muslim Brotherhood members, were not given as much attention as the movie stars who accompanied him.
Photos of actors and actresses on board the plane heading for Berlin, and videos of them rallying there in support of Sisi and cheering as his motorcade passed by, were received with resentment by some and admiration by others.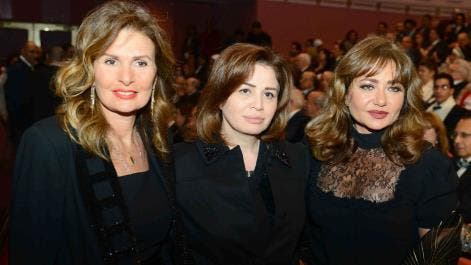 Journalist Mohamed Abdel Rahman said he could not see how the 19 actors and actresses who went to Berlin are expected to support Sisi. "Those are stars in Egypt and the Arab world, but they have no leverage whatsoever in Germany," he wrote. "They are not even among those who acted in foreign films."
For Abdel Rahman, their presence would maybe aim to deliver a message of Sisi's support for the arts, as opposed to his conservative predecessor Mohammed Mursi. "If so, then it still didn't work because he should have instead invited painters, photographers, folklore dancers, or even football players who played for German teams," he added.
Mosaad al-Masry, spokesman of the Tamarod movement that initiated the campaign to topple Mursi, shared the same view regarding the choice of delegation. "The president was expected to invite a delegation of investors who can hold talks there about projects of economic benefit for Egypt," he said, adding that he intends to file a complaint with the prosecutor general against all bodies that facilitated and funded the trip, including the Ministry of Culture.
Mursi advisor Essam Heggi said the actors and actresses were in Berlin to "play the role of the Egyptian people" in front of Western cameras. "This turns patriotism into cheap propaganda. We have actually reached the level where we need professional actors and actresses to play the role of happy Egyptians."
Heggi said unofficial delegations should be comprised of scientists and researchers who can play an actual role in joint projects between the two countries. Heggi said the "charade" was obvious in the photo of the actors and actresses carrying posters of Sisi as they chanted slogans in his support. "This is one photo history shall never forget."
Supporters
Kuwaiti journalist Fajr al-Saeid accused critics of the delegation of trying to find fault with the government and inventing excuses to attack the president. "There is nothing abnormal about the delegation," she said. "Look at the United States; presidents have taken actors like Tom Cruise and Robin Williams on trips."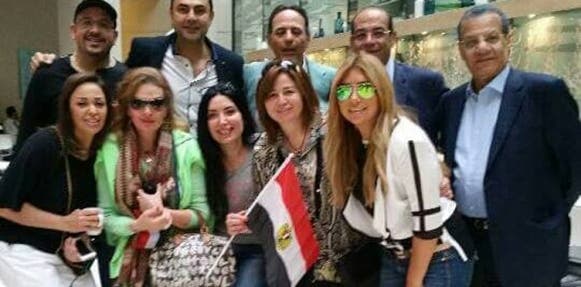 Delegation member Elham Shahine said actors and actresses are "ambassadors of Egypt's soft power," since they reflect the role art plays in combating extremism and terrorism. "Actors and actresses played a major part in the revolution against the Muslim Brotherhood," she said, adding that it was important to show the world Sisi's support for art and artists.
Yousra, another actress who participated in the delegation, said they showed the world that Sisi is loved by his people. "There is nothing wrong in supporting our president and demonstrating that we believe in him and in everything he is doing for the country," she said.
Yousra accused the Brotherhood of organizing a campaign against the delegation. "Germany is home to a big Muslim Brotherhood lobby that spreads false news about Egypt, and we should always be there to counter their attempts."
She added that she accompanied Sisi on his official trips whenever she could. "This is my third time. I went to the United States twice in delegations accompanying the president." Yousra added that the actors' delegation only constituted a small fraction of Sisi's supporters who appeared in Berlin. "Members of Egyptian communities all over Europe came a long way to declare solidarity with their president."
Details
Professor of international law Ayman Salama said the movie stars did not actually accompany Sisi in the formal sense of the word. "There are two delegations that 'accompany' the president on official trips," he said. "One attends all official talks with the president and participates in all the activities organized by the host country, while the other takes care of administrative issues and always travels before the president in order to prepare for the visit."
The stars, Salama said, were not part of either. "They are more of a popular delegation that goes voluntarily to make a statement or another." When asked about the kind of statement they expected to make, he said most likely they wanted to counter any possible protests by Brotherhood members and refute claims that Sisi lacks support back home. "The president has the right to refuse allowing such delegations to go, so he just didn't."
Journalist Hani Labib said claims that the presidency invited actors and actresses to go to Berlin and paid for their flights and accommodation are "not true. Neither the president nor the presidency has anything to do with the delegation. It was the Chamber of the Audio-Visual Media Industry that invited actors and actresses to go, like the Ministry of Foreign Affairs invited politicians. This is popular diplomacy! What's the big deal?" Labib said the campaign against the delegation aimed to distract public attention from the significance of the trip.
First deputy of the Egyptian Actors Syndicate, Sameh al-Seraiti, said there were no specific criteria for choosing delegation members. "Actors and actresses who had no commitments at that time just went, and that is all."