Child labor on the rise among Syrian children as crisis spirals
The number of Syrian children being forced to work keeps growing as the conflict drags on
The number of Syrian children being forced to work keeps growing as the conflict drags on, with those as young as six reportedly working in Lebanon, two aid agencies warned on Thursday.

Syrian refugee children have become the joint or sole breadwinners in almost half of the households surveyed in Jordan, the United Nations Children's Fund (UNICEF) and Save the Children said in the first comprehensive report on child labour among Syrian children across the region.

"Based on all of these surveys...it's clear that child labor has increased substantially since the Syrian conflict began," UNICEF spokesperson Juliette Touma told Thomson Reuters Foundation.
Infographic: Child labor on the rise among Syrian refugees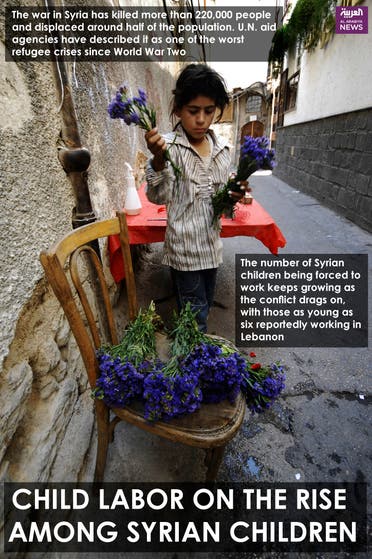 Children keep being recruited as soldiers in the five-year-old conflict, they are being sexually exploited and trafficked said the report that draws on data collected in the past few years by various agencies.

The war in Syria has killed more than 220,000 people and displaced around half of the population. U.N. aid agencies have described it as one of the worst refugee crises since World War Two.

The conflict has pushed thousands of children into the labour force. They now harvest potatoes in Lebanon, work in shops and restaurants in Jordan, bake bread and fix shoes in Turkey and are exposed to multiple hazards in quarries and construction sites in the region, said the report.

Three out of four working children surveyed at the Zaatari refugee camp in Jordan said they suffered from health problems, according to the report.

One 13-year-old Syrian refugee, who harvests potatoes in Lebanon, reported having to carry a bag weighting more than 10 kg (22 pounds) when full and getting beaten with a plastic hose if he left any potato behind.

The report said most children in host communities in Jordan work six or seven days a week earning between $4 and $7 daily.

Many children start working before the age of 12 and some as young as six years old are being put to work in some parts of Lebanon, according to the study.

Some employers prefer hiring children because they cost less and adult refugees are often unable to get employment in the formal labour market as it is almost impossible to obtain a work permit in their host countries, said the report.

Working children are more likely to drop out of school and be deprived of an education, the organisations said.

Things are likely to get worst as aid agencies cut back on programmes due to lack of funding, said the report.

On Wednesday, the World Food Programme said it will halve the value of food vouchers given to Syrian refugees in Lebanon this month and may cut all help for 440,000 Syrians in Jordan next month.

United Nations aid agencies said last week that a $4.5 billion appeal to tackle the Syrian refugee crisis in 2015 was less than a quarter funded, putting millions of vulnerable people at risk.