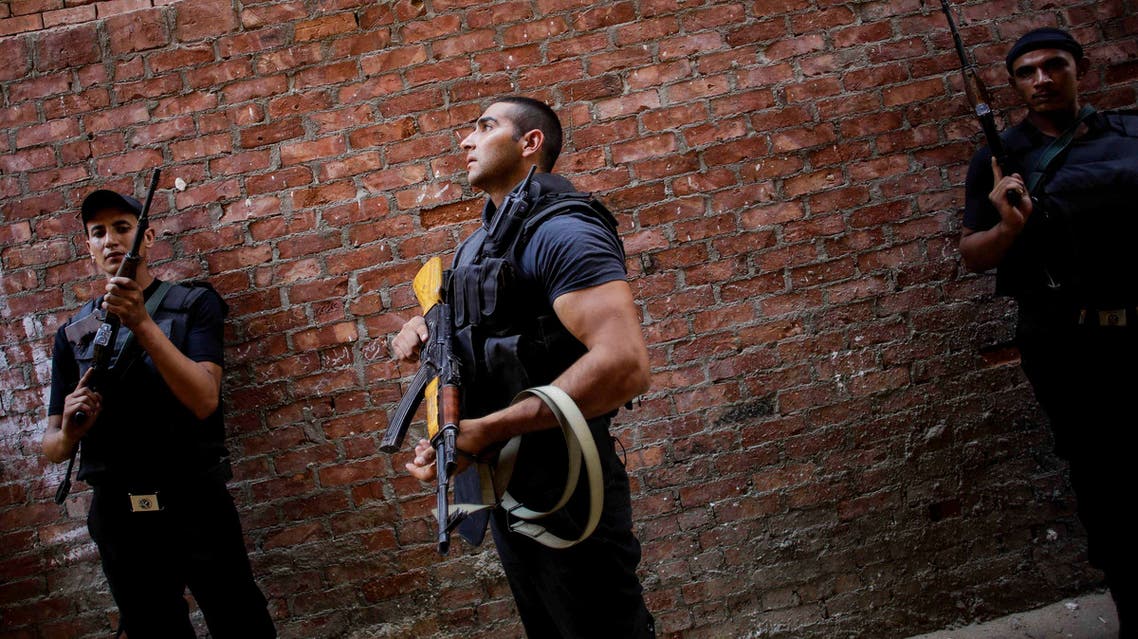 Secret detentions rise in Egypt as officers 'operate outside the law'
In the report, published this week by Human Rights Watch, five such cases are mentioned, and local groups who have documented more than 100 instances are cited
Dozens of people, some with barely any political activity, have vanished in Egypt in recent months, only to be found days later in security detention without access to a lawyer, and on occasion, dead.
Human Rights Watch (HRW) released a report this week on the phenomenon that matched earlier findings by local rights groups, highlighting the impunity with which Egyptian security officials operate at a time of increasing human rights abuses in the country.
"Egyptian security forces have apparently snatched up dozens of people without a word about where they are or what has happened to them," HRW's deputy Middle East director Joe Stork said.
The reports documents at least five instances while citing the findings of local rights groups who have documented more than 100 cases of forced disappearances.
Rule of law
"The failure of the public prosecution to seriously investigate these cases reinforces the nearly absolute impunity that security forces have enjoyed under President al-Sisi," Stork said.
Egyptian President Abdelfattah Al Sisi's tenure in office has witnessed human rights abuses and an escalation in violence by armed groups and security forces.
In addition to a crackdown on the banned Muslim Brotherhood, Sisi passed an anti-protest law that saw the incarceration of numerous secular critics of his regime. Parallel to these convictions, many civilians continue to be tried in military courts.
"Egypt's rights record lies in tatters. So why are its international partners giving the security forces arms and equipment to commit even more abuses?" Nicholas Piachaud, Egypt Researcher for Amnesty International said.
Piachaud echoed HRW's call to Egypt's allies "not participate in any assistance to Egypt's internal security forces until Egypt transparently investigates serious abuses."
Under the regime of deposed president Hosni Mubarak, local and international organizations documented repeated rights violations by State Security, which has now been rebranded as National Security.
"The police state is back in charge, and it wants Egypt to know it," Piachaud told Al Arabiya News.
Amnesty International released a report in 2014 based on interviews with ex-inmates and relatives of those who were taken into custody usually by state security in plain clothes and on occasion by military personnel.
"The tactics may have come straight from Hosni Mubarak's handbook, but the disappearances of dozens of people in the last few months marks a chilling escalation," Piachaud said in an email.
The HRW report identifies enforced disappearances using the definition stipulated in the Convention for the Protection of All Persons from Enforced Disappearance, a treaty Egypt did not ratify, which raises questions on how much it is bound by its provisions.
"Enforced disappearances are against the law. It's as simple as that. They breach both international human rights law and Egypt's own Constitution, which prohibit arbitrary arrest and incommunicado detention," Piachaud said.
Egypt's failure to ratify the agreement does not annul certain rights that cannot be suspended, namely the freedom from arbitrary arrest and detention.
"Egypt's code of criminal procedure requires the authorities to have a prosecution order to make an arrest, except in cases in which they witness someone in the act of committing a crime," the report raised.
"It also requires police to present any detainee to prosecutors within 24 hours, and for prosecutors to charge the detainee based on evidence or release the person immediately."
No legal representation
The most recent cases of disappearances mentioned in the report go back to June 1, when Esraa al-Taweel went missing with two friends, Omar Ali and Souhaib Saad, in Al-Maadi neighbourhood in Cairo..
Despite a series of complaints lodged by their families to the Prosecutor General office, and the office of the president, the interior ministry denied it had detained them.
Two weeks later, relatives spotted the three in a number of detention facilities, and soon after, family visitations were permitted.
Almost a month after Taweel's arrest, her lawyer was told she was in pre-trial detention and charged with spreading false news.
Esraa was also charged with being a member of the Muslim Brotherhood, designated a terrorist organization by Sisi's government.
The news came as a shock to her family as Taweel remained politically dormant after she was shot in the leg during a 2014 protest. Her injury restricted her to a wheelchair for some time and now only walks with canes.
On June 28, she was due to appear in court but did not attend her hearing. Her family was allowed to visit her in prison, where she was reluctant to explain the events of her disappearance due to a heavy presence of female prison wardens.
She did disclose that she had been held in the National Security Agency headquarters in Cairo, family told HRW.
"These are practices associated with the darkest hours of military and Mubarak's rule. Egypt's military cannot run roughshod over detainees' rights like this," Hassiba Hadj-Sahraoui, a regional deputy director at Amnesty International said.
"Anyone who has been forcibly disappeared must immediately be granted access to doctors, lawyers and their families," she added in a report by the organization in 2014.
According to witness accounts, university student Islam Atito was apprehended on May 19, 2015 without an arrest warrant.
For the next few days, his family looked for him in hospitals and police stations but no one pointed to a record of him being admitted.
On May 20, the Egyptian interior minister said Atito had been killed in a shootout with authorities who tried to apprehend him for the April 21 assassination of Col. Wael Tahoun, former head of investigations at Cairo's Matariya police station.
When his family went to collect his body, a relative told HRW that he noticed signs of torture on the corpse.
Despite security threats Egypt faces in light of recent attacks on the judiciary and police, some rights afforded to its citizens remain non-degrodable as they are enshrined not only in the country's constitution but also in international human rights law.